---
MA Top 30 Professional of the Year: Crystal Carlson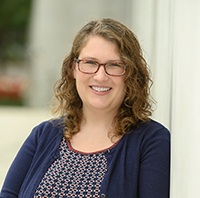 Director of Operations
Cleveland International Piano Competition
"I've always loved problem solving," says Crystal Carlson, who has had plenty of opportunity to do just that in her tenure with the Cleveland International Piano Competition. Starting as a temporary administrative assistant in 2011, Carlson rose through the organization to become director of operations seven years later. She oversees all of the Competition's programming, including concerts and events, education and outreach, as well as the box office and artist management for medalists.
"I've kind of learned every job in the office," she says. "When you work for a small nonprofit, you end up doing everything. It's something different every day. There are so many parts and pieces to the Competition. It gets really, really crazy busy."
Carlson faced an "extremely challenging" time when the organization was in a top-level leadership transition during the six months leading up to the 2018 CIPC for Young Artists. Without a CEO in place, it was her job to organize and carry out the event involving 25 contestants, an international jury, and all the logistics that go into a two-week competition and festival. "I had to rally the troops, because the staff had to put on the Competition no matter what, and we did it," she says. "Board members were over the moon at the success of the event."
Trained as a music theater and opera singer, with a professional studies certificate in vocal performance from the Cleveland Institute of Music, Carlson has an understanding of what it takes for pianists to thrive in the Competition. "They need to enjoy themselves, and that's what a lot of contestants miss out on, because they want to be so technically correct," she says. "When they're so focused on technique, their personalities don't come out on stage. I have noticed that those who just roll with the punches—because anything can happen in the Competition—are the ones that do well."

WHO'S BLOGGING


RENT A PHOTO
Search Musical America's archive of photos from 1900-1992.