---
MA Top 30 Professional of the Year: Kathleen van Bergen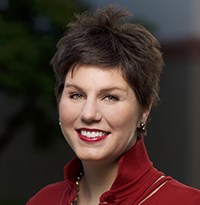 CEO and President
Artis-Naples
In August 2017, the board of Artis-Naples came up with an ambitious multi-year plan for its future. Three weeks later, along came Hurricane Irma. "Nature determined our first project in the plan," says Kathleen van Bergen, CEO and president of the umbrella organization that is home to the Naples Philharmonic and the Baker Museum.
In November of 2019, the museum reopened after a $25 million restoration, part of a $150 million campaign to transform Artis-Naples's 8.5-acre campus—which also includes two performance halls, the Myra J. Daniels Pavilion, and an education venue—and grow its endowment, valued at more than $100 million. "We are ready to operate at the full power of our multidisciplinary mission," says Van Bergen.
Hired in 2011 when the Philharmonic was in precarious financial shape, Van Bergen has overseen the evolution of a true, solidly funded cultural center by combining the orchestra and its lofty across-the-sidewalk neighbor, the Baker Museum, and tuning into the cultural needs and preferences of a community with a vast socio-economic range, from the edges of poverty to skies-the-limit billionaires. With impressive career track records at the Philadelphia Orchestra and St. Louis Symphony, she lived and breathed the Naples cultural scene for two years before launching a major rebranding to Artis-Naples, in 2013.
Since then, she has grown the budget, the endowment, and the programming, hiring both Andrey Boreyko, now in his sixth season as the Philharmonic's music director, and Baker Museum Consulting Curator Frank Verpoorten. She oversees a staff of about 420.
On her watch, thematic programming has become a trademark, such as last season's "Fashioning Influences," which combined an exhibit (mounted in galleries in Hayes Concert Hall) by Isabelle de Borchgrave of paper costumes inspired by the Ballets Russes, complemented by Philharmonic performances of Stravinsky's Pulcinella and The Firebird ballet scores.
"It's a fun way to invite patrons into a thematic framework that can be deeper than one or two concerts or an exhibition," Van Bergen says. "It's one of the beauties of this organization."
Artis-Naples also presents visiting orchestras, including the Vienna Philharmonic in a three-year winter residency, 2016-19. In 2020, the Berlin Philharmonic will stop by as part of its first U.S. tour under Music Director Kirill Petrenko. Kathleen van Bergen is a woman with a mission, a vision, and a board to support both. There appears to be no stopping her.

WHO'S BLOGGING


RENT A PHOTO
Search Musical America's archive of photos from 1900-1992.