---
MA Top 30 Professional of the Year: Stephen Marc Beaudoin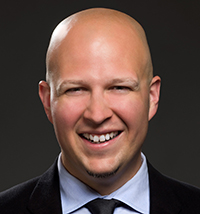 Executive Director
The Washington Chorus
Stephen Marc Beaudoin was born near Kansas City, MO, and grew up in a household where music and creativity were readily practiced, fostered, and encouraged. "My earliest memories are of my mother singing "Maybe" from Annie to calm me during a thunderstorm," he says.
He's been executive director of the 160-voice, two-time Grammy Award-winning Washington Chorus since February 2019, coming to the role after 16 years of leadership experience, most recently as executive director of the Maryland Symphony Orchestra where he helped achieve a significant financial turnaround. The Washington Chorus (TWC) presents an annual subscription series at The Kennedy Center and regularly performs with of the National Symphony Orchestra. Its artistic director in this, its 60th season, is Christopher Bell.
Beaudoin is a lifelong advocate of creative expression as an essential tool for social impact and change, a philosophy instilled in him by parents who understood the importance of practical music-making; indeed, he remains a member of TWC's tenor section. "I've never left behind my work or identity as a singer to work on the administrative side," he explains."I consider myself, first and foremost, an artist that advocates for, and collaborates with, other artists. I just happen to raise money, manage budgets, and collaborate with many people under the title of 'executive director' to make it happen."
Holding a degree in vocal performance from New England Conservatory, Beaudoin currently serves on the executive council of the Institute for Composer Diversity, which works to increase representation of historically oppressed and under-represented peoples in classical music. "All great movements for justice have had singing at their center," he declares. "I believe our world is better when we create together. As the DC region's leading choral ensemble, The Washington Chorus plays a critical role in fostering a more caring and connected community through singing. I'm inspired by all that's ahead, including centering a radically just and inclusive point of view and fostering local and global connections through singing together, especially in those communities and countries that we're told to distrust or despise."

WHO'S BLOGGING


RENT A PHOTO
Search Musical America's archive of photos from 1900-1992.