---
MA Top 30 Professional of the Year: Eduardo Gabriel Álvarez Ortega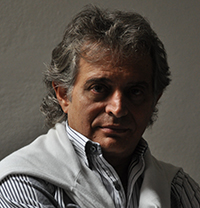 Director General and Conductor
Acapulco Philharmonic Orchestra
"We have a special venue," says Álvarez. "We play in a cave. You have to walk a kilometer and a half to get to the concert inside the cave. It's a magical musical experience."
Grutas de Cacahuamilpa, one of the largest cave systems in the world, is a national park in northeast Guerrero. The Philharmonic gives performances in a cavern called the "Auditorium" that has a large flat floor and is equipped with seats. "We've played repertoire by Mahler, we've played some Carmina Burana, Mexican music like Huapango, some Beatles and Queen music," Álvarez says. "The people love it."
Guerrero is one of Mexico's poorest states, and it has been plagued by drug cartel violence. The Philharmonic, funded by the state government, was founded by Álvarez in 1998 with a mission "to preserve and promote the musical culture of Guerrero." It is made up of 90 fulltime professional musicians and plays an average of 80 concerts a year.
"This orchestra is a central part of life here," Álvarez says. "We play all the classical composers, but we also play folkloric music from Guerrero." Álvarez, born in Mexico City, has enjoyed a long career as an accordion player, violinist, and conductor. He has guest conducted orchestras throughout Latin America and around the world, such as the Moscow Philharmonic, the Rotterdam Philharmonic, and the China National Symphony. One of his proudest achievements was taking the Acapulco Philharmonic on tour to Chicago in 2002.
"We had four concerts in Chicago, where many people from Guerrero now live. They all came to hear us play."

WHO'S BLOGGING


RENT A PHOTO
Search Musical America's archive of photos from 1900-1992.