---
New Artist of the Month: Violinist María Dueñas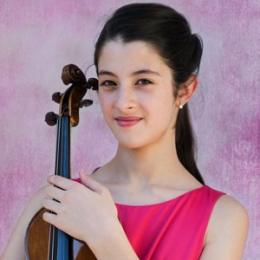 I first heard María Dueñas in July at the Colmar International Music Festival in France. A thin pale girl in white, her straight black hair gathered in a ponytail, she looked frail and far younger than her 16 years as she stood before the Russian National Philharmonic Orchestra (RNPO). Vladimir Spivakov, RNPO artistic director and director of the festival, lifted his baton, poised to launch into Paganini's Violin Concerto No. 1.
What we heard during the next 30-or-so minutes was spectacular virtuosity, electrifying drive, and bel-canto-like phrasing. It was a powerful, mature performance, one that grabbed your attention and never let go. An encore, the "Allemande" from Bach's Partita No. 2, was played with enticing warmth and style, bolstering the impression of an extraordinary talent.
Spivakov vividly remembers how he discovered María Dueñas. One day about five years ago a home video from Granada arrived in Moscow: Ysaye´s Les Furies and a Bach Partita performed by a 12-year-old María.
"It was immediately clear that she was special," recalls Spivakov. He invited her to perform at "Moscow Invites Friends," an International Music Festival and one of the off-shoots of the Spivakov International Charitable Foundation, which helps young musicians advance their training. He arranged for her to fly to Vienna to audition for Boris Kuschnir, the esteemed professor at the Music and Arts University of the City of Vienna and the teacher of Nikolaj Znaider, Julian Rachlin, and other notable violinists.
"Professor Kuschnir was very attentive and caring" María tells me later. "I was speechless when, after listening to me, he said that I should register at Vienna´s University to be part of his class. I remember jumping up and down in the middle of the street after such incredible news. I still get goose bumps when I think of it."
Born in Granada, Spain, the oldest of three daughters of a teacher and a policeman, Dueñas now lives with her family in Vienna, where she attends the Musikgymnasium, a high school for students with a musical profile, and takes classes at Graz's University of Music and Performing Arts, a two-hour drive from Vienna (with one of her parents at the wheel).
Asked if juggling it all was a challenge, she said, "I love attending school and meeting my friends every day, but on the other side that means that I have to be very disciplined to work with the violin after school. As long as I keep my standards high, my teachers are very tolerant if I miss a lesson due to concerts or events at the University. It works perfectly so far."
Her mother, also María, has always loved classical music and began taking her daughter to concerts when she was small. When the girl pointed to the orchestra's concertmaster and said, "I want to be like him," María senior found a private violin teacher and decided to study violin too, just to make the lessons more exciting for her child. They were, but not for the reason her mother may have intended. "I remember going to the first lessons with my mom and having a great sense of accomplishment since I could grasp everything at once and my mother kept trying and trying. It was a great feeling for a child to outmatch an adult!" Not surprisingly, the elder Maria soon abandoned the violin.
María entered Granada Conservatory at age seven. At 11 she made her orchestral debut (Mozart's Concerto No. 1) with the City of Granada Orchestra conducted by Andrea Marcon.
As her mother puts it: "She was always hungry for more: more music, more skills." Despite her teachers' objections, María began studying viola, too. She also became very serious about choral singing and even performed with the Dresden Philharmonic Children's Choir while in Dresden to study as a junior student at the Carl Maria von Weber Academy of Music--on a scholarship (one of the many earned during these years). She also composes. Her piece for piano titled Farewell received a prize at the 2016 Robert Schumann competition, and she plays her own cadenzas for Mozart and Beethoven concertos. In 2016 she founded the Hamamelis Quartet with friends from the university; the group has concerts planned in November 2019 and April 2020.
This insatiable appetite for knowledge, this drive to learn and absorb more, does not stop with music. Two months ago she began studying Russian, an excellent addition to her native Spanish and fluent English, French, and German.
Already a winner of many competitions (Georg Philipp Telemann Competition in Poland, Giovanni Musicisti Cittá di Treviso Competition and Luigi Zanuccoli Competition in Italy, Zhuhai International Mozart Competition in China, Leonid Kogan Music Competition in Brussels, plus two in Russia: the Yankilevich and the Spivakov competitions), she sees competing as a welcome challenge. "Competitions represent a wonderful opportunity to prepare new repertoire in a reduced period of time," she says, "to improve myself and to work hard every day. Furthermore, I love discovering new places where I have never been and meeting other musicians."
María Dueñas performing Mozart's Violin Concerto No. 4 in D Major with the Salzburg Chamber Soloists
With the growing number of concert engagements, they may have to be put on a back burner. She just played a recital in Verbier with Ken Noda, and two more recitals are coming in the fall with Itamar Golan. Orchestral successes so far include the Lahti Symphony and the Norwegian Radio Orchestra, among others, and soon after her debut at the Elbphilharmonie Grand Hall in Hamburg last fall (as part of the Chamber Music Festival of Deutsche Stiftung Musikleben Foundation), she received an audition with maestro Manfred Honeck. He has invited her to perform with him and the Oslo Philharmonic in April of 2020 and later with the Pittsburgh Symphony Orchestra. Her native city of Granada will hear her in Tchaikovsky's Concerto with its orchestra and Pablo Heras-Casado, and she will make her American debut next month performing the Mendelssohn Concerto with the San Francisco Symphony under Marek Janowski. Clearly, this is a talent to watch, with the requisite drive and motivation to go with it.

WHO'S BLOGGING


RENT A PHOTO
Search Musical America's archive of photos from 1900-1992.