---
New Artist of the Month: Conductor Elena Schwarz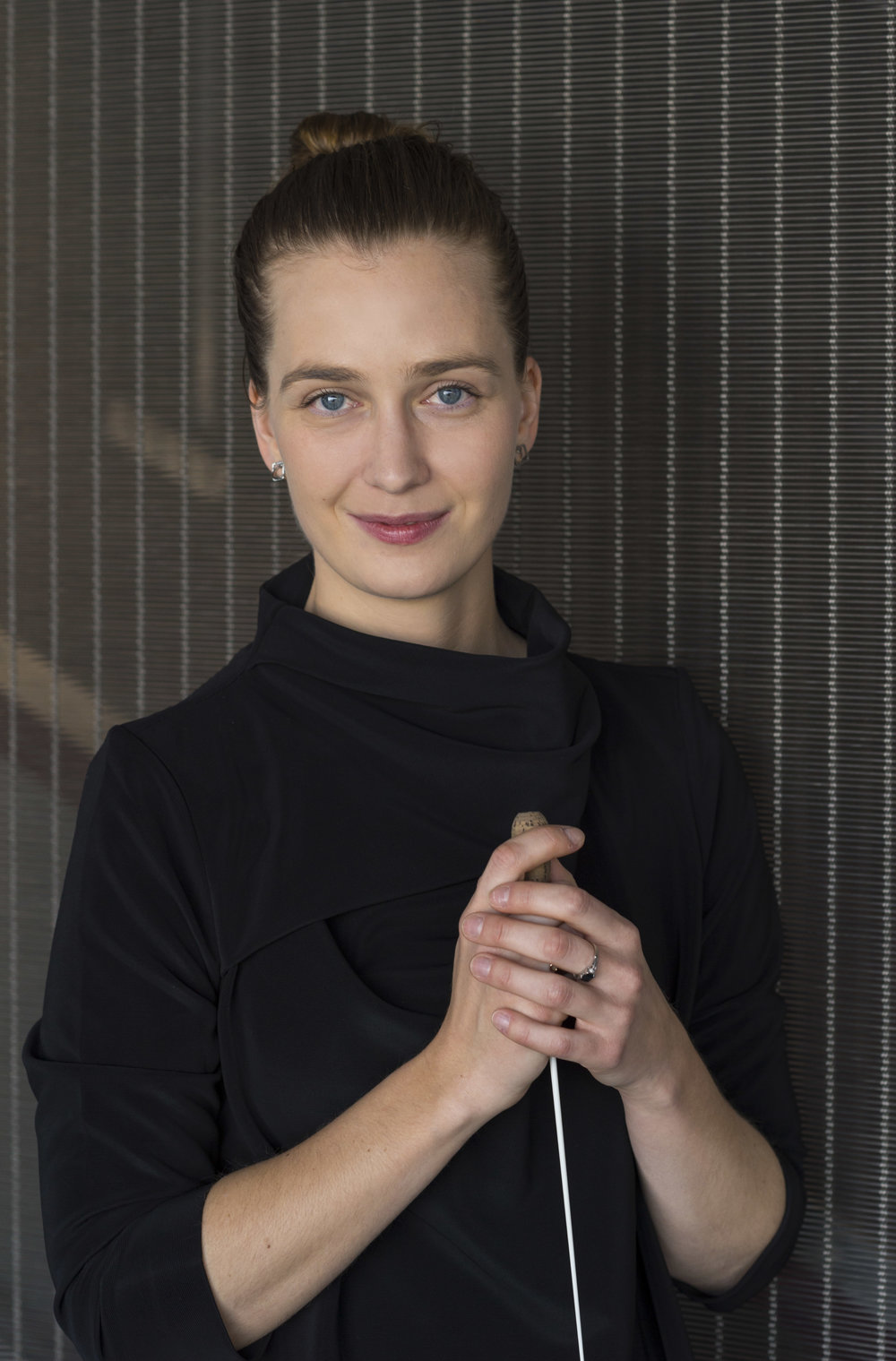 With the exception of Wolfgang Rihm's Jakob Lenz, no operas performed at this summer's Aix Festival were as musically complex as Israeli composer Adam Maor's The Sleeping Thousand. This beguiling, multifaceted chamber opera—a co-commission of the Aix Festival and Les Théâtres de la Ville de Luxembourg—melds strains of gamelan with winding Arabic modal scales, Ircam-designed computer sounds, and strings that wail like a call to prayer. There was great virtuosity all round, thanks largely to Swiss-Australian conductor Elena Schwarz, 34, who stood in total command of the proceedings, as precise as she was expressive.
Her evident familiarity with the score is hardly surprising. The opera, whose libretto by Yonatan Levy depicts an Israeli Prime Minister who plunges political prisoners (presumably Palestinians) into a deep slumber, was born out of various "Young Opera Makers" workshops hosted by European Network of Opera Academies (ENOA) institutions. Schwarz, who first participated in an ENOA workshop at Aix in 2016, teamed up last summer with Maor and Luxembourg musicians for a session on the score last summer. "The music was on the page but it was more a collection of fragments and ideas," Schwarz tells me in a recent phone interview. "It was great to contribute by saying 'this works, but have you tried that?' It made for a really open process.
"We were all able to suggest specific techniques and ask very precise questions about what the color should be as Adam refined his sonic world. One of the clarinetists came up with the idea of using an ancient Egyptian [wind] instrument called the Arghul, and Adam was like 'of course we should use that!'" The effect, she reports, helped to create an extremely powerful finale.
Schwarz conducts 20th- and 21st-century repertoire often, with recent highlights including Daniel Moreira's Countdowns for ten instruments and two sampler keyboards (Utrecht's Gaudeamus Music Week in 2014), Berg's Chamber Concerto (Martha Argerich's Lugano festival in 2016), a program of Olga Neuwirth at the Lucerne Festival (at the 2016 series entitled "PrimaDonna" and spearheaded by female conductors), and Stravinsky's The Firebird at the Paris Philharmonie last year.
But she increasingly conducts mainstream symphonic repertoire, especially since being Mikko Franck's assistant at the Orchestre Philharmonique de Radio France in 2017/18, joint assistant conductor of the West Australian Symphony Orchestra (WASO) and Tasmanian Symphony Orchestra (TSO) for the same season, and a Dudamel Fellow at the Los Angeles Philharmonic just this past season. She has also worked with Franck on opera, assisting him for Madama Butterfly and Rigoletto at the Chorégies d'Orange in 2016 and 2017, and with Kazushi Ono on Prokofiev's The Fiery Angel at last year's Aix Festival.
While her parents were not musicians, Schwarz traces her broad repertorial interests to her childhood in Lugano, the sleepy capital of the Italian-speaking Swiss Ticino region, which was a hotbed of musical activity even before LAC, Lugano's flashy arts center, was founded in 2016. Back in her youth, the local Orchestra della Svizzera Italiana (OSI), the electro-acoustic studio in nearby Gravesano, and Argerich's Lugano festival (which folded in 2016), helped make for a varied musical terrain.
She became fascinated by orchestras watching OSI rehearsals. Following studies in cello and musicology in Geneva Conservatoire and University, she completed a masters in conducting and picked up key advice from the likes of Matthias Pintscher and Peter Eötvös along the way. "Peter [Eötvös] believes no two gestures should be the same," Schwarz tells me. "His approach is less spontaneous as one of careful analysis and personal rigor. That's something you also see in his work as a composer."
Winning conducting prizes gave Schwarz extra visibility. Thereafter, last-minute stand-ins for Franck at the Paris Radio Orchestra, for programs of Ravel and Bruckner, were further trials by fire. "When you come in at the last minute without having done any of the rehearsals something special happens," Schwarz says. "There is incredible solidarity and the sense that you are all in it together. Of course, you have to deal with nerves, but if you know what you are doing and have a good rapport with the orchestra that element of risk can work in your favor. That hyper-alertness can be useful."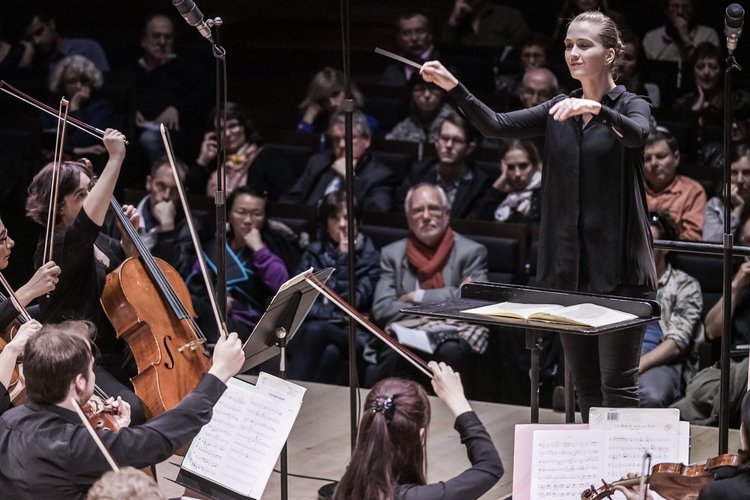 Schwarz says participating in assistantships provided useful comparative insights. In Paris, she learned how concerts are prepared with limited rehearsal time. In LA, she found Dudamel's special rapport with the orchestra to be "inspirational" and Principal Guest Conductor Susanna Mälkki's breadth of repertoire "extraordinary."
Now that her assistantships are over, she finds herself at an interesting crossroads. "It's the right time to move into my own projects. Assisting means working with the same collective for a period, and I have learned so much in that context. But now I want to keep meeting lots of collectives so I can learn as much as possible. This shift in focus is a fabulous opportunity to do that."
Her diary is already bursting with major engagements including the Norwegian Radio Orchestra (Ligeti, Prokofiev, and Shostakovich), the Royal Scottish National Orchestra (Brahms and Franck), the BBC National Orchestra of Wales (program TBA), and a Luxembourg performance of The Sleeping Thousand in January. Next July, she will conduct 4 performances of Haydn and Stravinsky with the Detroit Symphony Orchestra.
"There will also be more opera with Mikko Franck, and I can't wait for that," Schwarz concludes. "My Italian side just loves Puccini." For a contemporary music whizz, her fondness for Romantic opera is surprising. With so many interests to explore, expect the unexpected from Elena Schwarz.

WHO'S BLOGGING


RENT A PHOTO
Search Musical America's archive of photos from 1900-1992.