---
New Artist of the Month: Pianist Emmet Cohen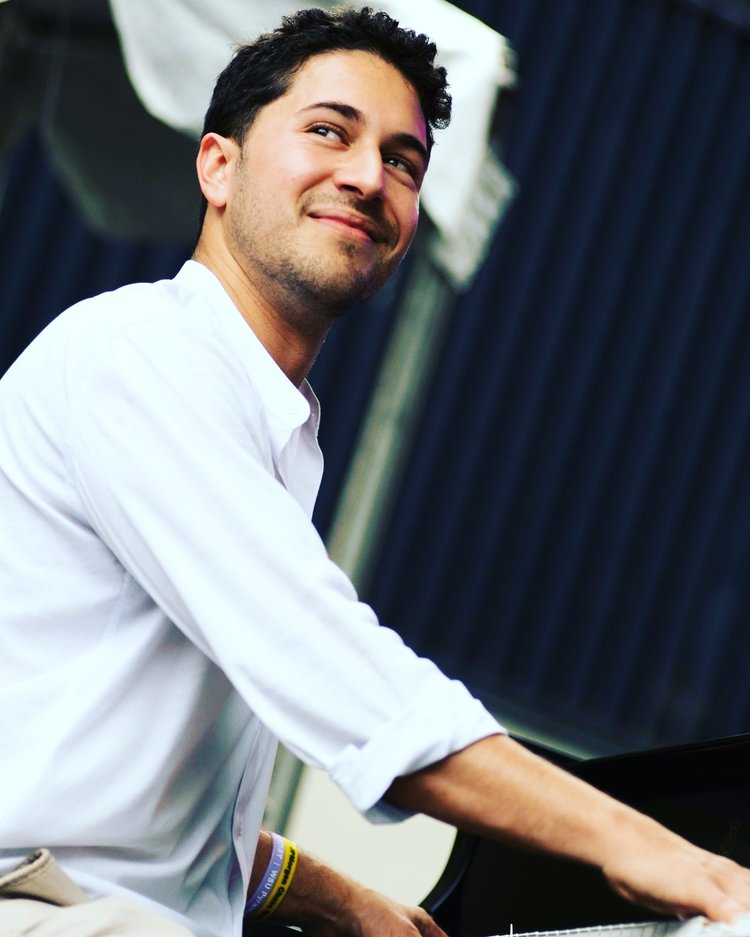 It takes a lot for a young jazz artist to get noticed. Just ask Musical America's New Artist of the Month Emmet Cohen. For years, the 28-year-old has been an indefatigable presence on the New York scene, playing piano (he doubles on Hammond B3 organ at the jazz club Smoke), recording, teaching (most recently for Jazz at Lincoln Center's "Jazz for Young People" program), and competing at top level competitions. On April 6 he won the prestigious American Pianists Association [APA] Cole Porter Fellowship in Jazz after a rigorous 13-month competitive trial in Indianapolis—a prize valued at $100,000.
It was his third attempt, a fact he finds mildly embarrassing. Yet it attests to both his perseverance and his level of skill. The APA always attracts formidable players—alternating every two years between classical and jazz contests—and this time was no exception: the other four pianists in the running were Kenny Banks Jr., who has been featured on TV and in film; Keelan Dimick, who won first place at the Lionel Hampton International Jazz Festival; Dave Meder, winner of the Jacksonville Jazz Piano Competition; and Billy Test, who took second place in the Montreux Jazz Piano Competition.
All underwent a trial by fire, performing over the course of the year in solo and trio formats, and participating in educational residences at local high schools. The final days of the competition found them at Indianapolis's Jazz Kitchen, and then at the Hilbert Circle Theater, in collaboration with master jazz vocalist Kurt Elling, and as soloists with the elegant Buselli-Wallarab Jazz Orchestra.
For the judges, it was a tough choice, especially during the final evening, after Kenny Bank's magnificent Ray Charles-infused performance of "Georgia On My Mind," with Kurt Elling. Each contender revealed deep musicality and remarkable technical flair. What set Cohen apart was his consistency and creative vision, honed over the last decade through work with some of the art's greatest representatives. A prime example is the recording project he initiated with the title "Masters Legacy Series." The first two volumes featured drummer Jimmy Cobb and bassist Ron Carter. Future plans include sessions with jazz luminaries Benny Golson, Tootie Heath, and George Coleman.
"Jazz is often called America's classical music," says Cohen. "The difference is that you can't go back and spend time with the founders of the classical tradition. In jazz, you can. There are players around who performed with Charlie Parker and Louis Armstrong. They are a rich resource. Yet I noticed there aren't enough interactions between young and old musicians. I wanted to seek that out, not only for myself but for my entire generation."
Convincing veteran performers to become involved with a newcomer, he says, was not terribly difficult. "It takes a level of seriousness and honesty," he explains. "People have to sense that you are in it for the right reasons. I wanted to play with Ron Carter and Jimmy Heath, to experience it. To be on stage with someone who created the style that came out of the struggles of a period. There are serious aspects to the lives of these masters. Ron Carter, for example, wanted to be a classical cellist, but racism stood in his way. You have to have respect for what they have gone through."
One wonders, conversely, if he has encountered any backlash as a white performer working in an art form that has been dominated by African-Americans. "Art and music belong to all the people," he says. "If you're not European it doesn't mean you can't be a great classical pianist. If you're not black it doesn't mean you can't be a great jazz musician. Of course, I'm mindful of who invented what I'm doing. You have to know what came before, what got you to this moment. I haven't experienced any personal negative encounters. I try to be in it for the love of it."
His love of the tradition shows even in his repertoire choices. A musical set by Cohen often includes not just standard repertoire, but rare stride and ragtime pieces, sometimes placed into complex structures or utilizing extremely knotty rhythms. He has a beautiful piano tone, with a subtle dynamic palette. And his harmonic sense is impeccable, especially when accompanying singers.
He has learned the lessons of historical figures who came before him. "So many young people are influenced by Keith Jarret or Chick Corea," he reports, "and you find few of them inspired by Cedar Walton or Willie "The Lion" Smith, or Earl Hines. That has always puzzled me. I love something about every great pianist." He is especially drawn to Cedar Walton: "For me, he's the link to Art Tatum (without necessarily displaying Art Tatum technique), Bud Powell, Hank Jones, and Thelonious Monk. When I was in my teens I went to see him whenever he played. I got to spend time around him, and he had a huge influence on me."
He crafts an original voice by listening to all the eras and forging combinations of styles. "It's like going into a cabinet in your house," he explains. "I have all these spices and ingredients—you're not necessarily going to come up with original ingredients, but you can find unusual mixtures." Like taking aspects of Duke Ellington's approach and adding Ahmad Jamal's solo piano concepts, or taking Mary Lou Williams's solo piano style and applying it to a trio format.
And then there is his work with the Hammond B3, which began when he was 15 and attended jam sessions at a club in his hometown of Montclair, NJ. That was when he first felt the power of the instrument. He started visiting the club after school, where the owners allowed him to practice. "My hero, Fats Waller, also played both piano and organ," he says.
Like Waller, for Emmet Cohen, music is all about communication, and the ability to inspire. "When we play the blues, the audience understands that feeling of hope," he believes. "When Armstrong reaches that high note, you experience the promise, the outcome of the struggle. I feel that's the best thing about it all."
Stuart Isacoff's latest book is When the World Stopped to Listen: Van Cliburn's Cold War Triumph and Its Aftermath (Knopf).
Emmet Cohen plays at the APA Gala Finals

WHO'S BLOGGING


RENT A PHOTO
Search Musical America's archive of photos from 1900-1992.