---
New Artist of the Month: Siena Licht Miller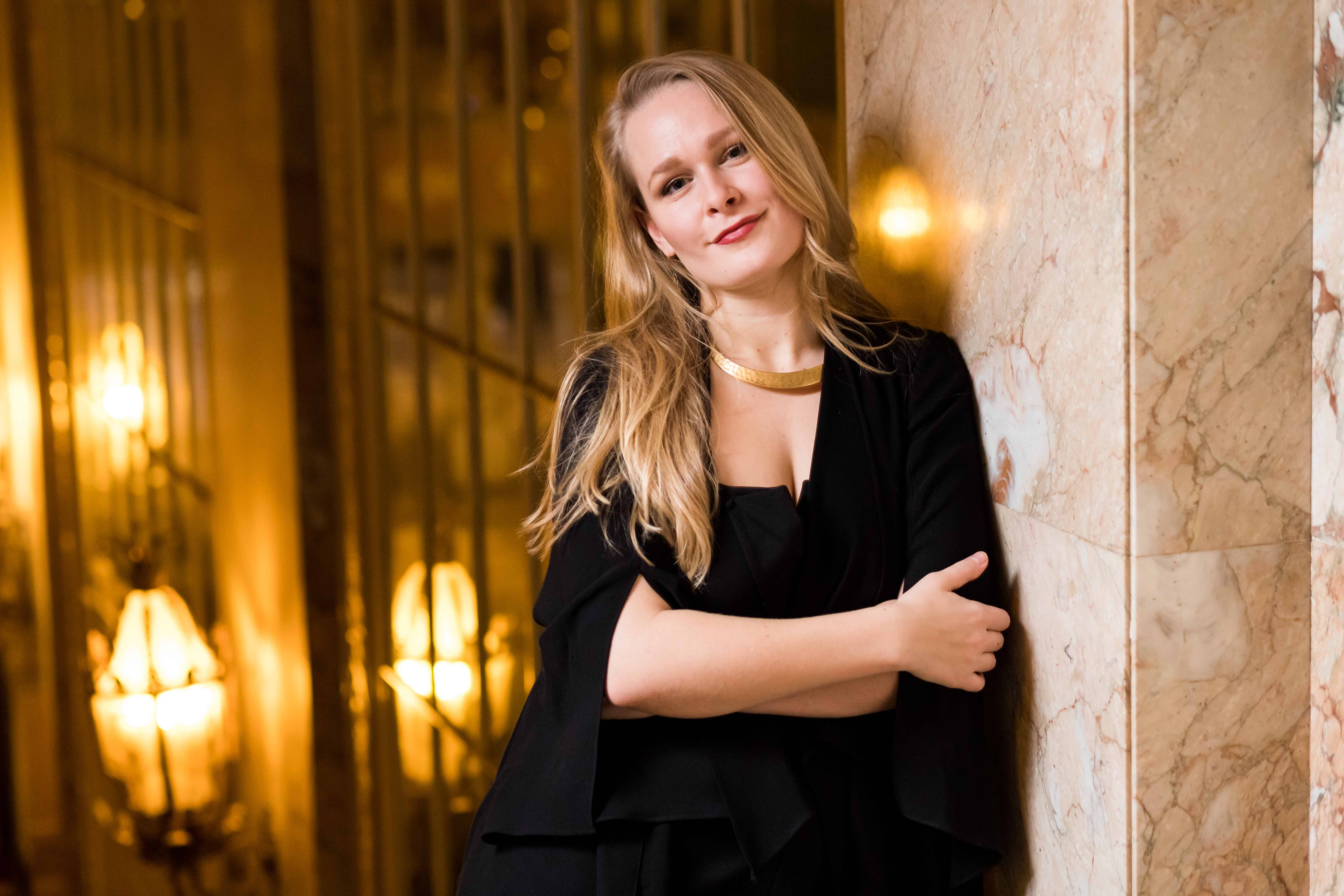 Opera Philadelphia's recent staging of Benjamin Britten's A Midsummer Night's Dream was notable not just for the first U.S. landfall of Robert Carsen's iconic production, it also happened to be immaculately cast. Alongside starry names like Tim Mead (Oberon) and Matthew Rose (Bottom) was a handful of remarkable young singers benefitting from the enlightened symbiotic relationship the opera company has with its neighbor the Curtis Institute. One such standout was mezzo-soprano Siena Licht Miller who tore onto the stage as the hotly pursued Hermia. Blessed with a rich, wide-ranging voice and immaculate diction, she was clearly a gifted actor as well, creating a beautifully rounded character with a carefully crafted mixture of vulnerability, pathos, and a sizable dash of comic chutzpah. So confidently did she essay the role, it was impossible to guess that she is still in her mid-twenties and studying for her master's degree.
Born in Portland, Oregon, to an American father and German mother, Miller spent her summers in the Strasbourg area, among other things honing her language skills. Both parents are healers, but she picked up the violin instinctively at age four.
"It was something I wanted to do on my own and I was very diligent, except when it came to practice—I was the best improvisor in the world!" she laughs. "My violin teacher, who had been in the San Francisco Opera Orchestra, always made me sing the phrases, and that was my favorite part. Once I'd realized that I didn't want to spend four hours a day in a room by myself practicing violin, that was when singing took over."
At 17, she entered a young artist competition, one she never expected to win. "The conductor Niel Deponte sat my parents and I down and said, 'You know what? I think you have the whole package.' He really encouraged me to pursue it further," she explains.
Traveling the 3000 miles to Oberlin at age 18, she completed her degree in vocal performance but also studied German literature in case she needed to fall back on an alternative career as a translator. "I was the underdog at Oberlin. I was really shy and insecure because I didn't come from this Interlochen or La Guardia world," she recalls, referring to the country's two prestigious performing arts high schools. "But as time went on, and with a fantastic voice teacher who slowly developed the voice step by step, I built a foundation."
Summers at Chautauqua
Summers were now spent at Chautauqua Institute where she met Mikael Eliasen, the head of Curtis and mentor to a whole generation of young singers from Juan Diego Flórez to Matthew Rose. Quick to spot potential, Eliasen encouraged her to come to Philadelphia for graduate work where she could also benefit from the partnership he had been building with Opera Philadelphia.
"Curtis is the most amazing place in the world," she enthuses. "My master's degree is performing opera, and because I've been an emerging artist at Opera Philadelphia for two years I have gotten to be on stage. The best thing a mentor can do is give you opportunities that you find are way out of your comfort zone. We start out doing small roles—I did Second Lady in Die Zauberflöte—but now I've gotten to the point where I sing lead roles and I'm doing a premiere with them next year."
That premiere happens to be by Philip Venables, the acclaimed British composer whose operatic adaptation of Sarah Kane's harrowing 4.48 Psychosis won major plaudits at its U.S. premiere at this year's New York Prototype Festival. His new work is part of Opera Philadelphia's next season. "It's a two-person opera with four cellos called Denis and Katya," she explains. "It's the story of these two kids who live-streamed their last two days. We play people the journalists interviewed about the story. The piece is still developing, but the composer and librettist [director Ted Huffman] have been very clear that they don't want us to play the actual kids this affected, but instead build the story around playing those that were left behind to process it. It's essentially about our relationship to online news and clickbait, and how we slowly become desensitized to it all. It's been dark and exciting, but the best thing is Philip is writing it with my voice in mind."
Miller is keen to acknowledge Eliasen's mentorship. Her first lead role at Curtis was Britten's Lucretia, but the role that really changed her life, she says, is Kitty Oppenheimer in John Adams's Doctor Atomic. "Curtis, a school, did Doctor Atomic," she explains, "That role and the truth of it all propelled me into a world of singing in English with honesty and integrity, and learning how the immediacy of singing something in English can really affect an audience. It got me a lot of attention. People were asking, who is this 21-year-old singing a piece that was written for Lorraine Hunt Lieberson (may she rest in Paradise). I went on to cover Julia Bullock in the role at Santa Fe Opera with Peter Sellars directing. Julia is a force of nature—it's amazing to watch her—and Peter went on to work with all the covers."
Another mentor is Marilyn Horne. "At Oberlin I was the recipient of her Award and I'm doing a Carnegie Hall Citywide recital because of her. She's done it all and she believes in passing it down," she explains. "I also love Janet Baker. Her quote that 'clear vowels are the windows to the soul'—to me that's what she always did."
Looking ahead, Miller is eyeing the Mozart and Handel repertoire, what she calls the healthiest things to be singing. "In an ideal world I wouldn't label myself as anything, I'd just be Siena," she reflects. "I've had an unconventional way with roles so far and that has allowed me to do projects people wouldn't normally think of me for. But I don't see limits. My voice has a natural color to it, and if that natural color fits the character, then I'll sing the role."
PHOTO: Stark Photography

WHO'S BLOGGING


RENT A PHOTO
Search Musical America's archive of photos from 1900-1992.