---
New Artist of the Month: Patrick Guetti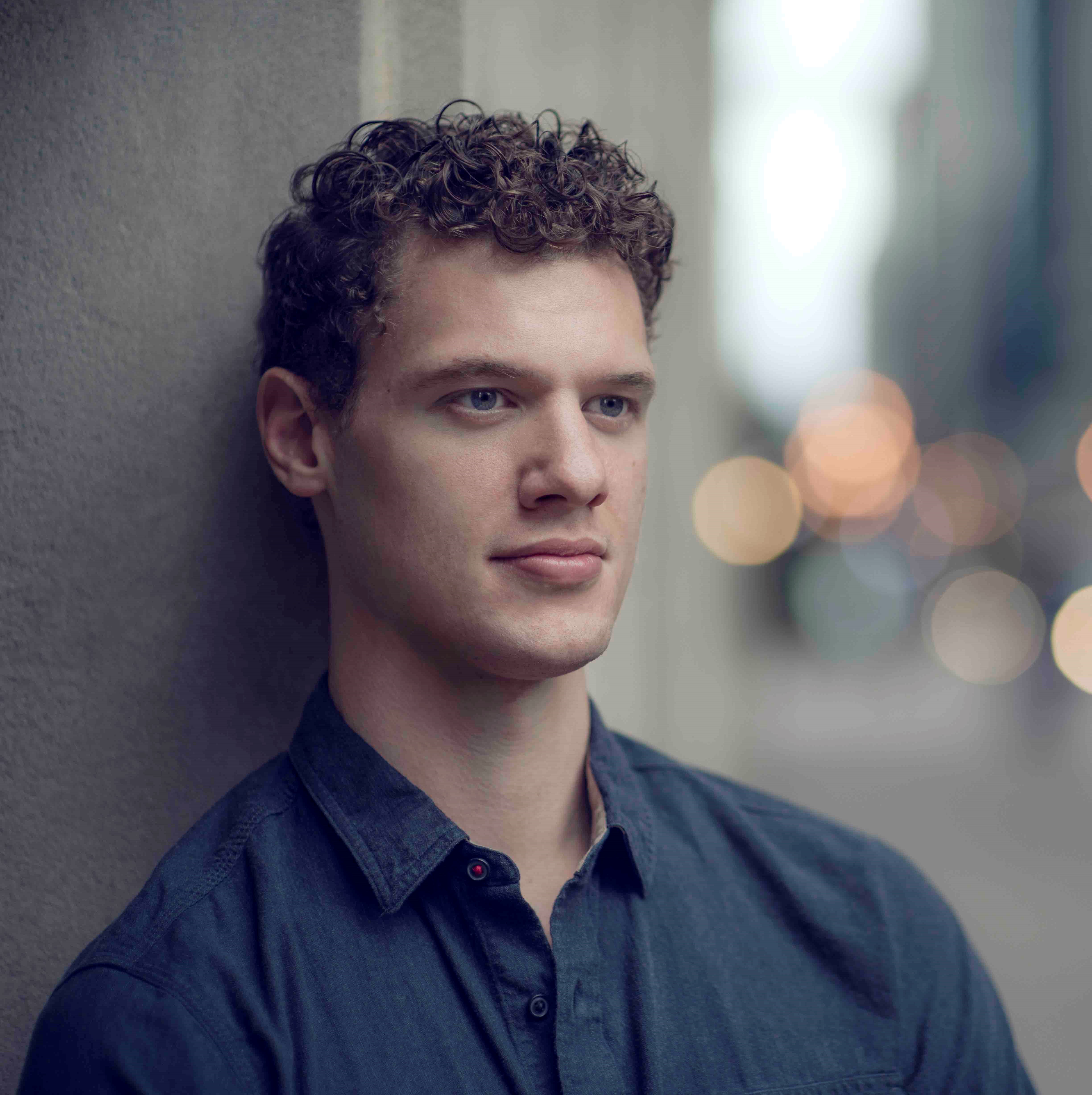 Spare a thought if you will for the young operatic bass. The lowest and least glamorous of voice types, the bass, like a good burgundy, takes time to mature. Meanwhile, from their first baby steps in the profession, they are expected to embody an array of elderly dodderers, dimwitted yokels, and greedy giants. Not that Patrick Guetti lets that bother him. He even has a built-in advantage in the latter category, as the rangy, 31-year-old New Jersey-born singer comes in at over six foot seven. Most recently seen in Lyric Opera of Chicago's Siegfried as the dragon Fafner and as a delightfully slow-witted Snug the joiner in Britten's A Midsummer Night's Dream for Opera Philadelphia, he's attracting attention, and not just for his stature and robust, resonant voice. He also has the acting chops to back them up, praised in both productions for painting sympathetic portraits of potentially two-dimensional characters.
It hasn't been all smooth sailing. Population 14,000, Highland Park, NJ, is a small community with an active Catholic church and Guetti took time to discover his vocation. "My mother pushed me into piano lessons at the age of five," he explains. "She's a math professor and saw this inherent link between math, music, and how the brain functions, so she had an agreement with us that we would each do something musical until we were 18 years old."
Playing flute in elementary school helped him get a grasp of music theory and encouraged him to dip his toe into the local church choir where they'd give him the boy soprano solos until his voice broke. Meanwhile, a burgeoning enthusiasm for musical theater propelled him to Catholic University of America in Washington DC, but something felt wrong. "I was taken aback by the kind of singing that was coming into vogue on Broadway, which was born out of American Idol," he admits. "My voice just didn't suit, and it was hard to reconcile my height with dancing and a career in musicals."
Meanwhile, a chance to study Shakespeare in London for a semester introduced him to a teacher who heard something special in Guetti's voice: "Have you heard yourself? Have you seen yourself?" she said. "You're an idiot if you don't sing opera!"
Immersing himself in recordings and regular trips to English National Opera, he was quickly hooked. Back in Washington, vocal guru Rick Christman helped him change course and focus on opera for his master's degree. "I was lucky, and I also worked my butt off," he recalls. "And all of a sudden I had a path. I had goals. I thought, 'OK Patrick, there's something about you that is significant within this artform – you have to follow that instinct.'"
Three years at the Academy of Vocal Arts in Philadelphia followed, during which time Guetti won the Metropolitan Opera National Council Auditions and was offered the chance to go to the Ryan Opera Center (the professional artist-development program for Lyric Opera of Chicago). The Met win meant that doors started opening and plenty of people came calling. "Some of it was too soon; some of the repertoire was just too much; I was overwhelmed," he confesses. "Then, one day I ran into Joyce DiDonato at the Met – I'd worked with her once in Santa Fe. She gave me a big hug and told me how proud she was of me, and then advised me that I needed to go away and hide in the Chicago young artists program. 'Iron out all the insecurities and all the technique,' she said, 'and then jump back in when all of those things feel stable.'"
Guetti spent three years in Chicago refining his skills while covering roles like Fasolt and Hunding in Lyric Opera's Ring cycle. He even managed to make his international debut singing the Nightwatchman in Glyndebourne's production of Die Meistersinger von Nürnberg. It was Lyric Opera, too, who came to the rescue when an overseas contract fell through last year, offering him the role of the booming dragon in Siegfried. Although mostly sung from the wings, Guetti found himself decked out in prosthetics and a fat suit for a final, rewarding five minutes of music on stage. "Fafner feels like home," he says. "I find it so easy for my voice to go there, and I love that music so much."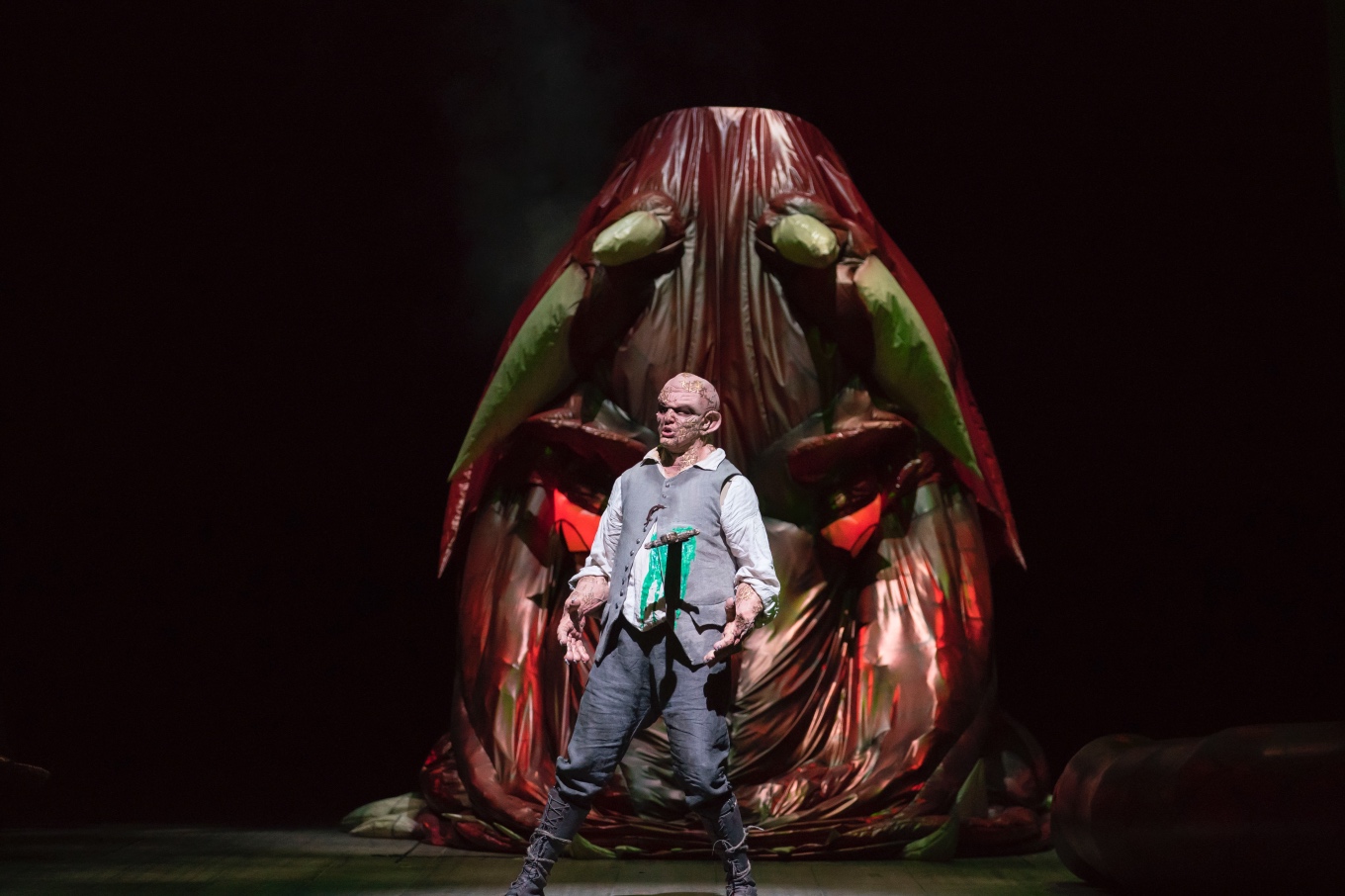 As Fafner in Lyric Opera of Chicago's Siegfried
Two roles he loves to sing are Sparafucile in Rigoletto and Basilio in The Barber of Seville. "Sarastro too," he adds. "There's something warm and beautiful about him. I'm a very sensitive person and I get to show a certain humanity in that character, which I absolutely love. Sparafucile, on the other hand, brings out all those evil thoughts. He's the polar opposite of my personality so it's interesting to go there and not have to judge him for his actions."
With people advising him that Germany was the way to go for his voice type, last year Guetti flew to Europe. Following a grueling six auditions in 12 days, he emerged in the end with a coveted contract from Deutsche Oper Berlin for 50 performances in roles ranging from Basilio to Osmin in Die Entführung aus dem Serail. "It was mission accomplished," he laughs, "plus job security and a lot of role experience."
Before that, American audiences can catch him as Sparafucile and in Bernstein's Songfest at Wolf Trap Opera, and he will make his Met debut in The Magic Flute in Jan 2020. Meanwhile, in breaking news, it has just been announced that Guetti will represent the USA in the 2019 BBC Cardiff Singer of The World Competition.
So, how optimistic is he about the future? "I've had my own personal struggles, relationship struggles, people who don't want to deal with my lifestyle, but it's never been a question of am I making the right choice. It's always felt like my vocation," he reflects.
"I understand that people get frustrated and jaded with the profession, but I haven't had that experience. For me, it's not about the big houses but constantly being challenged to make better art and push my horizons. And maybe I care less about where that happens."
Photo credits: Simon Pauly (top) and Todd Rosenberg

WHO'S BLOGGING


RENT A PHOTO
Search Musical America's archive of photos from 1900-1992.