---
MA Top 30 Professional of the Year: Clyde Scott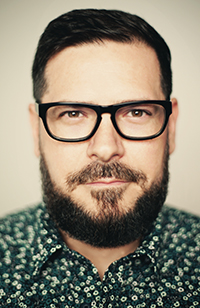 Director of Video Production/Resident Projection Designer
New World Symphony
As director of video production for the New World Symphony, Clyde Scott has a key role in the orchestral academy's mission to make its home, the Frank Gehry-designed New World Center, the world's most technologically advanced concert hall. Since the center opened in 2011, Scott has produced more than 90 Wallcast concerts, New World's trademark HD simulcasts of concerts in its hall that are shown on a 7,000-square-foot outside wall. They draw crowds that average 2,000 to SoundScape Park in Miami Beach.
Ten Wallcasts are scheduled in 2018–19, many conducted by Artistic Director Michael Tilson Thomas, with programming that ranges from Beethoven's Seventh Symphony to the world premiere of a work by Musical America 2019 Composer of the Year Julia Wolfe. "New work is definitely more difficult because of its inherent complexity," says Scott of coordinating the live video feeds from the concert hall's multitude of cameras. "Stravinsky tends to be challenging because of the way he breaks melodies up."
16 cameras
Wallcasts use as many as 16 cameras, including robotic ones throughout the hall as well as tiny cameras that enable the viewer to "get deeper into the experience of the orchestra," Scott says. "If we have a cello soloist, we can put one of these cameras on the end pin of the cello, looking up at the bridge and the cellist's face. We hide one in front of the podium that gives a powerful, intimate view of the conductor." A production may have up to 700 camera shots.
Scott, also a trained violinist, is overseeing the multimillion-dollar upgrade of New World's simulcast system from HD to 4K, which will increase image resolution almost fourfold for Wallcasts. He also designs immersive video art for inside the concert hall, which can be projected onto the large, curved acoustic "sails" above and around the stage to complement the music on stage. His favorites include the "cubist cabaret" he designed for George Antheil's A Jazz Symphony and the atmospheric projections he created for Niccolò Castiglioni's Inverno in-ver.
PHOTO: Abdiel Thorne


WHO'S BLOGGING


RENT A PHOTO
Search Musical America's archive of photos from 1900-1992.