---
MA Top 30 Professional of the Year: Erik Rönmark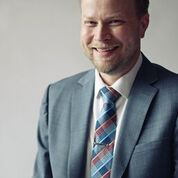 VP and General Manager, Detroit Symphony Orchestra
Co-founder and Executive Director, New Music Detroit
Detroit Symphony Orchestra President and CEO Anne Parsons credits Eric Rönmark with playing a major role in the orchestra's resurgence. A onetime professional saxophonist with a DMA from the University of Michigan, he began his career at the DSO in 2005 as a part-time library assistant. Within a year he was named artistic coordinator, drafting contracts and managing logistics for guest artists. Rising through the ranks, he served as artistic administrator (2010–13), then added the role of general manager (2013–16); he has been in his current post for two years.
The orchestra has seen its ups and downs, including a contentious six-month musicians's strike in 2010–11. By the time negotiations for the next contract began in 2014, Rönmark had a seat at the table. Parsons credits him with co-leading talks both for that agreement and the one in 2017, and both an unprecedented eight months early. He also successfully renegotiated the 2015 and 2018 IATSE Local 38 (stage and film technicians' union) contracts.
Rönmark launched the William Davidson Neighborhood Concert Series, which regularly brings the DSO to areas surrounding Detroit. He is also behind the symphony's live streaming series, the first instituted by an American orchestra, which has significantly widened audiences and, in turn, increased ticket sales. And he oversaw the DSO's first international tour in 16 years, which brought the orchestra to Japan and China for 11 concerts
in July 2017.
Currently, Rönmark oversees about half of the orchestra's $29M budget, 40 staff members across eight departments, and over 80 musicians. As if that wasn't enough, he is executive director of New Music Detroit (NMD), a musicians' collective he co-founded in 2006 that has commissioned some 30 new works, including those for saxophone. NMD's annual September Strange Beautiful Music marathon, now marketed through the DSO box office, has become the largest new music festival in the midwest.
Small wonder he was named one of Crain's Detroit Business's Top 40 Under 40, and now, one of Musical America's Top 30 Professionals of the Year.

WHO'S BLOGGING


RENT A PHOTO
Search Musical America's archive of photos from 1900-1992.