---
MA Top 30 Professional of the Year: Barbara Lister-Sink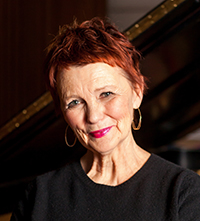 Director, School of Music and Graduate Music Program
Professor of Piano, Salem College
Barbara Lister-Sink has made it her life's work to develop an approach to keyboard technique that seeks to combat what she calls "the terrible plague" of playing-related injuries. "In 2014, a study said that about 50 percent of pianists will have neuro-musculoskeletal disorders," she says, adding that another study indicated that 77 percent of female players in Japan sustained injuries. "It never ceases to amaze me that, as much as everybody in the field is trying to lower this injury rate, it remains stubbornly high."
At Salem College in Winston-Salem, NC, Lister-Sink designed and directs the U.S.'s first master's degree program in piano or organ performance and pedagogy with an emphasis on injury-preventive keyboard technique. The school also offers a professional graduate certificate for performers or students in gap years and college teachers on sabbatical.
A passion for preventing injuries
Her passion for promoting injury-preventive technique stems from personal experience. As a 16-year-old pianist, she suffered extensor tendinitis in her right arm that persisted until six years later when she studied with Edith Grosz, an American pianist and teacher based in Amsterdam. That Grosz's technique worked was
proven when Lister-Sink became keyboardist with Amsterdam's Concertgebouw Orchestra in the 1970s; she also served on the Eastman School of Music faculty, from 1979–1986.
Lister-Sink's 1996 video/DVD Freeing the Caged Bird—Developing Well-Coordinated, Injury-Preventive Piano Technique has sold more than 15,000 copies. "My method is for teaching principals of good coordination," she says. "Musicians need to have the body awareness of athletes. Great athletes learn complex motor skills in a step-by-step manner, and the same is true of great musicians." Two of her all-time models of healthy keyboard technique are Arthur Rubinstein and Van Cliburn.
"When you see my students playing, you'll see a commonality," Lister-Sink says. "They sit upright. Their arms move in a fluid way. They're not using extraneous motions. And they seem to be moving with great ease, even in virtuosic passages. Hopefully, those characteristics will be combined with beautiful phrasing, gorgeous tone, and all the musical ideas I try to cultivate."


WHO'S BLOGGING


RENT A PHOTO
Search Musical America's archive of photos from 1900-1992.