---
MA Top 30 Professional of the Year: Joseph Conyers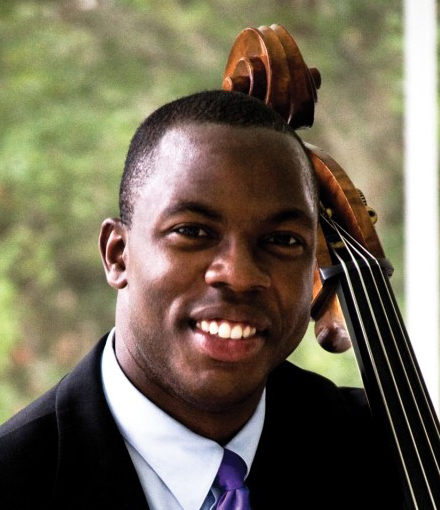 Assistant Principal Bass, Philadelphia Orchestra
Executive Director, Project 440
Joseph Conyers wears many hats. When he's not playing bass with the Philadelphia Orchestra, the Savannah, GA, native runs an education nonprofit called Project 440; and when he's not doing that, he's conducting the Philadelphia School District's All-City High School Orchestra, of which he's the director. Oh, and he's also
an adjunct professor at Temple University.
"Service has always been a part of my DNA," Conyers said in
a recent interview. He described a childhood car trip through rural Georgia, in which he noticed two children playing on a ramshackle porch. "My mom made the passing comment that one of those two kids could be a genius—an Einstein, a Mozart, a Yo-Yo Ma—and no one would ever know," said Conyers, whose mother is an amateur singer in the Baptist church. "That has always haunted me."
Formed by Conyers in 2007, Project 440 aims to teach community leadership skills to high school-age musicians. Its components include a 10-part series of college preparedness workshops and an after-school program devoted to building community outreach skills. Classes are led by teaching artists and guest speakers, and take place in Philadelphia School District buildings. In 2015, Project 440 developed an affiliation with the
Philadelphia Schools, after Conyers became music director of the All-City High School Orchestra. Musicians in that ensemble can avail themselves of Project 440's resources, Conyers says, including private lessons and entrepreneurship training. He has also enlisted Philadelphia Orchestra musicians to conduct sectional rehearsals.
In September, Conyers was recognized with a Sphinx Medal of Excellence, which includes a $50,000 career development grant (in 2004, fresh out of the Curtis Institute of Music, he won second prize at the Sphinx Competition). Conyers has received other accolades, not all music-related: In 2012, he took first prize in Mr. Natural Philly, a bodybuilding competition.
Conyers says his various pursuits stem from a desire for selfimprovement. "Whether it's bodybuilding, playing an instrument, or my nonprofit work," he said in a recent interview. "I've always had this insatiable desire to make things better—better than you found them."

WHO'S BLOGGING


RENT A PHOTO
Search Musical America's archive of photos from 1900-1992.