---
New Artist of the Month: Soprano Natalya Romaniw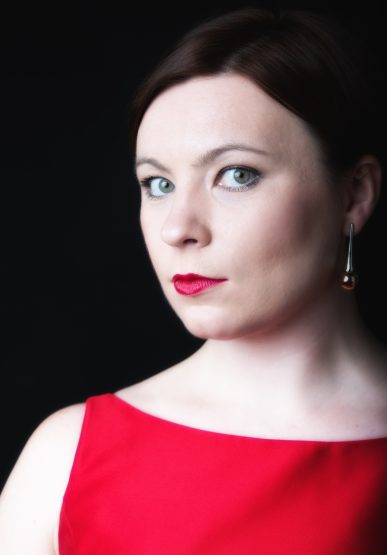 LONDON—Her exotic name notwithstanding, British soprano Natalya Romaniw is a native of Swansea, Wales. The granddaughter of a Ukrainian refugee who came to the U.K. during the Second World War, Romaniw, 30, studied at the Guildhall School of Music and Drama and earned the Gold Medal in her final year. At age 24 she was lauded on both sides of the Atlantic, winning second prize at the Houston Grand Opera (HGO) Eleanor McCollum Competition and first prize in Britain's prestigious Kathleen Ferrier Awards.
The connoisseur's choice of young British singer most likely to succeed--I had the honor of presenting her with the U.K. Critics' Circle Award for Emerging Talent earlier this year—Romaniw began her ascent to prominence by laboring in the background at Glyndebourne for several seasons. "I covered there as Anne Truelove in The Rake's Progress, Armida in Rinaldo, and the Countess in Le nozze di Figaro. In 2009 I went on for Act 3 as the first nymph in Rusalka when Ana Maria Martinez fell into the orchestra pit!"
As a member of the HGO Studio, from which she graduated in 2014, she gained a rich swathe of experience, singing Mimì in La Bohème, Ines Il Trovatore, Rosalinde Die Fledermaus, Micaela in Carmen, and Krystina The Passenger.
I first heard her at Glyndebourne in the fall of 2014, as the Governess in Jonathan Kent's production of Britten's The Turn of the Screw. It was a searing performance, but even then she had a sense that her musical destiny lay elsewhere. Speaking during rehearsals she told me, "I love Britten, I love the songs and the roles and feel all are spectacularly well written. Do I foresee a lot of Britten in the future? I'm not certain he's an obvious one for me."
That's because her voice was growing, although few realized it at the time. Today, Romaniw's instrument possesses spinto power combined with rare melodic warmth, and these characteristics together with an innate Slavic sensibility lend themselves to redder musical meat than anything Britten wrote for her voice range. In recent years Janácek and Tchaikovsky have been her calling cards.
It is a brilliantly focused instrument, the timbre ample yet vulnerable, while as an actress Romaniw creates interpretations of mesmerising depth. Her characters move audiences because the times when nothing seems to be happening are the ones where the most is going on. There has not been a moment in any of her three incarnations as Tatyana in Eugene Onegin, for instance, when her interior life has not shone as radiantly as her powerful voice.
In the latest of these, in Glasgow for Scottish Opera earlier this year, Romaniw had to negotiate a fantasy sequence in which the young Tatyana imagined her hero riding through a ballroom on horseback. As a theatrical coup that's tricky enough to deal with when an unpredictable live animal is involved, but first-night nerves prompted the horse to relieve itself in an unfortunately prominent location downstage. Romaniw, with nerves of steel, deftly sidestepped the evidence and delivered her letter aria without so much as flicker.
The refulgent power of the Welsh soprano's timbre makes her ideal for the roles of younger characters with mature voices, hence her successes as Lisa in The Queen of Spades and the title role in Janácek's Jenufa. Hugh Canning, the veteran music critic of The Sunday Times, put it thus: "Make no mistake, Romaniw shows all the signs of becoming a British Anna Netrebko if she takes her time." She also chooses her repertoire wisely. At London's Opera Holland Park, for instance, she was ideally cast in a pair of neglected Verismo operas, as Maliella in Wolf-Ferrari's I Gioielli della Madonna and Fiora in Montemezzi's L'amore dei tre re.
With a concert repertoire that extends from Beethoven's 9th and Mahler's 2nd symphonies to Janácek's Glagolitic Mass, her evolution towards the dramatic soprano range is unmistakable. Yet Romaniw is managing it with great care. "My voice continues to grow and its capacities seem to be gradually opening doors to some of the larger repertoire," she said. "The future holds a lot of Italianate repertoire, namely Puccini heroines, some of which are at the larger end of the scale."
Specifically, she will sing her first U.K. Mimì, for ENO, this season and make her role debut as Tosca at the Belle-Île opera festival in Normandy, France. There is also Slavic repertory slated for 2019, including her first Marenka in Smetana's The Bartered Bride, for Garsington Opera, and a return to Opera Holland Park in the title role of Iolanta.
"I'd say the 2017-18 season has geared me up for the opportunities that lie ahead. I've had a lot of singing to do this year and it's only getting busier. I feel very lucky. This season I've performed my favorite heroine of all time, Tatyana, for two national U.K. companies, and for both performances I was privileged to received two different awards."
Next year she'll release her first solo recording, which will feature Czech and Russian songs by Dvorák, Janácek, Novák, and Rachmaninov. There's little doubt that Natalya Romaniw is destined to become a world-ranking diva, but not until she's good and ready.
PHOTO: Patrick Allen, Opera Omnia
---

WHO'S BLOGGING

Interviews with musicians who have successfully created their own opportunities.
PROFESSIONAL
GROWTH
FIND:
»MORE

NETWORK
FIND:
Updates to artist manager rosters
»MORE
RENT A PHOTO
Search Musical America's archive of photos from 1900-1992.