---
New Artist of the Month: Clarinetist Taylor Marino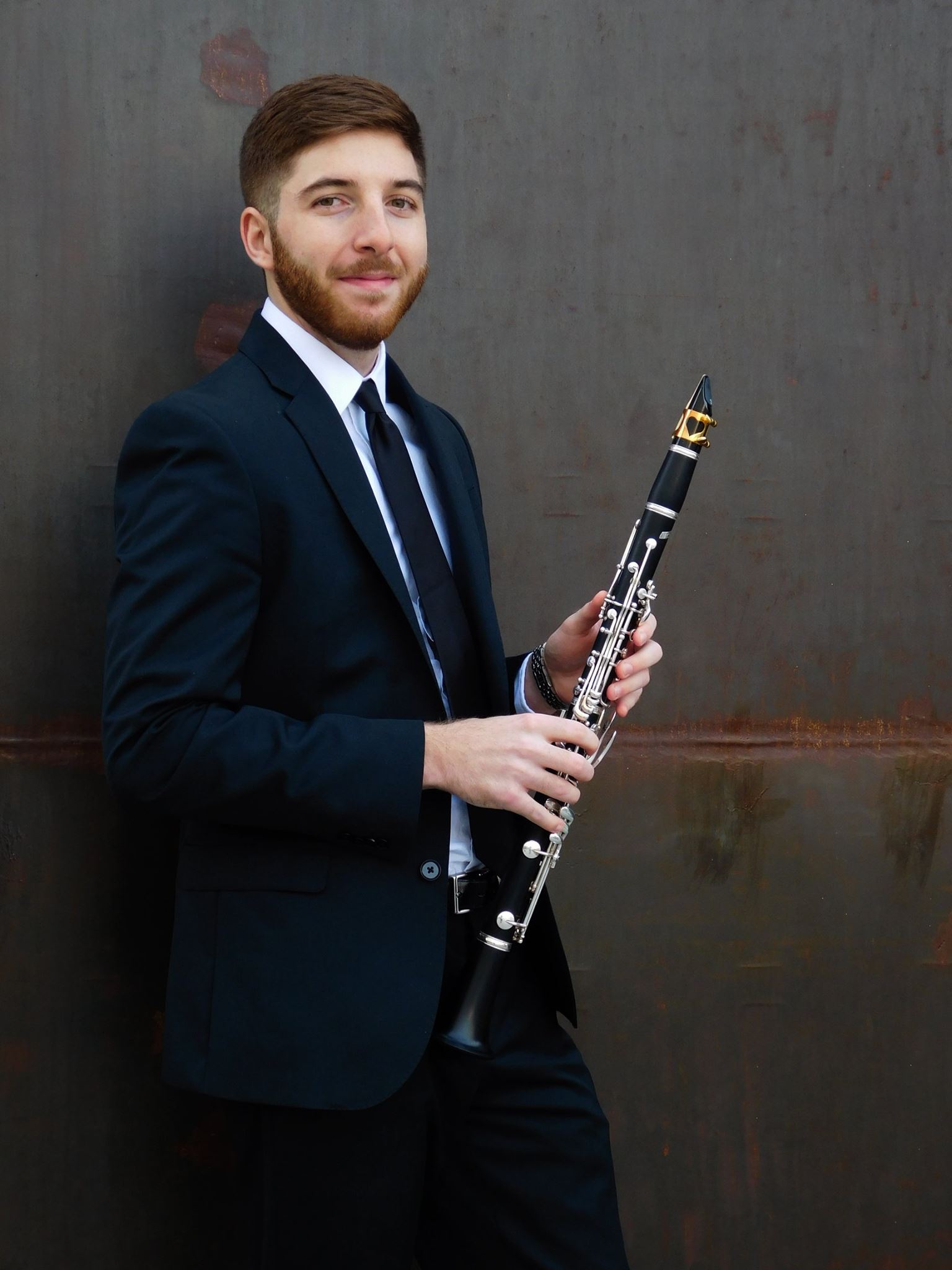 For a guy who says he was forced by his non-musical parents to take up the clarinet and join the school band, Taylor Marino is doing just fine as a serious artist. At 24, the North Carolina native has performed at festivals including Tanglewood, Aspen, and Brevard, substituted in prominent orchestras, graduated from the Manhattan School of Music, and, now, elected to study for his masters' degree with Yehuda Gilad at the Colburn Conservatory in Los Angeles. (His brother, who began clarinet at the same time, now works for an off-road car-racing company, so you never know how it's going to go.)
It was actually his brother who started clarinet first, before discarding it, but Taylor, a year older, thought it was a cool pick. (Cool matters to him.) He mastered the instrument quickly, especially after he lost his first clarinet and his mother took him shopping for a decent replacement. That led to private lessons, and soon, to a successful audition for the all-district seventh-grade band. "I freaked out," he recalls. "I guess this means I'm good at it."
As a teenager, he also learned flute and alto sax, because his cool first teacher played them. And jazz, for him, was and still is a must-have. By the time Marino was a high school senior at the Interlochen Arts Academy in Michigan, he was lead alto sax in the jazz band, taking courses in improvisation.

From Interlochen he applied to Manhattan School of Music, where he became a student of Mark Nuccio, who after 17 years in the New York Philharmonic's wind section, just joined the Houston Symphony Orchestra as principal clarinet.

"Living in New York was incredible," says Marino. "I had a devoted teacher. I went to the Philharmonic every single weekend, attended open rehearsals, and learned a ton. At Carnegie Hall, I heard performances of orchestras on tour, and I ushered at the Metropolitan Opera. Watching musicians warm up onstage and talk, and then play awesome music, I became totally hooked."

His dreams after New York were Rice University, Juilliard, and the Colburn Conservatory. He chose the last, where there are but five spots in the clarinet studio; he finds studying with Gilad "a total dream come true." (Gilad also taught Afendi Yusuf, Musical America's September Artist of the Month, who just won the post of principal clarinet at the Cleveland Orchestra.)

Last summer Marino was a fellow at the Boston Symphony's Tanglewood Music Center, which is where I first heard him. There he had access to the symphony's concerts and rehearsals, performed several times a week in ensembles coached by orchestra members, and played in a popular concert series prepared by guest BSO conductors.

Thomas Adès, whose 2012 opera The Exterminating Angel is currently running at the Met, was composing and conducting at Tanglewood last summer, in the newly created position of Artistic Partner. Marino played in Ades's Court Dances, a mixed quartet fashioned from the composer's previous opera The Tempest. The clarinet part is especially ear-catching, and Marino delivered a sparkling, soaring, and precise performance.

"The biggest things I took away from Tanglewood, more than other festivals," he says, "were first of all, the general level of the students. I've never been in such a good group. Second, l liked the great number of concerts, which were not only orchestral, and then also, the large amount of contemporary music….That's a big thing at Tanglewood."

Looking into the future, he mused, "My ideal would be to be leading the section of one of the top five American orchestras." What, no solo career? No Richard Stoltzman? No Yo-Yo of the clarinet? That doesn't look so cool to Marino, who wants to be settled (his word) in a stable orchestra job. "I see people who live that life," he said. "It's rewarding. Soloists, I mean how do they raise a family? They're on tour all the time. It's virtually impossible."
In an orchestra, he sees solo opportunities, as well touring, teaching, and chamber music. Plus places to play jazz. As for leading a section, he won't have his pick at the moment, because not only did Cleveland just choose his school chum as its new principal, but Nuccio is now principal clarinet in Houston, while the new leader of the New York Philharmonic section is Anthony McGill, formerly of the Met. Fortunately, Marino still has time on his side.
Today, to a fifth-grader forced to play in the school band, Marino would say, "The magic of the clarinet is that it has the ability to be many different characters, soft and distant to present and virtuosic. Its palate of color really allows you to be whatever you want to be."
Now that sounds extremely cool.

WHO'S BLOGGING


RENT A PHOTO
Search Musical America's archive of photos from 1900-1992.