---
New Artist of the Month: Seth Parker Woods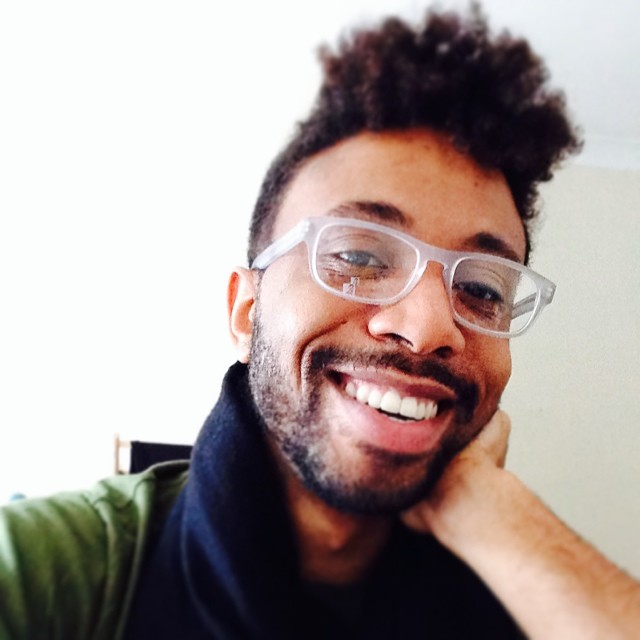 Donning a wetsuit before he undertakes a major performance is all part of the call of duty for a cellist of today, as Seth Parker Woods sees it. That was just one item on his agenda over the summer, when the Arts Club of Chicago presented him in ICED BODIES: Ice Music for Chicago. Parker Woods freshly reimagined an iconic "happening" from the 1970s — the infamous Charlotte Moorman performing Jim McWilliams's "ice music,'' nude— and made it uncannily present for our tumultuous era. Partnering with experimental composer Spencer Topel, he played an obsidian-colored ice cello in a real-time installation, an epic of entropy.
"I'm not trying to restate an experiment from the past. I'm trying to do it in my own way, to bring it into a new era," Parker Woods told me in a conversation last summer. "What can I do that brings this piece into 2017? What are the issues that are resonating today?"
Those are questions Parker Woods poses constantly as he seeks to carve out new contexts for how and where to make art. The Houston-born, Chicago-based cellist belongs to a generation of musicians who are inspiring the music world not just how to program imaginatively but how to rethink the preconceptions of the very instruments they play.
Parker Woods combines the adventurous spirit of a committed avant-gardist with a scholar's keen intellectual acuity. He's not content with either/or choices but hungers to bring his insights to the classical repertoire while seeking out ever-novel collaborations with artists in other disciplines and non-traditional venues.
And the demand for the uniqueness Parker Woods has to offer has been intensifying. Indeed, programs presented by visual arts institutions have this year been a special theme for the cellist. Besides the Arts Club of Chicago, where he has developed close ties since resettling in the Windy City in 2016, Parker Woods this month makes his debut in the Phillips Collection's prestigious Sunday concerts series (the Washington, D.C., series that presented Glenn Gould in 1955 in his first U.S. recital). On October 22, at D.C.'s Cosmos Club (Warne Ballroom), he'll play a characteristic menu juxtaposing Bach with contemporary composers, including Cambodian-born Chinary Ung and a new piece for cello and tape by the British electroacoustic composer Monty Adkins.
Another major appearance this season was in early June, when Parker Woods was invited to participate in the latest edition of documenta 14, the quinquennial exhibition of contemporary art (extended for the first time this year beyond its home city of Kassel, Germany). The young musician flew to Athens to take part in documenta's new Listening Series, contributing an electronic program based on the debut album he released in 2016: asinglewordisnotenough, which includes premiere recordings of works written for him by George Lewis, Edward Hamel, and Pierre Alexandre Tremblay.
Wet suits aside, Parker Woods, who was born in 1984, recently put on more traditional concert attire for an engagement at Royal Albert Hall playing in a Late Night Proms concert. It marked the BBC Proms debut of Chineke!, the U.K.'s first entirely non-white ensemble, of which Parker Woods is a founding cellist. In mid-September the group made its debut at the Ghent Festival — a return to some of his old stomping grounds during his graduate student period, when Parker Woods collaborated with the Ictu Ensemble and legendary choreographer Anne Teresa De Keersmaeker.
"Seth found that sweet spot where his application of vibrato was subtle and tasteful," says Michael Vincent Waller, describing the cellist's remarkably intuitive flexibility, a pre-requisite to undertake the span of projects that interest him. Waller, a New York-based composer and protégé of La Monte Young, asked Parker Woods to play on his second full-length album, Trajectories, released in September. Mostly comprising meditative music featuring pianist R. Andrew Lee, it includes a haunting cello-piano duet (Lines) that calls for Parker Woods to play with intimate warmth.
"An amazing thing about Seth is that he's at home with the technical demands and virtuosity of New Complexity and electronic multimedia, but he's also a cellist who has focused on more quiet material like Minimalism."
My own first experience of Parker Woods in action took place during a remarkably memorable program in January presented as part of the renowned Monday Evening Concert series in Los Angeles (currently led by Jonathan Hepfer). Titled Julius Eastman: Gay Guerrilla, the program was devoted to the genius of the neglected Eastman, who died prematurely and homeless. Parker Woods has researched in depth and told me he is planning a future project around Eastman's legacy. In L.A. he joined the cello ensemble for the Prelude to The Holy Presence of Joan d'Arc — returning to the piece in August when ACME performed it as part of the Theater of the Resist performance series presented by the Metropolitan Museum of Art.
As a toddler, Parker Woods recalls listening to rehearsals by the band his father, a jazz and gospel singer, used to bring to the basement studio in his family home. He started cello lessons at five and attended the Houston High School for the Performing and Visual Arts (Beyoncé is an alumna) before ending up in New York. Along with finishing his bachelor's degree at Brooklyn College, he got side gigs with artists like Sting, Lady Gaga, and Adele, and simultaneously explored his passion for ballet, subbing for the New York City Ballet orchestra.
An extended period in Europe ensued. Parker Woods had some of his most formative experiences there as a performer and student. He spent several years traveling about and playing in Berlin (for the Staatsballet), France, Italy, Germany, Switzerland, and Brussels. The pioneering cellist and teacher Thomas Demenga accepted Parker Woods to his studio in Basel, where he specialized in contemporary music before heading to the University of Huddersfield.
At Huddersfield, Parker Woods completed his PhD thesis on a topic that synthesized his scholarly and performance work: Almost Human: The Study of Physical Processes and the Performance of a Prosthetic Spine, which investigated the kinesthetics of musicians and dancers. Working with the maverick composer and instrument builder Ian Hattwick, Parker Woods additionally created a new work for cello, mover, and prosthetic digital spine (likewise titled Almost Human) which has become one of his signature performance pieces.
Parker Woods is on the roster for Winnipeg's 2018 Cluster Festival and will also take up an artist residency at Dartmouth College in the coming year. The intense interest he has been generating among colleagues reinforces the cellist's omnivorous curiosity about the many kinds of music he wants to make. He gets as excited by the opportunity to present a program of Mendelssohn or Rachmaninoff as he does preparing a piece by Morton Feldman, whose Patterns in a Chromatic Field figures among several of his programs this year.
Given such wide-ranging passions, what does Parker Woods ultimately hope to accomplish? "I'm working to sculpt a career that blends multiple arenas of art into one while both acknowledging the past and pushing forward to bring about new stories and perspectives that are reflective of our beautiful and diverse world."
---

WHO'S BLOGGING

WHO ELSE IS BLOGGING
Interviews with musicians who have successfully created their own opportunities.
PROFESSIONAL
GROWTH
FIND:
»MORE

NETWORK
FIND:
Updates to artist manager rosters
»MORE
RENT A PHOTO
Search Musical America's archive of photos from 1900-1992.