---
New Artist of the Month: Clarinetist Afendi Yusuf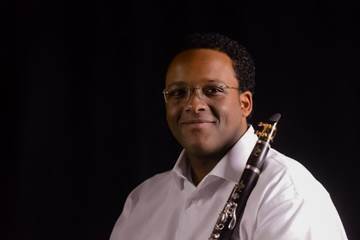 CLEVELAND, Ohio – So unusual is Afendi Yusuf, on so many fronts, a journalist writing about him could pursue almost any angle and be assured of a fascinating story.
Start with his latest accomplishment, a dramatic leap to the top. On Aug. 10, just a few months after he finished school, the Cleveland Orchestra named Yusuf its new principal clarinet, the successor to Franklin Cohen and the next occupant of one of the highest-profile seats in the clarinet world. Not bad, especially for a first full-time job.
"To have the opportunity to take part in that [the famed 'Cleveland sound'], it's more than I ever could have hoped for," said Yusuf, shortly after moving to an apartment in Cleveland's University Circle, near Severance Hall. "I'm doing my best not to psych myself out. I was thrilled, and I still am."
Not that he lacks experience in the hot seat: Yusuf has been a guest principal with a number of major ensembles, including the Canadian Opera Company Orchestra and the Toronto and Cincinnati symphonies. And he's played with the Los Angeles Philharmonic and the Minnesota Orchestra. The Cleveland appointment makes him one of only two African-American principal clarinetists in a major American orchestra, the other being Anthony McGill, principal in the New York Philharmonic.
A native of Addis Ababa, Ethiopia, Yusuf overcame what Yehuda Gilad, his teacher at the Colburn School in Los Angeles, calls "humble beginnings and hard times" to get an education and go on to pursue what became his passion.
"He's a very inspiring young man," Gilad said. "He never takes anything for granted. He never complains. He always tackles things with eyes open and a great sense of humor."
As a child, Yusuf left Ethiopia and built a new life with his family in Canada. There, in middle school, with no prior exposure to classical music, he found an outlet in the recorder, and from there was led to the clarinet. On that instrument, a handful of helpful school and private teachers took him under their wings and coached him all the way to Wilfrid Laurier University in Waterloo, Ontario, and the Glenn Gould School of the Royal Conservatory.
"At first, it seemed like a waste of time," said Yusuf of his early lessons. "But as I got more involved, it quickly became one of my favorite subjects." The clarinet has a sound he calls honest and pure. "It's a versatile instrument, and I find it comforting," he said.
Gilad, for one, couldn't be more proud of his former pupil. He said that when he heard the news of Yusuf's appointment, on a FaceTime call at 2 a.m. in Spain, he rejoiced so loudly his hotel neighbors actually inquired about his well-being.
"His expression [on the screen] was just so beautiful, but I was the one who was screaming," Gilad said. But, he said, he wasn't surprised; Yusuf was destined for great things.
Unlike some of his peers, he's not a young artist who equates high speed and volume with virtuosity. "He goes deep first," reports his teacher, "and then horizontally forward. He does everything thoughtfully and tastefully, and with a marvelous pair of ears."
The seat Yusuf will take up in September has been (officially) empty since 2015, when Cohen retired from the orchestra after 39 years. Never one to rush an appointment, orchestra Music Director Franz Welser-Möst had been looking far and wide (and within the orchestra) for a successor.
It's a prestigious post, one that has been occupied by Cohen as well as Robert Marcellus, David Shifrin, and other luminaries. "They're the big names," said Yusuf, "the ones who really shaped the clarinet world as it is today."
He also acknowledges a newfound responsibility to help promote diversity, as one of only three African-Americans in the Cleveland Orchestra.
But he's not intimidated. Not too much, anyway. Cleveland has a long and distinguished history of appointing young artists to top positions.
Joshua Smith was just 20 when he was appointed principal flute; Richard King was also just 20 when he was named associate principal horn. Plus, Yusuf is well acquainted with a number of the Cleveland players, having worked with them at the Marlboro Music Festival.
"I do feel ready, and welcome the opportunity," he said.
---

WHO'S BLOGGING

WHO ELSE IS BLOGGING
Interviews with musicians who have successfully created their own opportunities.
PROFESSIONAL
GROWTH
FIND:
»MORE

NETWORK
FIND:
Updates to artist manager rosters
»MORE
RENT A PHOTO
Search Musical America's archive of photos from 1900-1992.