---
Conservatories as Good Citizens: Four Success Stories
Music schools are upgrading their community-engagement efforts with win-win results
Critics used to argue that conservatories and music schools were too isolated and too slow to adapt to societal changes and the realities of the modern workplace. To some degree, this is still a hot issue, especially given the dearth of jobs available for performing musicians. Some educators have called for altering the curriculum, such that repertoire and performance styles other than European classical are emphasized. But another, equally substantial case can be made for connecting students to life in the real—and not necessarily musical—world around them.

"Being involved in the community isn't really an option anymore," says John Ellis, an associate dean who oversees community partnerships at the University of Michigan School of Music, Theater, and Dance. "You can't choose to stand outside of it and have a career." PHOTO: John Ellis, associate dean for productions, programs and partnerships at the University of Michigan.

Among conservatories, the two most popular types of engagement involve K-12 schools and health care, says Tanya Maggi, the director of Community Performances and Partnerships at the New England Conservatory (NEC). (Maggi also runs the Collegiate Music Outreach Network [C'MON], a consortium of outreach administrators based at NEC.) These days, she says, the emphasis is on fewer but more meaningful partnerships, a response to the "drive-by" approach widely criticized as mere tokenism. PHOTO: Tanya Maggi, director of Community Performances and Partnerships at NEC.
Increasingly, music schools are infiltrating their surroundings, as much for their own good-neighbor image as for the need to equip students with the requisite tools for success [see Where Training in the Arts Meets Training for Life. The Curtis Institute of Music's Community Artist Program, the Longy School of Music's Teaching Artist Program, and the University of Texas's Musical Lives initiative are among the best known; here are four more that impressed us.
University of Michigan School of Music, Dance and Theater
The centerpiece of UMich's community programming is a collaboration among the Schools of Music, Education, and Social Work. Called the Michigan Artist Citizen program (MAC), it focuses on Mitchell Elementary, an Ann Arbor public school at which 70 percent of the 320 students live in poverty and qualify for free or reduced-fee lunches. The MAC after-school program offers 90-minute sessions, four days a week; student volunteers give private lessons, section rehearsals, and logistical support to Mitchell's music teacher, including instrument tuning and lesson preparation.

Mitchell's principal, Kevin Karr, says the results are apparent in Ann Arbor Public Schools' year-performances. Mitchell students, he says, "show a musical ability far beyond the other fifth graders," most of whom come from far wealthier backgrounds. The program's impact extends beyond music, to core academic areas of reading, writing, and math. PHOTO: Kevin Karr, principal of Mitchell Elementary School, where UMich students provide after-school lessons, rehearsals, and music teacher support.
"We'd expect kids would grow 100 percent during an academic year," Karr says. "But we're seeing kids in fifth grade growing roughly 125 percent in reading and math." The hypothesis: when students participate in "cognitively significant" after-school activities, they tend to be engaged in learning for longer periods of time, which translates into academic achievement.
MAC, Horacio, and El Sistema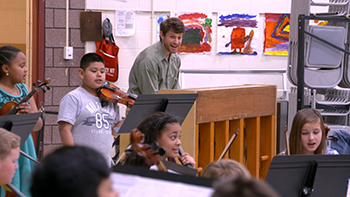 The MAC program started in 2013 as a project led by a doctoral student in cello performance, Horacio Contreras, who trained in Venezuela's El Sistema. It received a boost from an internal funding challenge at Michigan meant to spur interdepartmental partnerships, which is when the Schools of Education and Social Work became involved. Today, social work students analyze academic data on the MAC program, while the music school conducts focus groups and interviews with Mitchell students and parents for feedback.
Karr stresses that the program's initial success owes to "good social and emotional practices" — that is, making it fun for students with breaks for snacks and a variety of activities.
PHOTO: A Michigan Artist Citizen (MAC) session in progress at Mitchell Elementary.
Seven Mile Music
Working with the community is not mandatory for music students, but some have done so of their own accord. Among them is Sam Saunders, a senior studying composition and piano performance. Saunders launched Seven Mile Music, which offers free music lessons at schools and community centers in the notoriously poor Brightmoor section of Detroit. He has enlisted some 80 UMich students to volunteer their time; today Seven Mile Music has its own board of directors and offers a free, eight-week summer arts camp at the Mission: City Community Center.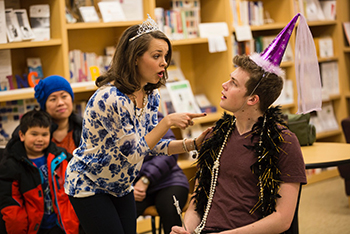 "A lot of times I find out that students are already starting something, and then I try to help and facilitate," says Ellis (this is a far cry from when this writer was a student at Michigan, and outreach performances were mostly confined to listings in the "gig office").

PHOTO: Christina Maxwell performing for patients at C.S. Mott Children's Hospital.
Also of note is the music school's participation in Gifts of Art, which organizes art exhibitions and informal lobby/atrium concerts at the University of Michigan Hospital; there is even a Bedside Musician program, by which individuals perform in patients' rooms.
New England Conservatory
In 2014, the Harvard School of Education conducted a survey of New England Conservatory (NEC) alumni who had participated in the school's Community Performances and Partnerships (CPP) program over a 10-year period. Of the 90 respondents, 74 percent said they were gainfully employed in music; yet the national average for music school graduates, according to the study, is less than 50 percent. The survey further found that NEC grads credit CPP with the development of skills in public speaking, teaching, and leadership.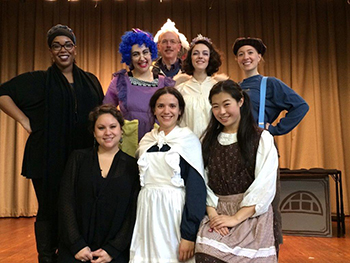 (While nine percent of respondents reported being employed full-time with an orchestra, opera company, or similar ensemble, the majority said that their careers consist of "multiple ongoing engagements and self-directed projects," another indicator of how learning to connect your art to the outside world is key to professional success.)
PHOTO: Members of the cast and crew of Hansel & Gretel after an NEC CPP opera performance.
While NEC students have long performed in public spaces, such as the Gardner Museum and the Boston Public Library, the CPP program has for the last 13 years actively pursued partnerships with underserved schools from pre-K to high school, with nursing homes, and community centers in the surrounding Fenway and South End neighborhoods. Today, CPP reaches some 16,000 people annually.
One of CPP's myriad partners is Susan S. Bailis Assisted Living, an apartment facility for people ages 62 and over located just two blocks away from NEC's primary performance space, Jordan Hall. CPP brings ensembles to the facility one or two times a week.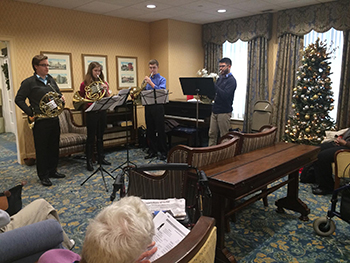 "Our residents take these performances very seriously," says Suzanne Aiken, the facility's resident life director. "They tend to take these students under their wing."
The students, too, benefit. As Aiken points out, for many of them it may mark their first experience in such an environment. "It's a frightening prospect— you don't know what you're going to encounter," she says. "Are there going to be people with dementia? Are they going to be scary? But when the students come here and start interacting, [they begin to realize that] these individuals had lives and that they were so interesting. I love seeing that connection, and the students end up coming to me and thanking me for being able to perform and they ask to come back." PHOTO: NEC Students perform at Susan S. Bailis Assisted Living in Boston.
She notes, too, that some return on a volunteer basis after graduating from NEC.
Although CPP participation is voluntary and not part of the curriculum, about one third of the students become involved, says Tanya Maggi, its director. "Students are looking for ways to give back and get connected," she says, adding that, by the end of four years, 75 percent of graduates have done so in ways far beyond a one-off performance.
Peabody Institute of Music
It's a striking contrast: In East Baltimore, the Latrobe Homes is a public housing project, where shootings and drug deals frequently make local news headlines. A five-minute drive west, in the well-manicured Mount Vernon-Belvedere neighborhood, sits the pastoral campus of the Peabody Institute of the Johns Hopkins University, with its elegant Georgian and Beaux Arts architectural touches.

Small wonder that conservatories have been easy targets for charges of elitism. "We've done a very good job at getting locked in our own practice rooms and not reaching out," says Sarah Hoover, a special assistant to the dean at Peabody who manages community programs. "However, we've always been an important landmark in the history and life of Baltimore and Baltimore has been waiting for us to come out of the practice room." PHOTO: Sarah Hoover, special assistant to the dean for Innovation, Interdisciplinary Partnerships and Community Initiatives at Peabody.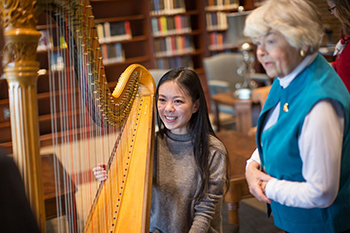 Peabody has, over 15 years, developed a sprawling portfolio of community projects in Baltimore, reaching underserved schools and hospitals, senior centers, and creating job-training programs for former inmates. It offers tuition-free Boys Dance for ages nine to 15, Harp Adventures for inner-city students, and performs for patients in Baltimore's Sinai Hospital.
PHOTO: Peabody student Peggy Young at Broadmead retirement community. Photo by: Chris Hartlove.
In the fall, the school will roll out what it calls a Breakthrough Curriculum, a set of courses and programs intended to stress business skills, flexibility in different musical forms (including improvisation), and "leadership as a citizen artist." There will be three semesters of required courses dedicated to engagement techniques and strategies, capped by a community-based performance project with a Baltimore-area organization.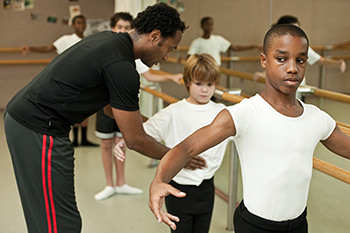 The goal, says Hoover, is to give students a personal stake and to put to rest the notion that community-based work is somehow lesser than concert performance. "We've created a curriculum that does not create an expectation that community art is something you fall back on if you don't make it as a concert artist," she noted. "Both are both extremely important pathways for your future."
PHOTO: Peabody's Estelle Dennis Dance Scholarship Program for Boys is for local boys ages nine to 15. Photo by Daniel Bedell.
Royal College of Music

The Royal College of Music has a particularly well-developed slate of projects, collectively known as RCM Sparks. Launched in 2007, during the 2015-16 school year it served some 4,000 individuals and 38 schools, most of them in underserved communities, according to Katy Hemingway, RCM's assistant head of Learning & Participation. Some 110 of the conservatory's 800 students took part. PHOTO: RCM's Learning and Participation coordinator Katy Hemingway.
Sparks offerings include free lunchtime and family concerts, gamelan workshops for all ages and abilities, an early years program called MiniSparks, free one-on-one lessons to local teens chosen through audition, and Springboard courses for 13- to 18-year olds, designed as much for group music-making as socializing.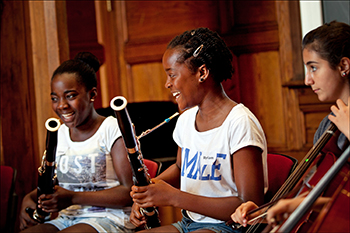 The school's core projects reflect an operational philosophy found among many conservatories: that it's best to look in your immediate backyard. RCM works with umbrella organizations that are "on the ground" to help identify underserved populations that would benefit the most. Among them are the Tri-Borough Music Hub, a charity that provides music tutoring and services to schools in three West London boroughs alongside classroom teachers with student orchestras, folk ensembles, and a Saturday music school. Arts Council England provides the core funding.
PHOTO: RCM's Sparks Juniors prepare for an upcoming concert at Royal Albert Hall.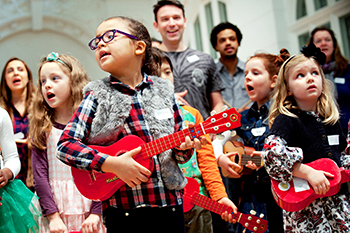 Like NEC, Hemingway reports that RCM community work is not part of the curriculum, the goal being to enable students "to gain experience in a safe, and friendly environment," in which they can benefit from open feedback, without the threat of being graded on their participation. "RCM students are able to gain great experience and make professional contacts with many education establishments and organizations," she says. "As a result, they are much more employable musicians with a varied portfolio career."
PHOTO: MiniSparks and Get, Set, Play are among RCM's family programs.
---

Brian Wise is a journalist and digital producer in New York. His writing has appeared in the New York Times, The Guardian, BBC Music Magazine, Slate, and Listen Magazine. He produces the Chicago Symphony Orchestra's national weekly radio broadcasts.

WHO'S BLOGGING


RENT A PHOTO
Search Musical America's archive of photos from 1900-1992.