---
Training Opera's Next Generation: A Tale of Two Festivals
Summer festivals are fertile turf for young artists hot on the career path, and many have a significant training component alongside their professional, public offerings. Among opera programs, France's Aix-en-Provence Festival and New York's Glimmerglass Festival are two of the most popular with young artists and audiences. Their differences are vast, but their goals are the same: to train the next generation and, by extension, nourish the artform.
The Glimmerglass Festival Young Artist Program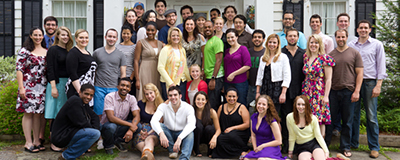 "Performance is the master teacher," says Francesca Zambello, artistic and general director of the Glimmerglass Festival. Her philosophy gets tested every summer by the Young Artists Program, which, she
says, gives participants more chances to perform substantial roles in mainstage productions than at other leading U.S. festivals. "Santa Fe [Opera], Wolf Trap [National Park for the Performing Arts], we are all competing for talented young singers," Zambello says. "We may not pay as much as some of our colleagues, but the one thing we do offer is more roles. Our young artists know they are going to get more stage time."
In next summer's Porgy and Bess, for example, just five of the 20 or so roles will be sung by guest artists while the rest will be done by YAP members. In The Siege of Calais, a rarely performed Donizetti opera, two of the roles are to be sung by guest artists and eight by young artists. The ratio is similar for the other mainstage offerings, Handel's Xerxes and Rodgers and Hammerstein's Oklahoma!. ( PHOTO: Glimmerglass Festival Young Artists, Class of 2016.)
Paying top dollar to see artists in training
Zambello, who has headed the festival since 2010, acknowledges that it is a balancing act to cast rising talent in major roles while also putting top-level productions on the Alice Busch Opera Theater stage—especially with ticket prices as high as $149.
"People, when they come to Glimmerglass, know that they are going to see many young artists," she says. "At a big opera house, you're not going to put a young artist on stage in the role of, say, the count in The Barber of Seville. They're not ready for that kind of prime time. But at a festival often that's what you're there to see—what's new, what's interesting, not only in terms of the productions but in terms of the emerging talent. I think audiences love the connection they have with a singer that they first became interested in at Glimmerglass."
A program in demand
That Zambello's philosophy works at both ends of the equation is borne out in the more than 800 applications received for the 2017 YAP. Its director, Allen Perriello, whittled that number down to the 469 singers he heard in live auditions last October. The final cut yielded 54 young artists, including 37 opera singers (13 of whom are back for a second summer), eight musical theater singer/dancers, two conductors, four assistant directors, and three pianist/coaches.
Each performer has assignments in at least two mainstage productions, ranging for singers from cast member to cover to chorus member. Young artists work for three months and receive transportation and meals, accommodations in the large Victorian house called Lime Kiln or other lodging in the area, and a weekly stipend.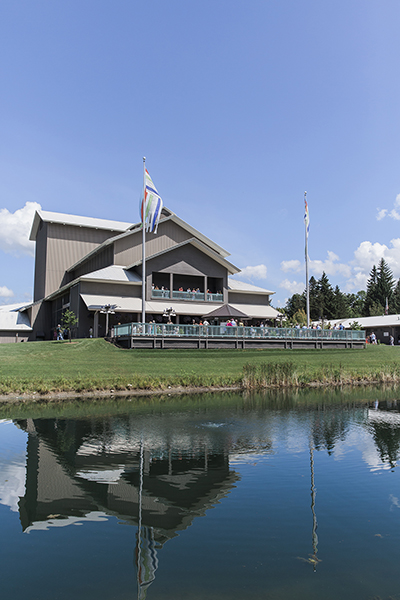 Opera festival or summer stock?
At Glimmerglass, the line between opera and musical theater is blurring. "There is an amazing cross-pollination between the opera and musical theater singers," Zambello says. "We need the musical theater singers to be good dancers for Oklahoma!, especially with the Agnes DeMille choreography." Olivia Barbieri, a Syracuse University student, was chosen as a young artist specifically to perform Laurey's Dream Ballet.
Music Director Joseph Colaneri enjoys the occasional "star is born" moments that occur. "Sometimes a singer is indisposed, and we have to put in a young artist who has been covering a major role. Experiencing those successes is really wonderful." He recalls the time last summer when young tenor Chaz'men Williams-Ali stepped in to sing Rodolfo in La Bohème. Williams-Ali was such a hit that he's coming back this summer to sing Giovanni in The Siege of Calais. (PHOTO: The Alice Busch Opera Theater at Glimmerglass.)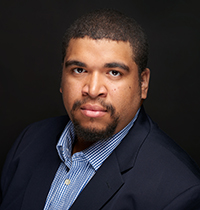 Zambello's other hat
Zambello is also artistic director of Washington National Opera and there is what she calls a "symbiotic relationship" between its Domingo-Cafritz Young Artists Program and the festival. Four of the 13 Domingo-Cafritz members this season are Glimmerglass alumni. There were also former Glimmerglass YAP members who had roles in WNO mainstage productions of Dead Man Walking and Champion this season. And Zambello is bringing Williams-Ali to the Kennedy Center in May to sing Pinkerton in a student matinée of WNO's The Alice Busch Opera Theater at Glimmerglass. Madame Butterfly. (PPHOTO: Chaz'men Williams-Ali, from cover to star.)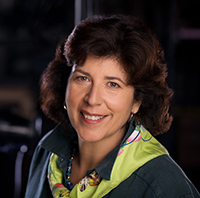 "My goal for all these kids is: Get them jobs," she says. With its proximity to New York City, Glimmerglass draws plenty of artist managers and personnel from other opera companies to hear its singers. "Our former young artists are singing everywhere—the Met, the Lyric, San Francisco. The more jobs they get, the better that reflects back to us." She is a shrewd handicapper of young opera singers. "If we have 40 young artists at Glimmerglass, out of the 40, 10 of them are going to go on to have good jobs. Out of those 10, five will really go somewhere in their careers, and one or two will be stars." (PHOTO: Glimmerglass Festival Artistic and General Director Francesca Zambello.)
Glimmerglass Festival
Location: Cooperstown, NY, USA
Founded: 1975
Budget: $7.5 million
Tickets Sold (2016): 35,700
Artistic and General Director: Francesca Zambello
Music Director: Joseph Colaneri
Young Artists Program Director: Allen Perriello
Young Artists (2017): 54
Académie du Festival d'Aix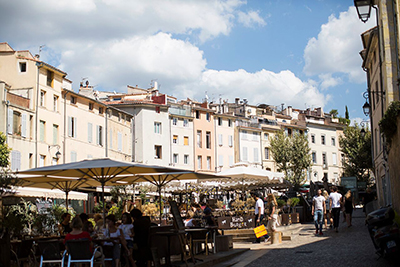 When Bernard Foccroulle first arrived as general director of the Aix-en-Provence Festival in 2007, he was asked how he wanted to handle its famous academy for young artists. "I was asked if I wanted to outsource the Académie and make it independent, but my wish was the exact opposite. I wanted it to be the core of the festival, because I am convinced that the young artists who come to learn, to sing, to be in dialogue with the major artists of our time create a special spirit for the festival. It would not be the same without the Académie. I believe it creates a very special Aix feeling, a family feeling." (PHOTO: The outdoor Théâtre de l'Archevêché, one of the main stages at the Aix-en-Provence Festival.)
Today, he estimates, there are four or five times more in the program than when he first arrived: This summer, 260 rising singers, instrumentalists, composers, librettists, directors, and designers will mingle with the seasoned professionals that comprise the festival's key artistic forces.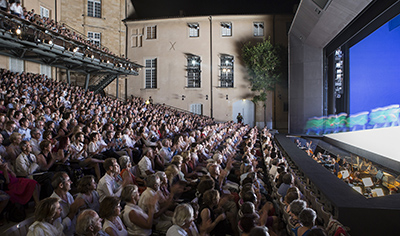 The annual Académie opera
Académie members attend workshops, master classes, and individual lessons. Some of them also participate in the annual Académie opera, which this summer is Erismena, by Italian Baroque composer Francesco Cavalli. Seven of the 10 characters in the opera are being sung by young professionals who trained at the Academie in previous seasons; soprano Francesca Aspromonte, for example, now a rising star in European early music circles, sings the title role. Argentine conductor Leonardo García Alarcón leads the period-instrument ensemble Cappella Mediterranea.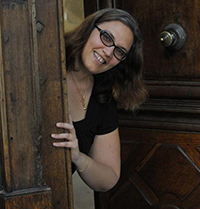 Erismena will have eight performances in the 500-seat Théâtre du Jeu de Paume, before going on the road. "One of the best things for our young singers is to get many more performances on tour," says Emilie Delorme, director of the Académie. "This is a beautiful opportunity for them. We can see their performances grow into something completely different."
The casts of the Festival's four mainstage productions also are sprinkled with alumni, such as French baritone Stéphane Degout, who started out in the Académie about 20 years ago and has returned to perform in major roles many times since. This summer, he is featured in the world premiere of Philippe Boesmans's Pinocchio in July. (PHOTO: Emilie Delorme, director of the Aix Académie.)
A two-pronged approach
"We have two systems for young singers," says Delorme. "If they come simply for training, we pay for their travel and housing." The festival also refers to these as artist residencies. "All their classes and coaching are free," continues Delorme. "When they are hired for productions or recitals or any concerts that take place in the framework of the festival, their travel and housing are paid plus they receive a fee and per diem." Resident artists are screened via submitted recordings and then chosen through live auditions in Paris and New York and other major cities.
Almost 1,000 young artists applied for this summer's festival, including 327 opera singers. The 54 singers chosen to be in the Académie include the 10 cast members of Erismena, 10 covers in that opera and in Pinocchio, 27 in a Mozart outreach residency, and seven laureates returning for concerts.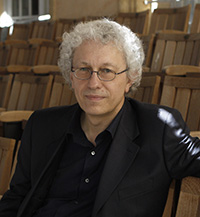 Foccroulle, also a composer and highly regarded organist, is stepping down as general director after the 2018 festival (Pierre Audi will be his successor). During his tenure, he has made a point of bringing young North African and Middle Eastern musicians into the Académie. In 2014, the festival formed the Mediterranean Youth Orchestra, which holds auditions in every country around the Mediterranean Sea
to recruit 100 musicians to play at the festival. Some of the orchestra players have spawned adventurous projects, such as Cairo Jazz Station, an ensemble of four young musicians from Egypt, Portugal, Turkey, and Italy, for whom the festival organized a residency in Cairo. They play a mix of classical, jazz, and traditional Arabic and Turkish music. (PHOTO: Aix-en-Provence Festival Artistic Director Bernard Foccroulle. Credit: P. Victor)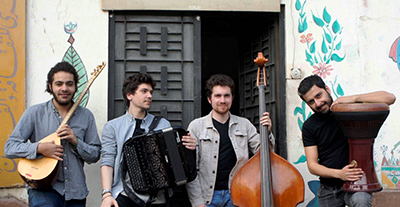 (PHOTO: Cairo Jazz Station was formed at the Aix-en-Provence Festival, with musicians from Egypt, Portugal, Turkey, and Italy.)
Aix-en-Provence Festival
Location: Aix-en-Provence, France
Founded: 1948
Budget: 23.8 million euros ($25.1 million)
Attendance (2016): 75,526
General Director: Bernard Foccroulle
Académie Director: Emilie Delorme
Young Artists (2017): 260
---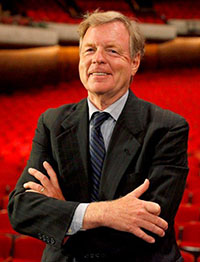 John Fleming writes for Musical America, Classical Voice North America, Opera News, and other publications. For 22 years, he covered the Florida music scene as performing arts critic of the Tampa Bay Times.

WHO'S BLOGGING


RENT A PHOTO
Search Musical America's archive of photos from 1900-1992.