---
MA 30 The Innovators: Katie Wyatt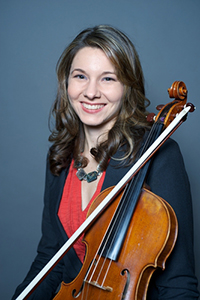 Executive Director, Kidznotes
Executive Director, El Sistema USA
Katie Wyatt is on a mission to spread the gospel of El Sistema, the music and social justice program that originated in Venezuela and has since spread like wildfire, not least because of its proudest alumnus, Gustavo Dudamel. A product of the program herself, Wyatt cofounded Kidznotes in Durham, N.C., in 2010. Under her direction, it has become a model for El Sistema-inspired orchestra training programs around the country. In July, she was named executive director of El Sistema USA, and she will head both it and Kidznotes in a transition planned to continue until next summer. She won't have to relocate, because El Sistema USA has entered into partnership with Duke University in Durham and will be based at the school. "It's an exciting time, and I'm happy to stay in my own community," she says.
Kidznotes has grown rapidly, its budget rising from $150,000 in the first year, when there were 60 kids learning an instrument, to $1 million in 2016. It now serves 400 Pre-K through 12 students from low-income areas of Durham and Raleigh. About 85 percent of the students are Latino and African-American, and they rehearse six or 10 hours a week, depending on age and skill level. Students in the music program have fewer absences from school and outperform their peers academically.
Wyatt studied political science and viola at Indiana University, earned a masters in viola performance at the Cleveland Institute of Music, and was a member of the New World Symphony. She learned firsthand about El Sistema when she played in the Youth Orchestra of the Americas, which toured with Dudamel and the Simón Bolívar Youth Orchestra. That experience led her to go into arts administration, and she received a fellowship with El Sistema USA in 2009 that included time in Venezuela.
"In El Sistema, I saw what music could do for massive numbers of people in setting them up for success," Wyatt says. "What we do in a youth orchestra is a perfect metaphor for community. I feel that we're putting Brahms and Beethoven and Mozart in the ears and hands and language of everybody, so that it's the people's music."

WHO'S BLOGGING


RENT A PHOTO
Search Musical America's archive of photos from 1900-1992.