---
MA 30 The Innovators: Stephen Wadsworth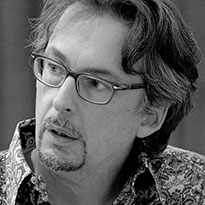 Director of Opera Studies, Artist Diploma in Opera Studies, Vocal Arts, The Juilliard School
Head of Dramatic Studies, Metropolitan Opera Lindemann Young Artist Development Program
Since 2008, noted opera director Stephen Wadsworth has been teaching acting to Juilliard's voice students. A man of many musical trades, one of his key jobs is heading the school's Artist Diploma in Opera Studies program, a two-year post-graduate training for eight to 10 singers designed to achieve "the seamless melding of vocal and acting techniques." Top-level career placement is part of the program, and recent alumni include up-and-coming singer-actors such as Julia Bullock, Ying Fang, and Aubrey Allicock.
Wadsworth brings extensive stage experience to the classroom, going back to his authorship of the libretto of Leonard Bernstein's 1983 opera A Quiet Place. As a director, he divides his time between opera and theater, with credits ranging from three Metropolitan Opera productions (Rodelinda, Boris Godunov, and Iphigénie en Tauride, all simulcast in HD to movie theaters) to Master Class, starring Tyne Daley, on Broadway.
His hugely popular production of Wagner's Ring cycle for Seattle Opera, performed in 2001, 2005, 2009, and 2013, was notable for the acting demands on singers. "I do think that the way I work is unusual in opera and that it surprises some singers who may not be used to being perceived as actors, but 99.9 percent of them seem to enjoy it," he says. "I'm very rigorous with certain elements of craft, and very watchful, and I ask a great deal of them."
Wadsworth is also an excellent translator, a talent that serves his opera work well. His adaptations of the Beaumarchais Figaro plays, for the McCarter Theater in Princeton, informed his direction of Juilliard Opera's 2015 production of the Mozart-DaPonte Le nozze di Figaro. "I've spent most of my career working to understand text in its historical context, and presenting plays and operas with an ever-keener sense of how history and aesthetics merge in them," he says. "The art of the 18th-century documents the emotional life of that time, nowhere more pointedly than in Beaumarchais's Marriage of Figaro."
---

WHO'S BLOGGING

Interviews with musicians who have successfully created their own opportunities.
PROFESSIONAL
GROWTH
FIND:
»MORE

| | |
| --- | --- |
| 1. | Robert Spano to Fort Worth, an Interesting Coincidence |
| 2. | A Seasoned Traveler's Perspective: Two Months, Four Cities, Five Orchestras |
| 3. | Conductors Extend, Step Aside, and Step Up |
| 4. | More Chicago Symphony Concerts Canceled |
| 5. | La Scala Returns Saudi $$$; Pereira Manages to Keep His Job |
| 6. | Salonen, Philharmonia Premiere Dreamers in SF |
| 7. | The Utter Irony and Sad Timeliness of An American Dream |
| 8. | Frank Byrne's Successor Named in Kansas City |
| 9. | Steven Mercurio to Czech National Symphony |
| 10. | Trump Would Dump NEA, NEH, CPB, NPR, etc. Again. |
NETWORK
FIND:
Updates to artist manager rosters
»MORE
RENT A PHOTO
Search Musical America's archive of photos from 1900-1992.