---
MA 30 The Innovators: Melvin Stecher and Norman Horowitz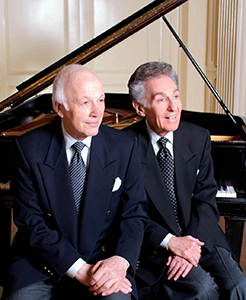 Executive Directors, New York International Piano Competition
Melvin Stecher and Norman Horowitz have brought a refreshing concept to the often cutthroat arena of music competitions: Everybody wins.
Stecher and Horowitz met in 1951, and during the next five decades they toured the world as a celebrated duo-piano team, while also devoting themselves to nurturing talented young pianists. For 40 years, they had a music school in Cedarhurst, N.Y., and when that closed, they created the Stecher Horowitz Foundation, which supports the biennial New York International Piano Competition.
In June, the competition drew 22 pianists ages 16 to 21 to the Manhattan School of Music. They played solo works, concerto movements, a commissioned piece by Lowell Liebermann (titled Two Impromptus) and, in a nod to the founders' legacy, piano fourhand repertoire. First prize and $10,000 went to Aristo Sham, 20, born in Hong Kong and now attending Harvard College.
Unlike most piano competitions, Stecher and Horowitz's has a no-elimination policy. Each contestant takes part in all four rounds, which are weighted equally, rather than winnowing the field down to a few at the end. "We feel it would be an injustice to accept applicants from all over the world, only to send them home after being eliminated after the first or second round," the pair state on the website. "Nothing could be more devastating to a young, ambitious musician." Even those who don't win prizes are awarded $1,000.
What also sets NYIPC apart is that nobody may serve on the jury if he or she has taught one of the contestants, a conflict of nterest that is not uncommon at other piano competitions. Stecher and Horowitz provide winners with concert and recital appearances throughout the year. "When the two of us started out, there were about 3,000 outlets for recitals," Stecher says. "Today, there are only about 300. Competitions are important for these young people to have the opportunity to play in."

WHO'S BLOGGING


RENT A PHOTO
Search Musical America's archive of photos from 1900-1992.