---
MA 30 The Innovators: Nick Squire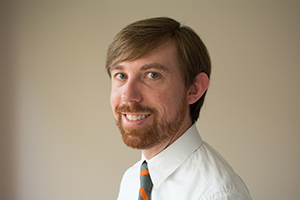 Recording Engineer, Boston Symphony Orchestra
The Boston Symphony Orchestra has a rich legacy of recordings, but it did not have a full-time recording engineer on staff until last year when Nick Squire arrived. Squire already has major engineering credits with the BSO, including its Grammy-winning Shostakovich: Under Stalin's Shadow for Deutsche Grammophon, a concert performance of Shostakovich's Symphony No. 10 with Music Director Andris Nelsons. The first installment of a projected Shostakovich symphony cycle for the German label, it was also Gramophone's orchestral recording of the year. (The two-CD followup, released in May, features the Fifth, Eighth, and Ninth Symphonies.)
Squire, who has a bachelor's degree in percussion performance from the University of Nebraska at Omaha, and a master's in sound recording from McGill University, presides over the BSO's recently renovated recording control room in the Symphony Hall basement. Such an in-house recording setup is rare for American orchestras.
The 400-square-foot control room features split-wood panels, a custom ceiling cloud, Bowers and Wilkins speakers, four new producer work stations, and other state-of-the art equipment. It was designed by Walters-Storyk Design Group, whose clients range from Jay-Z to Jazz at Lincoln Center to the Chicago Symphony Orchestra. The Shostakovich CDs are drawn from live performances, which include the inevitable minor flubs by musicians and audience noise like coughing. Editing software to the rescue. "It's kind of like being a surgeon," Squire says of excising coughs."You select certain areas and the technology processes them."
Still, Squire seeks to retain the audience's presence in the recording. "There are moments where it's very tense—and finally the music releases—and you hear 2,600 people breathe at once, you know, as they're moved by this beautiful music. I think that's what makes some of these recordings so magical."

WHO'S BLOGGING


RENT A PHOTO
Search Musical America's archive of photos from 1900-1992.