---
MA 30 The Innovators: William Ransom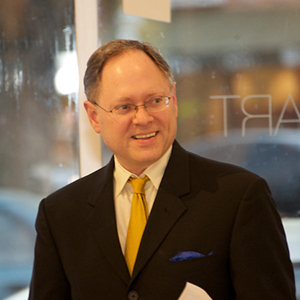 Artistic Director, Emory Chamber Music Society of Atlanta
When the Emory Chamber Music Society of Atlanta opened its 24th season in September with a concert by the Vega String Quartet, its quartet-in-residence since 2006, the society's founding Artistic Director William Ransom announced an important milestone. Seeded by a $1 million matching grant from the Abraham J. and Phyllis Katz Foundation, the Society had established the Rebecca Katz-Doft Chamber Music Endowment, designed to keep a string quartet in residence at Emory University in perpetuity.
"The idea that we could start from nothing in 2006 to having a permanent string quartet in residence at Emory, forever, and that I could be part of establishing that, is incredibly fulfilling," Ransom says. "I would like for the chamber music society and the quartetin-ressidence program here to be the leading chamber music organization in the Southeast. I think that's a very reachable goal."
ECMSA presents more than 25 free public programs this season in noontime, family, and evening concert series. Several feature the Vega, which also participates in classes across the university curriculum in chemistry, history, theology, neuroscience, math and other disciplines. In a presentation to a freshman seminar called "The Art of Conversation in Jane Austen's World," for instance, the quartet plays music of Haydn, Mozart, and Shostakovich. "And we discuss how a string quartet is like, as Goethe said, 'a stimulating conversation between four intelligent people' that listeners can observe and enjoy," says Ransom.
"We put out a call and whatever professor is interested in tying their class in with some musical discussion, we make the music fit the subject," he says.
Ransom is a pianist and director of piano studies at Emory, and this year his Listening to Memories, a solo CD of Bach, Chopin, Brahms, and Scott Joplin, was released on the ACA label. He also is artistic director of the Highland-Cashiers Chamber Music Festiva in North Carolina during the summer, and in September he was named artistic director designate of the Juneau Jazz & Classics Festival in Alaska.

WHO'S BLOGGING


RENT A PHOTO
Search Musical America's archive of photos from 1900-1992.