---
MA 30 The Innovators: Alan Fletcher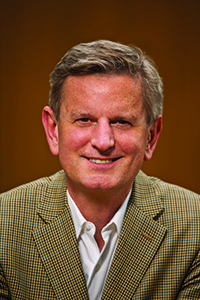 President and CEO, Aspen Music Festival and School
Alan Fletcher is a strong advocate for 20th-century American symphonists, and as president and CEO of the Aspen Music Festival and School, he made his case this past summer. Call him an innovative excavator.
In a series titled "An American Musical Century," audiences heard major symphonic works by Roy Harris, Charles Ives, Peter Mennin, Walter Piston, and Roger Sessions, as performed by the Aspen Festival Orchestra and the Aspen Philharmonic.
"These sounds are not new to our ears today," Fletcher said in a statement at the time. "These figures, many of whom came to Aspen, invented the sound world we now live in…. But while we all rightly love 20th-century music from abroad, from Stravinsky to Ravel, for some reason we're in danger of ignoring so much of our own great music, which is to say our own cultural DNA."
In an essay for the The Guardian, Fletcher said he was especially happy that Mennin's "brilliant and gutsy" Fifth Symphony and Sessions's Violin Concerto (with Gil Shaham as soloist) were on the agenda. "Planning our marketing, phrases such as 'all but forgotten,' 'unjustly neglected' and 'unaccountably unknown' kept coming up," he wrote. "I struggled against these descriptions. I have not forgotten these composers and their magnificent music."
He further noted that Harris, Mennin, Piston, William Schuman, and Elliott Carter, who collectively wrote more than 100 symphonic works, "had in the past five years, a total of just 20 performances by U.S. orchestras."
Fletcher is a composer himself, and his distinguished teachers included Sessions, Milton Babbitt, Edward T. Cone, and Paul Lansky. The world premiere of his On a Winter's Night a Traveler, accompanied by a Bill Morrison film, was performed at the 2015 festival. Before coming to the Rockies in 2006, Fletcher was provost at the New England Conservatory and head of the Carnegie Mellon School of Music. In a highlight of his Aspen tenure, the festival's $75 million Matthew and Carolyn Bucksbaum Campus was dedicated in July.

WHO'S BLOGGING


RENT A PHOTO
Search Musical America's archive of photos from 1900-1992.