---
MA 30 The Innovators: Fred Bronstein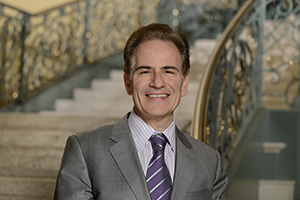 Dean, Peabody Institute
In the two years that Fred Bronstein has been dean of Peabody Institute, he has been emphasizing the need for change in classical music education. "What I tell people is that you still have to come out of a conservatory a great player, but that's not enough anymore," he says. "It's a competitive world out there. You have to be developing skills to create your own path and be successful in different ways."
Bronstein came to Peabody, which is part of Johns Hopkins University, from the symphony orchestra world, having been CEO of the Omaha, Dallas, and St. Louis Symphonies. In St. Louis, after financial woes led to a work stoppage over the musicians' contract, he engineered a turnaround that put the orchestra on sound footing. Parallels exist between the situation there and what the new dean faced at Peabody, whose enrollment had been declining in recent years.
Bronstein introduced a Breakthrough Plan built around four "pillars": Excellence, Interdisciplinary Experiences, Innovation, and Community Connectivity.
"I will use an orchestra analogy," he says. "The core business of an orchestra is the classical subscription series. But you also have to embrace other things to create audiences and resources. Orchestras need to be educators, advocates, communicators. Music schools also need to be thinking about how to develop audiences and people's connections with music."
Amo for faculty contracts and evaluations; a realignment of executive staffing; the use of market research analysis to inform admissions and recruitment; acoustical upgrades in the primary performance space; the addition of Baltimore Symphony Music Director Marin Alsop to the faculty; symposiums with thought leaders in the business, from The New Yorker music critic Alex Ross to Blair Tindall, author of the novel Mozart in the Jungle, to director Peter Sellars; and grants to faculty and students to foster innovative ideas.
That the Breakthrough Plan is working is borne out in the numbers: With about 560 fulltime students in 2016-17, auditions are up from the previous year to 1,526, the highest level in five years. In other good news, the Peabody Symphony Orchestra has released its first CD on Naxos, featuring the works of faculty member Kevin Puts, with Alsop conducting.

WHO'S BLOGGING


RENT A PHOTO
Search Musical America's archive of photos from 1900-1992.