---
Making the Switch: Cleveland Orchestra's New Ticketing App

The Cleveland Orchestra's new Members Club, launched in September, is geared specifically to millennials and Generation X-ers—people who make decisions about their leisure time by swiping and tapping their phones.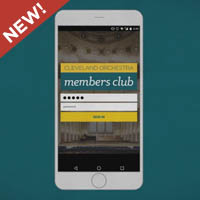 Accessed either via smartphone app (built by L2, an Illinois-based digital media firm) or on the orchestra's web site, the club offers unlimited concerts for a $35 monthly fee, plus $10 per concert ticket, and includes some 100 concerts annually at Severance Hall and the Blossom Music Festival. The app of course has the added advantage of delivering the ticket directly to the phone with a barcode that can be scanned in the hall.
"We decided on the app to provide additional ease of mobile use, in particular for accessing mobile tickets and helping us be in control of who is using the service," said Jim Sector, Cleveland's assistant director of loyalty marketing. (PHOTO: Cleveland Orchestra's one-month-old Members Club app.)
The Orchestra previously introduced an all-purpose app in 2011 but it was discontinued after the launch of a mobile-optimized web site in 2014. Even with a traditional paper ticketing system—in which patrons can print out their tickets at home or pick them up at the hall—the orchestra reports a steady uptick in mobile sales transactions: last month, they represented 22 percent of all ticket purchases, up from 12 percent in 2014.
To get value from the new Members Club, patrons would need to buy at least one ticket a month, given that single ticket prices range from $29 to $92. "If you come one or two times a month, you're getting about the same discount as in one of our [traditional] subscriptions," said Sector. "If you're a raving mad fan and you come nine times a month, well, good for you."
Officials hope the club will build loyalty and encourage frequent attendance, a leading indicator of whether someone will donate money. "We have studies that suggest that somebody who comes eight, nine, or 10 times a year, and is a new patron, is much more likely to donate to the organization than a 20- or 30-year patron who comes only once a year," said Sector (as of yet, the new app doesn't include a donate button).
The new program also drew on a 2015 study of orchestra subscription plans by the consulting firm Oliver Wyman that called on orchestras to explore "methods used in other industries (e.g., retail, grocery, fitness), that build 'stickier' relationships with customers."
It's too early to judge the success of the Members Club, but feedback thus far has been uniformly positive. "People really enjoy the fact that you can sit in different places every time," said Justin Holden,
Cleveland's director of public relations. "A lot of the patrons liked the ability to experience concerts from different angles." —Brian Wise

WHO'S BLOGGING


RENT A PHOTO
Search Musical America's archive of photos from 1900-1992.