---
Making the Switch: Maryland Symphony's Eureka Moment


Maryland Symphony Orchestra, which presents monthly concerts that mix pops and classical programming, recently refreshed its brand with a new, more modern logo and a fresh, mobileenhanced web site, as well as a custom portal that allows for easy clicking to purchase tickets. The ticketing portal was launched in the beginning of May, the new responsive web site on July 1. (PHOTO: Maryland Symphony's new logo and new look; 70 percent of ticket sales are now on mobile devices.)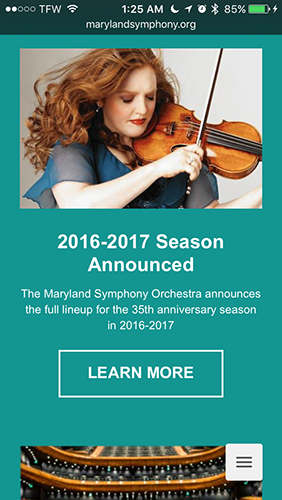 "Prior to that, we had a really clunky system," says Michael Harp, director of marketing and public relations for the orchestra. "It wasn't impossible to use; it was just difficult. People are doing their shopping on mobile now. They're accustomed to having Amazon at their fingertips. Since that's the world we live in, we had to find a solution."
The response has been tremendous. Prior to the launch of the mobile site, about 10 to 15 percent of ticket sales came from mobile; now the number is closer to 70 percent. Ticket sales in general are up by almost 10 percent over last year, and web site traffic has also increased. The organization normally had between 30,000 and 40,000 visits on its web site annually, but from July 1 to mid-September, visits rose to 20,000, with 70 to 75 percent coming from mobile. Plus, people are staying on the site longer, from an average of 30 seconds on the old site to three to four minutes on the new. "We've taken down a barrier," says Harp. "We didn't make it easy to buy tickets. Now, when you hear that commercial on the radio, you can buy [your ticket] right away, when you're thinking about it, rather than waiting until you get home to the desktop. People have truly embraced this."
For the second phase of its mobile redesign, the orchestra is looking into creating an app that uses the content of its program book and brings it to life with graphics and interactive features.
---

WHO'S BLOGGING

Interviews with musicians who have successfully created their own opportunities.
PROFESSIONAL
GROWTH
FIND:
»MORE

NETWORK
FIND:
Updates to artist manager rosters
»MORE
RENT A PHOTO
Search Musical America's archive of photos from 1900-1992.