---
Fleisher Art Memorial: Staying Relevant in a Changing Neighborhood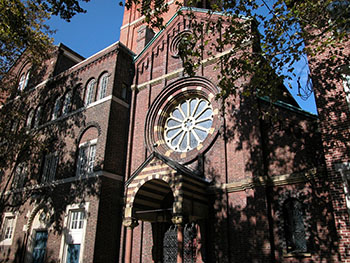 Fleisher Art Memorial provides free and low-cost classes to 4,000 youth and adults in Southeast Philadelphia, and free art instruction to 358 youth in public schools and community centers. Its galleries host over 8,000 visitors per year, and the organization has a budget of $2 million. It was founded in 1898 by industrialist Samuel S. Fleisher to bring together people of diverse backgrounds around making art. [PHOTO: Despite its mission of inclusiveness, The Fleisher Memorial seemed inaccessible to audiences in its own backyard.]
The Challenge: The institution hasn't changed, but the neighborhood has
In its early decades, Fleisher Art Memorial served many European immigrants in and around Southeast Philadelphia. By the end of the 20th century, however, demographics had shifted radically. Its immediate neighborhood had become home to Latin American, Chinese, and Southeast Asian immigrants and was a place of economic hardship. Its on-site programs were attended by an affluent population from outside the neighborhood. Fleisher served the former audience in off-site programs in schools and community centers, but its on-site patrons remained largely upper middle class. The discrepancy was apparent among staff managing both on-site and off-site programs, and it was disconcerting because it contradicted the founder's original mission.
The Goal: Adapt the institution; diversify on-site audience
In the words of Director of Programs Magda Martinez, Fleisher needed to "rebalance" by attracting more people of the surrounding ethnically diverse neighborhood to its on-site programming. While it did not target specific groups, it did set a four-year goal to have one of every three students be from the surrounding area.
Step 1. Design programs and find funding to support them
The staff came up with ideas to attract audiences in their own backyard, including a summer camp, family workshops, and an after-school program. They applied for and received a $320,000 award from The Wallace Foundation, to be used to hire personnel to coordinate the different activities, create collateral materials, and test and evaluate the new initiatives, over a period of four years (2008–11).

Step 2. Test the waters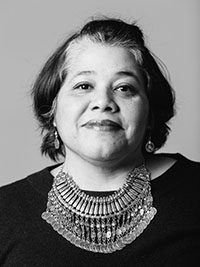 In 2009, an outside firm was hired to conduct research among community leaders and students. While anticipating that they would use the information to refine their plans, staff made a disconcerting discovery. Fleisher was admired by its own students and members, but not well understood by the changing neighborhood. Even though many residents valued the arts, they neither knew nor cared about what Fleisher was, and it was unlikely they would attend any programs there. So staff shifted focus from creating new initiatives to better understanding the community and building relationships with it. The amount of the Wallace grant was increased by $72,000, to expand research and data collection. [PHOTO: Director of Programs Magda Martinez recognized the need to "rebalance" Fleisher's offerings.]

Step 3: Go to the source
In summer 2010, Fleisher engaged Slover Linett Audience Research to conduct focus groups to identify how to build trust with and relevance to its own geographic community. The results indicated that many saw Fleisher as elitist, and as catering only to people interested in Western European art who had time and money to spare. They didn't think they would fit in. From their perspective, there were three things that needed to be done for them to feel comfortable enough to attend:
Come to us. Fleisher had to introduce itself to the community in familiar settings, such as festivals and other public events.
Show us. Neighborhood residents didn't understand what Fleisher does, and the course catalog didn't speak their language; it was filled with terms unfamiliar (e.g., "silk screening") to people with limited English and experience with the kind of art taught at Fleisher. They needed clearer, more accessible information, with photographs and demonstrations if possible.
Welcome us. If they got over those hurdles and visited Fleisher, they needed to find a friendly, accommodating, and respectful staff.
Step 4. Prepare the internal culture
Set up visitor services function. Fleisher had gotten an early start in 2008 when it created a new visitor services function, selecting and training staff who would provide a welcoming front-line presence. In the past, it was assumed that visitors would need minimal assistance, so people from various departments would take turns covering the front desk for a few hours at a time.
Train staff in cultural competency. In summer 2010, the entire staff—from visitor services part-timers to the executive director—attended cultural competency training by an outside firm. There were seven four- to five-hour sessions over three days devoted to the interpretation of other cultures, self–awareness, and healthy communication strategies.
Engage with the community. For 15 weeks in early 2011, staff attended workshops with leaders of local social service agencies and visited neighborhood gathering places such as local markets, community centers, and places of worship.
Step 5. Bring Fleisher programs into the neighborhood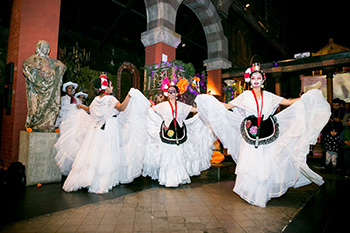 [PHOTO: Fleisher's annual Día de los Muertos (Day of the Dead) celebration.]
At the same time, the organization expanded its practice of bringing art-making to different spaces. These are not so much "outreach" events as they are opportunities for community members to get a taste of the kinds of classes offered at Fleisher and feel comfortable enough to sign up for them. Neighborhood programs include: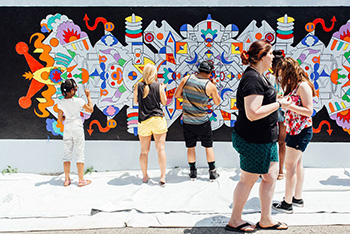 [PHOTO: Attendees at the annual ARTspiration! festival create a mural in Fleisher's parking lot.]
ARTspiration!, an annual street festival that takes over Fleisher's block and an adjacent small park. Now nearing its tenth year, the event attracts hundreds of residents, over half from the surrounding neighborhood. Staff also makes the effort to bring in local vendors and artists.
ColorWheels, a mobile studio that brings art-making to parks, festivals, and schools. The van carries equipment for printmaking, photography, drawing, painting, silk-screening, as well as folding chairs and tables, a pop-up tent, and Astroturf. Since its introduction in 2012, ColorWheels has annually served more than 1,000 community members in approximately 25 public events. ColorWheels has been a regular presence, for instance, in Mifflin Square Park, a gathering place for residents of various ethnic backgrounds with a recent history of tension. Over four Saturdays in spring and early summer 2012, 142 children, teens, and adults took part. [PHOTO below: ColorWheels at a Saturday Young Artists Program, free for ages five through 18.]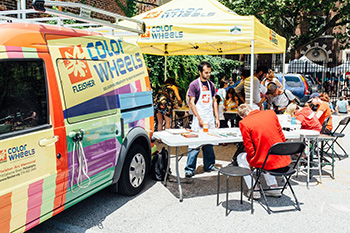 FAMbassadors are community residents who facilitate a two-way conversation—with neighborhood residents about Fleisher, and with Fleisher about community needs and partnership opportunities. A recently created paid part-time position at Fleisher, three FAMbassadors now act as part community liaisons, part community advisors.
Step 6. Changes to on-site curriculum
While Fleisher staff believes it is more important first to develop relationships and modify curriculum later, there have been program changes to attract different ethnic groups. For instance, Fleisher added faculty to teach Nigerian and Ghanaian pottery on a regular basis, and recently introduced Dibujo Básico (Basic Drawing), specifically intended for Spanish-speaking students. Its first bilingual offering typically reaches full enrollment, as do the Nigerian pottery and Ghanaian pottery classes.
Results: Changing perceptions, more visitors and students from surrounding neighborhood
Visitor surveys from 2009 and 2012 show that Fleisher has made progress in moving away from the image of elitism and in tailoring its programs to serve local residents, immigrants, and non-English speakers. According to a RAND Corporation study that is considered one of the most comprehensive evidence-based frameworks for audience building in the arts, changing perceptions is the most critical step in attracting more diverse audiences.
The school also has made headway in encouraging more residents from local neighborhoods to take classes: One-quarter of the students in on-site classes and workshops now come from there, up from one-fifth, and teens and children from that area now constitute 36 percent of Fleisher's on-site youth programs, up from 25 percent.
Still, the work has just begun. As audience diversification expert Donna Walker-Kuhne has noted, it can take as much as a decade for new relationships to become strong enough so that new target audiences begin coming on their own.
This case-study summary is based on the Wallace Foundation's Staying Relevant in a Changing Neighborhood: How Fleisher Art Memorial is Adapting to Shifting Community Demographics.
---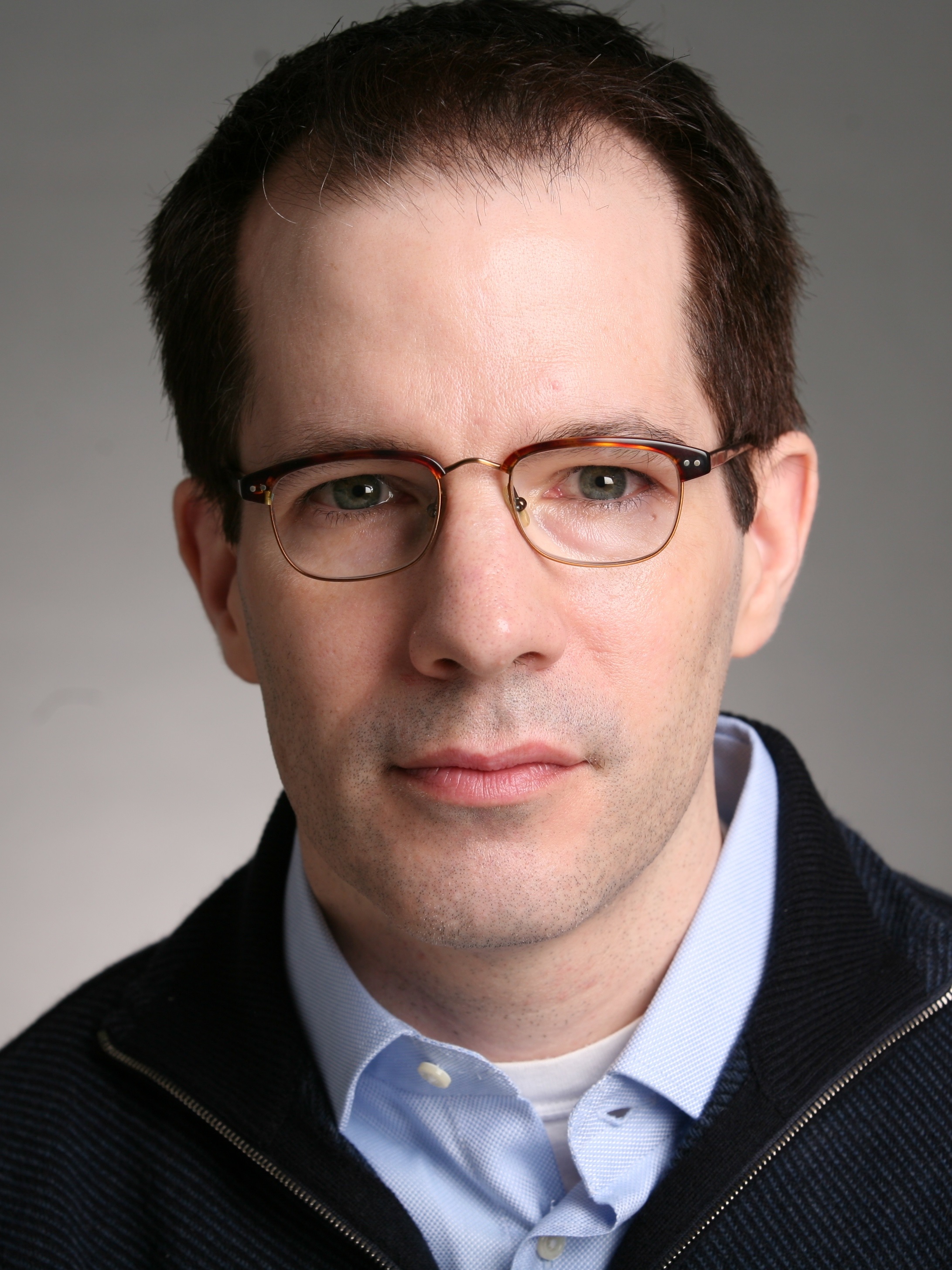 Bob Harlow, PhD, is a veteran market researcher who has spent 20 years using surveys, focus groups, and advanced analytics to help organizations more deeply understand their target audiences. He currently leads Bob Harlow Research and Consulting, LLC, a market research consulting organization.

WHO'S BLOGGING


RENT A PHOTO
Search Musical America's archive of photos from 1900-1992.