---
The Clay Studio: Hands-on Participation Opens New Doors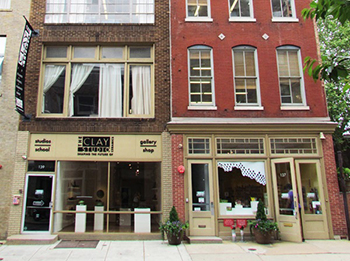 Founded in 1974, The Clay Studio offers instruction at all levels to over 5,000 students annually. With artist residencies, studio rentals, a ceramic arts shop, and a gallery, it serves over 30,000 visitors each year. It has an annual budget of $1.7 million. [PHOTO: The Clay Studio, Philadelphia, PA, est. 1974.]
The Challenge: A stagnant audience
In 2007 the Clay Studio (TCS) marked its 30-year anniversary. While there was reason to celebrate, there was also cause for concern; the audience was not growing. TCS was not only serving the same demographic—well-educated, middle-aged or older patrons—but also welcoming the same people day after day. Seeing so few new faces even at special exhibitions "panicked us a little," says Jeff Guido, artistic director at the time.
The Goal: Reach a broader, younger crowd
TCS staff recognized that plenty of younger (ages 25 to 45) culturally active professionals lived in the area. Former President Amy Sarner Williams and current VP Jennifer Martin decided to try some new programming—gallery talks, studio tours, artist receptions—targeting a younger crowd.
Step 1. Get money, apply to the Wallace Foundation
To support their efforts, TCS applied for and received a fouryear (January 2008 to December 2011), $375,000 Wallace Excellence Award. The money was specifically targeted to (1) try different event and workshop formats designed to introduce professionals ages 20 to 45 to clay, (2) develop marketing tactics and materials to promote them, and (3) conduct audience research to strengthen and evaluate their efforts.
Step 2. Experiment with different formats
The staff tried a variety of new programs, such as the talks and tours; they also hosted events at local bars and other off-site locations popular with the younger age group. Attendance at on-site programs remained disappointing, however; off-site was better but didn't lead to follow-up visits to the studio.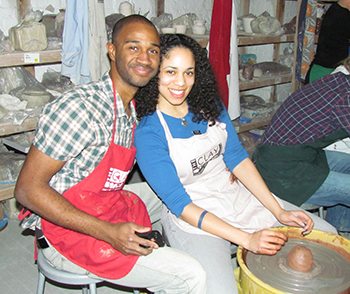 Taking a cue from the DIY (Do-It-Yourself) era, arts managers at around this time had begun to recognize that engaging younger audiences meant offering opportunities to be an active, rather than passive, participant. TCS had always offered a pottery class, but at 10 weeks for $300, it required a high level of commitment, especially for newcomers. So staff came up with the idea of "social workshops," one-evening sessions in which skilled instructors would walk participants through creating their first pieces at the wheel. Students would learn how to mold the material into simple but functional shapes that could later be glazed. The social clay workshops, called "Date Night" (to encourage people to sign up in pairs) sold out the capacity of 36 seats quickly, sometimes weeks in advance, and the studio began holding them monthly and then later twice monthly. [PHOTO: "Date Night" has been a huge success.]
Step 3. Conduct market research to understand and build on appeal of social workshops
To pinpoint what made Date Night so popular and how to build a deeper engagement with young professionals, TCS hired an outside firm to conduct focus groups. There were six, comprised of adults ages 25 to 45 who had varying degrees of experience with TCS, from those who had never visited to members and students. The research confirmed that participants liked the social and relaxed atmosphere of Date Night. It also suggested several ways TCS's marketing could be more effective:
Promote the experience itself. Instead of showcasing objects on display, show images of what visitors could do at the venue, of people working with clay, for example. Focus group participants were drawn to events and activities in which they were personally engaged.
Keep the message simple. TCS produced a brochure four times a year that showcased all that was going on at the institution. But it could be overwhelming to newcomers; with so much to wade through, focus-group participants said they couldn't ascertain what TCS had for them.
Don't get too technical. Brochures included terms like "wheel throwing," which meant nothing to focus-group participants who had no experience with clay. At worst, those terms made them think that the activities were for a different crowd. That's not surprising—the organization "Date Night" has been a huge success. intended its class brochure for people with some experience with clay, not for newcomers. It was important to continue to write communications for TCS's more experienced audience base, but bringing new people into the fold would require a different approach.
Make it easier to participate. Staff heard both in focus groups as well as from newcomers onsite that classes were too long; it was hard to jump from a social workshop, or from no experience at all, to weekly three-hour sessions over an eight- to 10-week period. Staff members kept hearing a refrain of "shorter, lower cost," consistent with general trends in the performing arts: people are no longer inclined to make the long-term commitment of a subscription package, for instance.
Step 4. Act on the research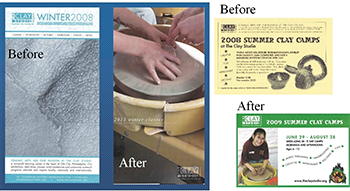 Revamp class formats. To help people connect with the studio in ways that fit their level of time and financial commitment, staff added five-week classes and two-day weekend and single-session-afternoon workshops. They also offered a variety of free events (e.g., open houses where one could make an ornament or a shot glass) to get newcomers to make that difficult jump from bystander to participant. [PHOTO: New marketing materials promoted the experience of working with clay.]
Improve communications. The organization began incorporating more language and photos into its marketing materials to better promote the experience of working with clay [see Figure 1]. It also altered its communications by (1) focusing on specific offerings—exhibits, events, classes, and workshops—so that audiences would not be overwhelmed and (2) dropping the jargon in favor of more colloquial language.
Step 5. Followup with additional research; use "action" language
To continue to refine how it talked about itself, TCS conducted additional research in late 2010 that included 30-minute telephone interviews with 26 TCS visitors ages 45 and under. Participants got most excited when talking about activities they could do while at the studio, not what the organization was or what it offered. So brochures, direct-mail pieces, and email campaigns that targeted the new audience used active verbs in their headlines: "Experience the Clay Studio" and "Get Out of Hand." The web site was reorganized around eight actionoriented sections such as "see," "learn," "participate," and "shop." Each section contained images that (1) reflected the experience, rather than objects alone and (2) emphasized TCS as a social, friendly place.
Results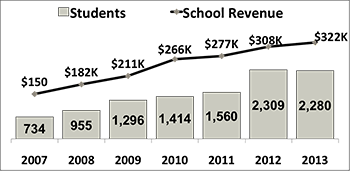 The efforts are paying off. Between 2008 and 2013, the number of visitors taking part in classes and workshops of any kind—not only 10- and five-week sessions, but also social workshops and weekend offerings—tripled [see Figure 2]. Revenue from the school—which includes tuition for classes, workshops, and summer clay "camps," as well as supplies purchased in the school store—more than doubled. [PHOTO: The Clay Studio Enrollment and School Revenue.]

TCS staff has continued to build on its work since the Wallace funding ended in 2011, experimenting with class formats, communication, and points of entry into ceramic art for younger audiences. For example, they have hosted events that bring finished ceramics into familiar settings, such as dining at a table set entirely in hand-crafted ceramics and serving farm-to-table foods and craft beverages.
COSTS
The work required new marketing capabilities, and major expenditures related to it included:
Research: The focus group research had a budget of $40,000, and the interviews with TCS visitors $20,000.
Advertising: Approximately $90,000 was spent on new brochures and other promotional materials. TCS also relied heavily on local free online listings.
Marketing staff support: About $140,000 of the grant money was used to support marketing staff, which was necessary to oversee the research and the marketing overhaul and manage the new targeted communication streams. (TCS hired a director of marketing and public relations whose salary was covered in part from the Wallace funds.)
This case-study summary is based on The Wallace Foundation's Opening New Doors: Hands-On Participation Brings a New Audience to The Clay Studio.
---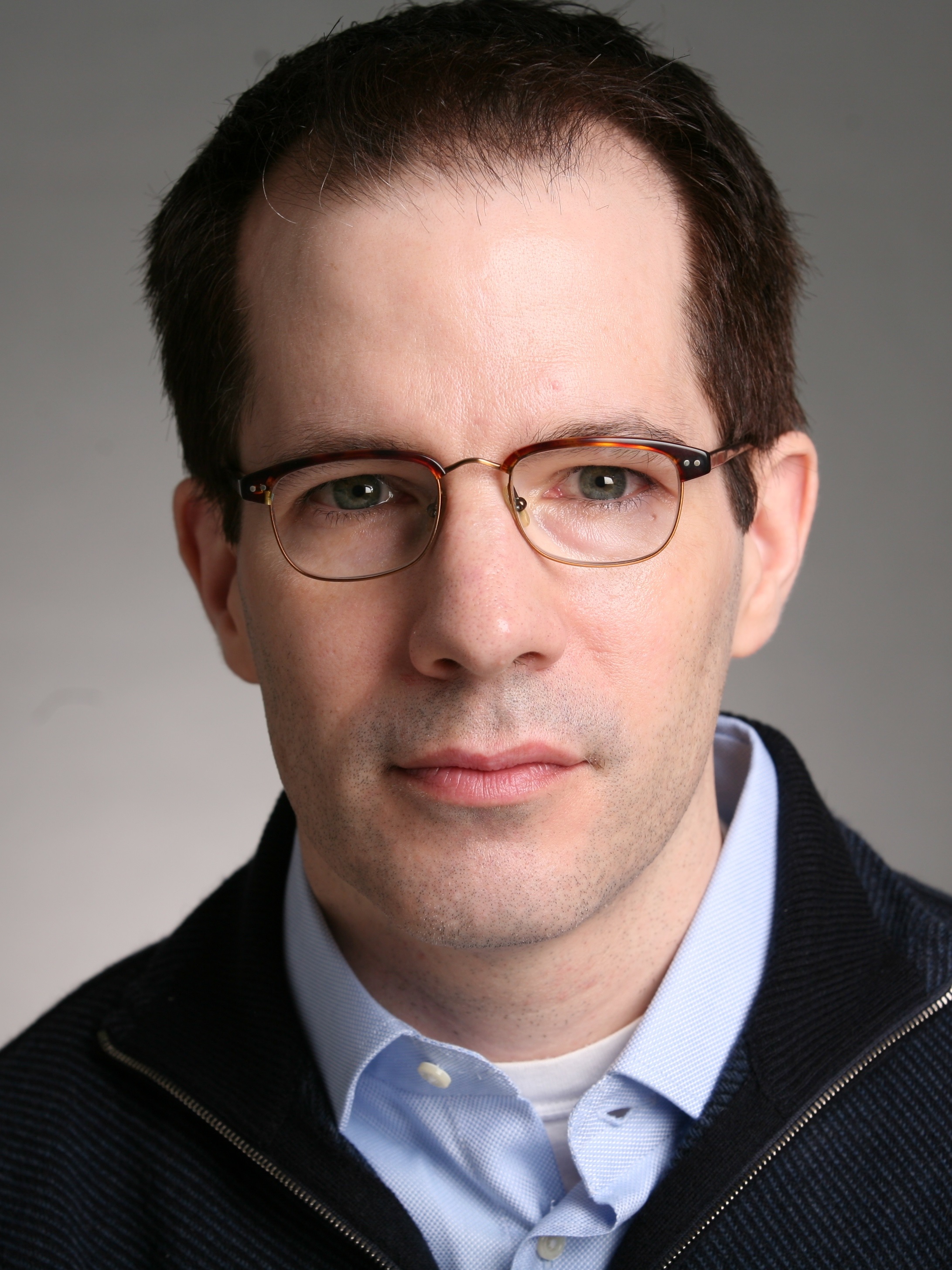 Bob Harlow, PhD, is a veteran market researcher who has spent 20 years using surveys, focus groups, and advanced analytics to help organizations more deeply understand their target audiences. He currently leads Bob Harlow Research and Consulting, LLC, a market research consulting organization.

WHO'S BLOGGING


RENT A PHOTO
Search Musical America's archive of photos from 1900-1992.