---
MA 30 The Influencers: Diane Wittry

Music Director
Allentown Symphony Orchestra
Ridgewood Symphony Orchestra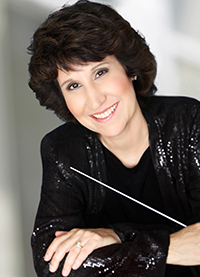 For Diane Wittry, being an effective music director is not just about making music. It's also about connecting her ensembles—the Allentown Symphony Orchestra in Pennsylvania and the Ridgewood Symphony Orchestra in New Jersey—with their communities.
A graduate of the University of Southern California with a degree in violin performance and a master's degree in conducting, Wittry was recently named the "Outstanding Alumnus (2013) of the Thornton School of Music" at USC. In addition to her two music directorships, Wittry is artistic director (USA) for the International Cultural Exchange Program for Classical Musicians through the Sarajevo Philharmonic (Bosnia), and the Bosnian-Herzegovinian American Academy for Arts and Sciences. She also serves as the artistic director for Pizazz Music and the Pizzaz Symphony Orchestra, an orchestra that specializes in bringing classical music to people in new and different ways.
Coming out of USC, Wittry discovered, to her dismay, that there was no single guide to such things as getting a job, negotiating a contract, working with orchestra boards and unions, fundraising, or developing family and educational programs. Drawing on her own experiences—which also include guest conducting in the U.S. and abroad, as well as being music director of the Norwalk Symphony, the Symphony of Southeast Texas, and Greater Miami Youth Symphony—she published Beyond the Baton: What Every Conductor Needs to Know (Oxford University Press, 2006). Her comprehensive treatment includes tips and strategies to guide students and professionals alike through the leadership and organizational skills necessary for success. Henry Fogel, former president and CEO of the American Symphony Orchestra League, has deemed Beyond the Baton to be "of immense value to every aspiring conductor who hopes to work and flourish in American orchestras."
Wittry has continued to explore and clarify the conductor's craft through her second book, Baton Basics—Communicating Music Through Gestures, and in her frequent appearances at international workshops. In Allentown, she's been guiding an El Sistema-modelled music education program, now in its fourth year, and has recently implemented adult outreach programs, including some for amateur musicians and retirees. After all, Wittry observes, "We're not just about entertainment. We're about enriching people's lives."

WHO'S BLOGGING


RENT A PHOTO
Search Musical America's archive of photos from 1900-1992.