---
MA 30 The Influencers: James Nyoraku Schlefer

Artistic Director
Kyo-Shin-An Arts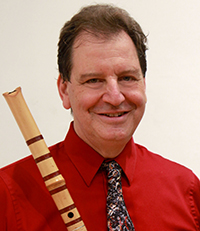 As founding artistic director of Kyo-Shin-An Arts, James Nyoraku Schlefer inhabits a distinct niche as a performer, educator, and composer. In addition to being an extraordinary virtuoso of the western flute, he is among the few non-Japanese artists to become Grand Master of the shakuhachi, and among a handful of that rank with a background in Western music. His Kyo-Shin-An Arts project seeks to meld two sophisticated "high art" musical traditions by integrating Japanese classical instruments—specifically the shakuhachi (bamboo flute,) koto (harp/zither), and shamisen (three-string lute)—with western classical music. These three instruments are essential to "hogaku," the vibrant genre of Japanese classical chamber music whose development since the late 17th century parallels the late Baroque, Classical, and Romantic periods in classical music.
While Japanese and western music traditions share such characteristics as adherence to structure and long histories marked by distinct periods, there are significant differences. Western music uses harmony and incorporates the concepts of repetition, contrast, and variation to define the common forms. Japanese music follows "jo ha ky"—meaning, roughly, a quiet beginning, a complex middle section, and a fast conclusion, followed by brief stasis. Scale patterns are also different, as are tone color, dynamics, and pitch.
Working internationally with both established and emerging composers, virtuosos from the Japanese tradition, and top western ensembles, Kyo-Shin-An Arts commissions chamber and orchestral music that includes Japanese instruments. The organization creates artistic partnerships, provides program administration, and assists with guest artists' fees, travel, and other expenses related to performances of the new repertoire.
Since 2009, Kyo-Shin-An has commissioned and premiered works by 22 composers including Victoria Bond, Carlos Sanchez-Gutierrez, Daron Hagen, Matthew Harris, Mari Kimura, James Matheson, Paul Moravec, and Somei Satoh. Performing ensembles include the Arianna, Cassatt, Ciompi, and Voxare String Quartets, Orchestra of the Swan, River Oaks Chamber Orchestra, and many others. Schlefer's efforts have opened the ears and minds of musicians and audiences to previously un-imagined east-west syntheses.

WHO'S BLOGGING


RENT A PHOTO
Search Musical America's archive of photos from 1900-1992.