---
MA 30 The Influencers: Jordan Peimer

Executive Director
ArtPower!, University of California, San Diego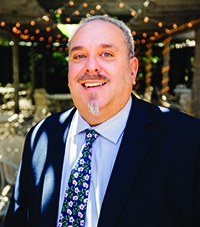 As the primary performing-arts presenter at the University of California, San Diego, ArtPower! seeks new ways to engage the student body while also adding to the artistic and cultural life of the La Jolla and San Diego communities. An October 2015 program epitomized the effort. Working in partnership with the San Diego International Airport, ArtPower! hosted the Bang on a Can All-Stars in an on-site performance of Brian Eno's 1978 classic Music for Airports. Onlookers were impressed by the sights and sounds, but for many, the most intriguing aspect was watching airport staff move in and out of the performance area while doing their jobs. "They had smiles on their faces," remembers ArtPower's Executive Director Jordan Peimer. "It was like the experience of their work life was being completely redefined."
In his position for only a year, Peimer wants to widen the scope and the effect of performing-arts presenting. His track record would indicate he'll have no problem doing so: as vice president and director of public programs at the Skirball Cultural Center in Los Angeles for 18 years, he established a reputation for taking risks on provocative theater, music, and dance pieces. Among the series he established there was one focused on global music titled "Sunset Concerts." He also mounted "Zeitgeist," a festival that examined Jewish life in the new Europe, and the Latin-focused "Viva!"
"I'm really interested in engagement," Peimer told The San Diego Union-Tribune in a recent interview. "And one thing that has been fundamental since my days at Highways [Performance Space] is I'm very interested in how people use artforms to express their identity and express their beliefs, their world view and their experiences.
"We as audience members can just learn so much, see so much, and experience things that we never could in our daily lives, through the arts."
The opportunity to work with students is particularly exciting to Peimer. "If we don't lay the groundwork for a student's intellectual curiosity now," he says, "why would they take a chance on a new piece of theater, dance, or music when they're older?"

WHO'S BLOGGING


RENT A PHOTO
Search Musical America's archive of photos from 1900-1992.