---
MA 30 The Influencers: Rocío Molina

Flamenco Dance Artist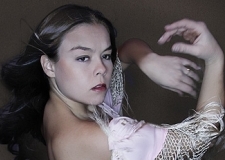 This year, flamenco dancer/choreographer Rocío Molina earned the U.K.'s Olivier Award for Outstanding Achievement in Dance for Bosque Ardora (Ardent Forest), a 2014 work that puts her in a league with pioneering female choreographers Pina Bausch and Martha Graham. In it, Molina takes a scalpel to the socialization of women by exploring how culture assigns them stereotypical roles, such as the victim, the innocent, and the goddess. She achieves this through her successful blend of classical flamenco, modern dance, and Butoh (Japanese dance of death), with film projection, a surreal set design (live trees hanging upside down), and the chameleon powers of her body.
Born in Malaga in 1984, Molina took to dancing when she was three years old. After graduating from Madrid's Royal Conservatory of Dance in 2002, she immediately began touring as a solo artist in flamenco festival productions. In 2008, she embarked on making full-length works. Because she melds genres as disparate as hip-hop dance, jazz music, Butoh, and improvisation, and often attempts to reconstruct large swaths of history, her dances have been equally criticized and commended for their ambitiousness. Nonetheless, three—Danzaora y Vinática (2010), Afectos (2012), and Bosque Ardora (2014)—are touring internationally.
As a dancer, Molina has won almost all of the awards available in her native Spain. The cutting precision of her rhythmic footwork (zapatiado) and the serpentine sensuality of her arms (braceo) give her, respectively, ferociousness and a lyricism. In Bosque Ardora, for instance, she successfully inhabits three distinct roles: the noble goddess Artemis of the hunt (who rides a stallion flanked by hunting dogs in the film's projected prologue); the vixen, who, in her fox mask, seduces two male partners like the most practiced of femme fatales; and the victim, who, in her high-heel stilettos, can barely walk, making the bullying by her man that much easier. Shape-shifting among these three archetypes, she offers a multiple, rather than a singular, vision of the feminine.
Molina has presented only one of her full-length works in New York. After performing her Afectos at the Baryshnikov Arts Center in 2014, Mikhail Baryshnikov entered her dressing room and knelt before her in unabashed admiration. Molina is a triple threat: a director-choreographer-dancer pushing the boundaries not only of flamenco but of the feminine mystique.

WHO'S BLOGGING


RENT A PHOTO
Search Musical America's archive of photos from 1900-1992.