---
MA 30 The Influencers: Cheryl Mendelson

Chief Operating Officer
Harris Theater for Music and Dance, Chicago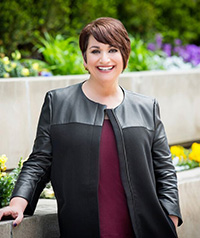 Located on the north side of Chicago's Millennium Park, the Harris Theater for Music and Dance opened in November 2003. Cheryl Mendelson, its recently appointed COO, has been serving as executive VP for external affairs for the last six-and-a-half years, during which time she has established a number of important initiatives.
Mendelson grew up in in Boston, went to the University of Massachusetts, Amherst, and has since spent over 25 years as an executive working with nonprofit organizations, including 13 years at the Rehabilitation Institute of Chicago. Her experience in the medical field was key to establishing the Access Tickets program, through which some 8,000 individuals who suffer from illness and disabilities, along with their families, have received complimentary tickets to Harris events. "It is inspiring to see the power that music and dance can have in healing the human spirit," Mendelson told the Chicago women's magazine FW earlier this year. "It makes the hard work worth it."
She also secured an NEA grant to found the Harris Theater Learning Lab, a series of workshops for resident companies on topics like disability awareness training, working with the Chicago Public Schools, and engaging audiences through social media. Mendelson is credited with the launch of the $38.8 million Imagine Campaign, the largest such fundraising effort in the theater's history.
The Harris currently has 35 resident companies or series, including the Chicago Symphony Orchestra's MusicNow, Chicago Opera Theater, and Hubbard Street Dance Chicago. It also presents touring artists; one of its most highly anticipated productions this season is a fully staged performance of Jonathan Berger's harrowing theater piece My Lai, named for the 1968 massacre of Vietnamese villagers by American soldiers. It opens January 29, 2016 and features the Kronos Quartet, tenor Rinde Eckert, and Vietnamese multi-instrumentalist Vân Anh Vanessa Vo.

WHO'S BLOGGING


RENT A PHOTO
Search Musical America's archive of photos from 1900-1992.