---
MA 30 The Influencers: Alecia Lawyer

Founder, Artistic Director, and Principal Oboist
River Oaks Chamber Orchestra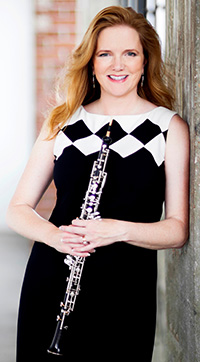 When the Houston Press asked Alecia Lawyer, the energetic founder of the River Oaks Chamber Orchestra, just what her role in the organization was, she reeled off an exhaustive, tongue-in-cheek list, from musician to fundraiser to humorist. She's also been known to call herself, in true Texas fashion, "Wildcatting entrepreneur spreading joy through music."
Lawyer studied oboe at Juilliard and Southern Methodist University (SMU) and has performed as a freelance both abroad, in France, and locally, in assorted Houston area orchestras. In 2005, she decided she needed to map out her own agenda. So she founded the River Oaks Chamber Orchestra with the idea of bringing musicians and audiences closer together, by keeping the house lights on during performances and encouraging musicians to mingle with listeners at intermission and afterwards. As such, she looked for good players who could relate easily to audience members on a number of levels, both outside and inside the music. She has called the ROCO "the Cheers of orchestras—'where everybody knows your name.'"
The 40-member ensemble commissions and performs quite a number of new works, with 44 world premieres to its credit over the last 10 years; when a soloist is involved, he or she comes from within the ranks, and concerts often include small ensembles drawn from the large. ROCO performs in a number of venues in the area and live streams some concerts to hospitals and nursing homes.
Lawyer's idea has been met with great success in Houston, and she's been asked to make presentations elsewhere, with ROCO serving as a model for other communities. But she intends to remain in Houston for the long haul. "You can't start an organization if you're not going to be there," she says. "You have to invest in the community."

WHO'S BLOGGING


RENT A PHOTO
Search Musical America's archive of photos from 1900-1992.