---
New Artist of the Month: Double Bassist Sam Suggs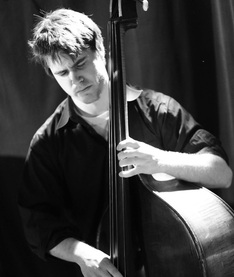 In June, at the biennial International Society of Bassists Convention in Fort Collins, CO, the solo competition boasted its usual share of top flight talent from around the globe, providing ample evidence (if any is needed) that the standards of double bass playing continue to soar. The prize winners were all outstanding virtuosos, but the winner of the Gary Karr Prize for first place wooed the judges not only on the strength of his playing, but also with creative programming that managed to adhere to the competition requirements while drawing unexpected connections between works.
Sam Suggs is a 25-year-old DMA candidate at Yale University, pursuing studies in double bass, yet boasting a range of interests that go far beyond mere regurgitations of the standards. Competition chairman Paul Sharpe described the attributes that ultimately tipped the scales in Suggs's favor. "It was his innovation in both repertoire and programming that engaged the audience and then kept our full attention for the duration. Artistry by itself is great. But, innovation and artistry together create momentum and progression."
The centerpiece of his program was an original composition based on a theme of the lost Haydn Concerto for the Violone, a Viennese instrument in roughly the same range as a modern double bass, but with a different tuning system and six strings instead of four. For the first movement of Suggs's Concerto After Haydn, Suggs says that he "used repetition to expand the theme, and borrowed voice leading schemata from other Haydn works to build a standard 'Gallant' concerto movement." As for the remaining two movements, he describes them as "commentaries on Haydn's compositional wit."
Like other aspiring bassists, Suggs was eager to play anything and everything on the bass, "as if," he notes, "playing violin repertoire on a big violin would be anything more than a novelty. I've learned that anyone can play faster or higher—it just takes dedicated practice. But not everyone can OWN their music. By composing, arranging, editing, and taking ownership of my product, I am working on developing my voice."
There are no professional musicians in his family tree, though several relatives were enthusiastic amateurs, including a grandfather who played banjo in a dixie band and a grandmother who, according to Suggs, "played a mean stride piano." Suggs himself studied piano at an early age, and his insatiable musical curiosity prompted him to save an aging accordion from the junk heap. His self-taught squeezebox skills have lead to performances of music from Paul Hindemith to Frank Zappa to gypsy jazz.
As an aspiring bassist Suggs looked to many models, including Edgar Meyer, Renaud Garcia-Fons, and Stefano Scodanibbio. He has worked with a number of bass teachers in the intervening years, including Donald Palma, his current mentor at Yale. Palma is effusive in his praise. "When I first heard Sam, what impressed me was his agility on the double bass and his sensitivity to the musical moment. He possesses a brilliant musical mind, acutely aware of context, both historical and theoretical, while at the same time enjoying the art of performing and sharing his art with others."
Frank Proto is perhaps the most notable modern bassist/composer, and it's not surprising that his Carmen Fantasy is in Suggs's repertoire, given his keen interest in finding common ground between the double bass and the vocal arts. A recent opera-themed program included the Proto alongside Suggs's arrangement of Purcell's Dido's Lament for bass and soprano, and Bottesini's Fantasia on La Sonambula. Suggs's own Otello Fantasy falls squarely in this tradition, though it's contemplative fade-out is an intriguing alternative to the pyrotechnical flourishes that are the typical endgame in this genre. His compulsion to blend old and new takes a myriad of forms, most provocatively in Daft Chaconne, an unaccompanied work that incorporates Daft Punk's electronic dance hit Around the World.

But Suggs is well aware that only a tiny handful of bassists concertize as soloists on a regular basis, and none are able to make a full-time living doing so. Even with his competition successes as soloist, Suggs believes that "the bass will always be a collaborative instrument. All my different musical outlets exist on a continuum of collaborative playing, from baroque to contemporary jazz."
"On a philosophical level, I think that the bass has fallen behind the other strings because we have less dedicated idiomatic repertoire," says Suggs. Indeed, standards of bass playing have grown faster in recent decades than the pool of great repertoire needed to demonstrate these advances, leading many of the best virtuosos to scour string repertoire for transcriptions. This is a temporary solution at best, and Suggs and others are instead filling the vacuum with ever more creative solutions to the frustrating barriers bassists face as they strive for a greater presence on the concert stage.
Michael Cameron is Professor of Double Bass at the University of Illinois. He has premiered over 100 solo and chamber works for the double bass, and has contributed hundreds of reviews, interviews, and feature articles for the Chicago Tribune, Fanfare, Chicago Classical Review, and Ravinia Festival programs.

WHO'S BLOGGING


RENT A PHOTO
Search Musical America's archive of photos from 1900-1992.