---
How Medici.tv Turned a Slowing TV Market into a Speedy, Streaming One

Eight years after its founding, classical music's best-known streaming platform continues to forge ahead
When Medici.tv launched in 2007, founder and Managing Director Hervé Boissière admits, the classical music world was facing tough times.
"Consumption was starting to change from physical carriers to digital, there was piracy,'' he says. ''I thought it was important to bring into the world something that was official, legal, and controlled, which respected artists' rights. Right from the start I wanted a global approach, and a bridge between artists and music lovers.''
Back then, the idea of live video streaming of anything seemed outlandish: computer bandwidth restrictions meant jerky video and sub-CD sound quality. As Boissière points out, even Netflix's business then was mailing out DVDs and it did not start streaming video until 2009.
The Verbier Festival launch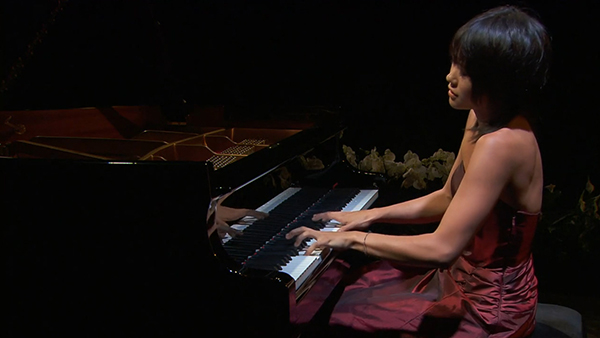 Pinning his hopes on a rapid expansion in bandwidth and boosted by subsidies from the European Union and French Culture Ministry, Medici.tv launched at Switzerland's Verbier Festival, where it was warmly welcomed. "They were frustrated that their television partners would come along and broadcast the big names—Argerich, Levine, Kissin—but not reflect the longer-term work the festival was doing with new and younger musicians. We streamed everything, including the less glamorous things that are the festival's DNA." Viewers of those early streams were able to hear artists such as Daniil Trifonov and Yuja Wang in recital before they became stars.
Other venues rapidly came on board, from Salzburg to San Francisco. One attraction was Medici.tv's formula of offering live streams of about 100 events a year for free, leaving the recordings on the open web site for a few weeks and then tucking them behind a pay wall in its library for subscribers only.
Television, by contrast, usually records performances—they tend to take place in primetime when classical music would kill ratings—and gives a one-off airing late at night.
Medici.tv's three-pronged business model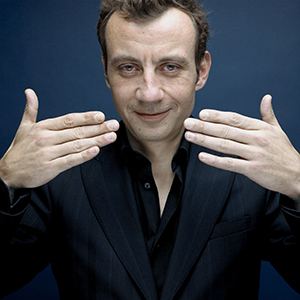 1. The first is a subscription model (about $130 a year for standard and $190 for the premium version), which at present has about 8,200 customers. ''They tend to be very loyal,'' Boissière says. ''Most choose annual subscription and about a third of those who signed up when subscriptions began three years ago are still with us.''
2. The second is business-to-business distribution in two areas. One is streaming to the education sector including university libraries, colleges, and conservatoires. About 90 institutions have signed up—most in North America, followed by Asian countries. But Boissière says that with prestigious institutions such as Harvard, the Julliard School, and UCLA on board, the service is attracting nterest from Latin America and Europe, and he predicts Medici.tv will have 400 to 500 clients from that sector within four years. The other B2B model is using platforms such as iTunes, Amazon, and telephone companies. "We went to them and said, you canhave a package of 50 greatest classics or favorite opera arias, withall rights cleared, fully digitized and edited, ready to monetize—and they were seduced." About 20 outlets are on board, including TVT Brazil, Shanghai Media Group, and SFR France.
3. The third business model is sponsorship. Boissière acknowledges that classical music does not have the mass appeal that, say, persuades American Express to back a Lady Gaga tour, but with relays from La Scala, the Glyndebourne Festival, and Carnegie Hall, it does draw a moneyed and enthusiastic audience. Rolex is a core sponsor and about half a dozen brands such as BMW support individual projects. Boissière is aiming for about five core sponsors and 15 funding individual projects.
Still breaking even, with the archive as a major carrot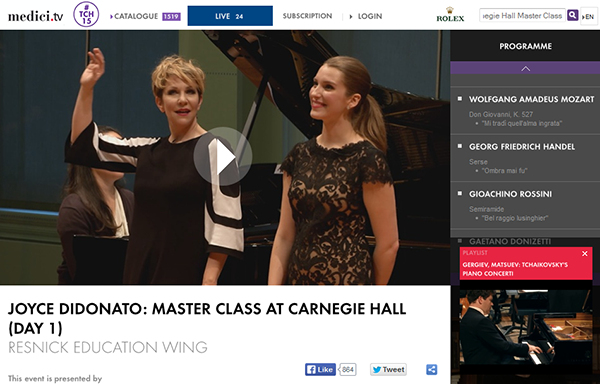 Overall, subscriptions provide 40 percent of revenue, business-to-business 25 percent, and sponsors 35 percent, but Boissière stresses that the outfit is just breaking even. With devices for watching streamed video becoming ever more ubiquitous, its list of performance venues lengthening, and its reputation spreading, he remains optimistic. ''The conversion rate from free viewing to subscription is really growing.''
One attraction is that video library, which contains about 1,600 programs—Medici.tv claims it is the biggest online classical video archive—with the goal of increasing that number to 2,500 by next year. While the most viewed items tend to feature star names such as Netrebko, Gergiev, and Muti, there are surprises. Its historic films are favorite views, subscribers eager to discover the artistry of Rostropovich, Rubinstein, Karajan, and others. With 40 percent of Medici.tv's audience being in the U.S., Joyce DiDonato is also a favorite, so the platform began in February to stream free master classes presided over by the mezzo-soprano. Its most popular live stream was from Plácido Domingo's Operalia competition, watched by 35,000, followed by Verdi's Don Carlo, starring Jonas Kaufmann in Salzburg, with 30,000. Each of these has achieved a total of 300,000 or more views, including the 90 days they remain free on the site. The hope is to achieve that number for all events; with subscription
growth at 30 percent a year, Boissière is optimistic.
Medici.tv is in a comfortable place in the online universe: on the one hand, classical music is a niche interest unlikely to attract crushing competition from the giants such as Google and Apple, on the other, its audience is passionate, loyal, and affluent.
It is also set to offer some of classical music's most compelling events. In Moscow this year it signed to stream the Tchaikovsky Competition, from first round to last—a grand total of 18 days' live viewing.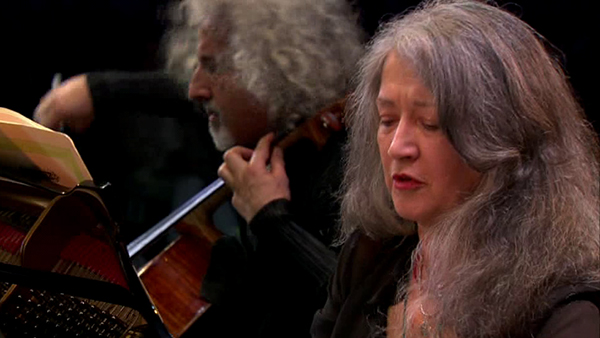 Another potential growth area is the proliferation of viewing devices. ''Sometimes 50 percent of our live streams are viewed on mobile phones," Boissière says. A revamped Medici.tv web site, catering to new devices such as smartphones, tablets, and watches, will be launched early 2016.
---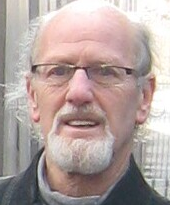 Australian-born, U.K. resident Phillip Sommerich has been writing about the entertainment and media sectors for nearly 35 years with an emphasis on classical music. He is the recording industry correspondent for Classical Music magazine and has written for Billboard, Music Week, Music & Musicians, BBC Music, The Guardian newspaper, and others.

WHO'S BLOGGING


RENT A PHOTO
Search Musical America's archive of photos from 1900-1992.