---
[Off The Beaten Path]
Shoton (Sho Dun) Festival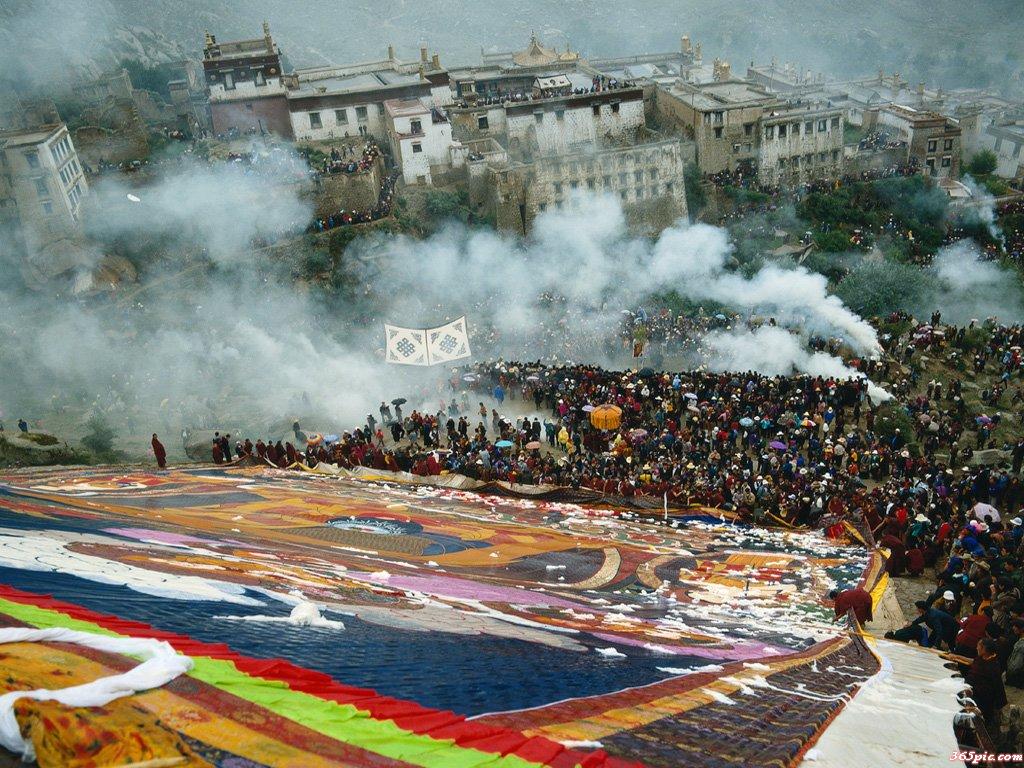 Location: Norbulingka, TIBET
August 25-29, 2015
Weibo.com (Chinese language website)
Located in Norbulingka and its vicinity of Lhasa, Tibet, Shoton (Sho Dun) Festival was founded in 1913, but its tradition dates back to the 11th century, when Buddhist monks and believers gathered to celebrate the end of Tibetan Ramadan. (Shoton, literally translated, means "yogurt feast.") The modern Shoton, taken over by the municipal government of Lhasa from the religious authority, retains its strong sense of piety but has become more accessible to the general public. It provides a showcase of rarely heard Lhamo, or Tibetan opera, as well as Buddist music and Tibetan patriotic songs.
Events take place in the shrines and parks of Lhasa—Potala Palace Plaza, Drepung Monastery, Sera Monastery, Angular Lu Kang Park, and Norbulingka Park—where local Lhamo troupes compete for a grand prize.
Lhamo is sung as well as recited, often to the heavy accompaniment of a choir, cymbals, and drums. The lack of pitched instruments, the huge blue masks worn by the actors, and the atonal-like singing and rapping are fascinating to experience.
But it is the opening of Shoton that takes the center stage. A huge thangka of Gautama Buddha is gradually unfolded down the Drepung hilltop before dawn, accompanied by Buddhist chanting and ensemble playing. At the exact moment of sunrise, the holy thangka is revealed in its full glory as the music reaches its climax. This is followed by a flood of some 400,000 worshippers from all over the world, a spectacle comparable to that of the Papal Mass in St. Peter's Basilica.
Details of this year's program will be announced in early August. The festival's official web site is not consistently up and running, but keep trying. Performances cost 3 RMB a piece (about 50 cents), or 60RMB for an all-event pass. Note that non-Chinese passport holders need to have special permit to travel to Tibet except in groups. —Rudolph Tang

WHO'S BLOGGING


RENT A PHOTO
Search Musical America's archive of photos from 1900-1992.