---
[Off The Beaten Path]
Jacob's Pillow Dance Festival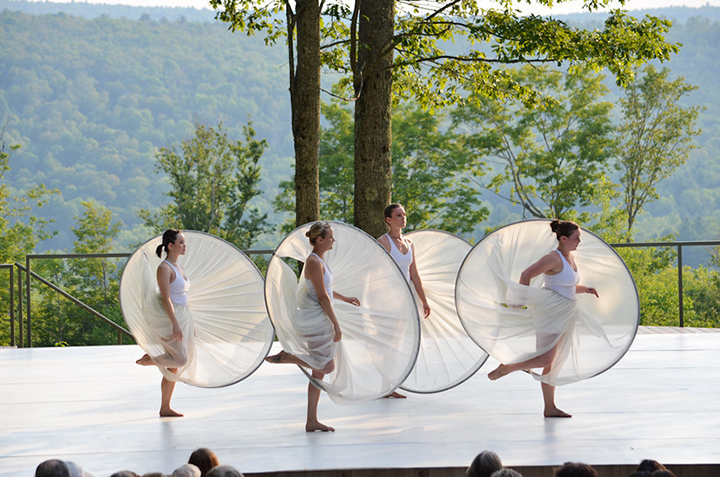 Location: Becket, MASSACHUSSETTS
June 24-August 29, 2015
For many people, the Inside/Out series has provided their first taste of concert dance—for free. Approximately 31 performing groups, one 45-minute performance at a time, take to the elevated stage, overlooking the verdant Berkshires Mountains on the hallowed grounds of Jacob's Pillow Dance Festival, America's oldest continually operating dance festival.
Inside/Out presents new and cutting-edge artists and their work every Wednesday through Saturday evening outdoors before the paid Pillow event in the Ted Shawn or Doris Duke theaters (named, respectively, for the founder and major funder of the Pillow). In some cases, you'll see history in the making—many Inside/Out artists are now touring the world, having gotten their start on the Pillow's outdoor stage. You don't need tickets--just bring a picnic basket. Performances are from 6:15 to 7:00 p.m.; lighting is courtesy of Mother Nature; and the sunsets can be spectacular. When it rains, the show always goes on, inside one of the dance studios. Artists are always on hand for a quick Q&A after their performances.
The festival does not release the Inside/Out schedule until mid-April; dance companies that have applied to participate need to be the first to know if and when they're scheduled. But Saturday night's Inside/Outside events, which are provided by the students of the Pillow, have been announced.
June 27 they will perform a new work created on them by BalletX Artistic Director Matthew Neenan. July 4 and 11 will be devoted to exploring African American social dances, from authentic jazz to hip-hop. For three Saturdays starting August 8, students perform new works created on them by Broadway choreographers, directors, composers/arrangers, and musicians. The idea is for them to experience—and for the public to witness—what a Broadway audition feels like.
Curated by Festival Artistic and Executive Director Ella Baff, with the help of Program Coordinator Ariana Brawley, who sifts through approximately 250 video submissions annually, the Inside/Out's chosen groups are given an honorarium to defray their expenses.
The Inside/Out series continues Pillow founder Ted Shawn's missions to promote all forms of dance, to offer insight into the creative process, and to foster the dream of art for all, regardless of one's paycheck. —Rachel Straus

WHO'S BLOGGING


RENT A PHOTO
Search Musical America's archive of photos from 1900-1992.