---
MA 30 Profiles in Courage: Robert Spano

Music Director
Atlanta Symphony Orchestra and Aspen Music Festival and School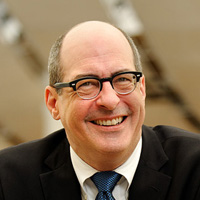 When Robert Spano arrived at the Atlanta Symphony Orchestra as music director in 2001, the orchestra was in the doldrums. A music director who stayed too long at the party had left the ensemble divided in its loyalties; morale was at an all-time low; and repertoire was decidedly predictable for a decidedly conservative audience.
Enter new-music specialist Spano, having spent five seasons building the Brooklyn Philharmonic into a highly regarded testing ground for new and unusual repertoire.
The antithesis of the remote maestro, Spano used his considerable energy, affability, and passion for the art form to heal the orchestra. He listened, he cajoled, he inspired, and the end result was not only a better-sounding ensemble but a far more united ASO community.
Which, in turn, enabled him to till the soil of new music and musicians—one of his passions. Spano calls nurturing composers "the biggest joy in my life." Since he arrived, the orchestra has performed over 100 works written within the last 60 years, including seven ASO-commissioned world premieres, most of them by the Spano-launched Atlanta School of Composers—Jennifer Higdon, Christopher Theofanidis, Osvaldo Golijov, Michael Gandolfi, and Adam Schoenberg. Golijov calls him "a shaman with a beat. Every time I give him a new piece, he understands it better than I do….Maybe it's because he's a composer too."
And a teacher. His credentials range from Oberlin faculty member to head of the Conducting Institute and director of the Festival of Contemporary Music at Tanglewood to Emory University artist-in-residence to, most recently, music director of the Aspen Music Festival and School.
Spano has the courage of his convictions: When the orchestra's trip to Carnegie Hall to perform the Britten War Requiem last May was at risk of cancellation, he personally stepped forward with the funds to make up the difference. "I marched in to one of our symphony board meetings and said this is not going to be canceled," he told The New York Times in a recent interview. "There are people who think it should be canceled, I don't agree with them, I'm putting $50,000 on the table right now. Who's going to join me?" The ASO and its stellar chorus were able to make the trip after all; the performance was gripping and a huge success.
When the ASO parent, Woodruff Arts Center, locked the Atlanta musicians out earlier this fall, Spano boldly took on his bosses and argued in defense of the musicians, both in public statements and private meetings with WAC officials.
Affable, energetic, and musical to the core, Spano goes the extra mile—be it in the Rocky Mountains of Colorado or the red clay of Georgia—and the music world is all the better for it.

WHO'S BLOGGING


RENT A PHOTO
Search Musical America's archive of photos from 1900-1992.