---
MA 30 Profiles in Courage: Martin Anderson

Founder and CEO
Toccata Classics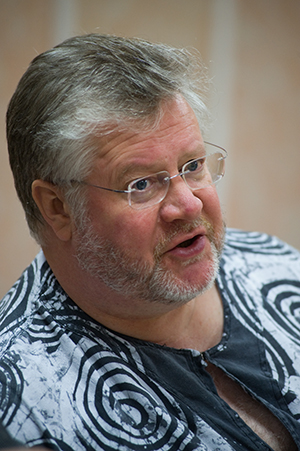 In 2005, Martin Anderson launched his own record company, Toccata Classics to bring to life neglected works of music. "Basically, I got fed up waiting for other labels to bring out music I wanted to hear," Anderson said. Today, his record label fills an important niche by disseminating what it bills as "forgotten music by great composers, great music by forgotten composers." Its 200th release—orchestral, choral, and organ works of Norwegian composer Leif Solberg, to mark his 100th birthday—is due in December.
Anderson, 59, a Scot, fell in love with classical music around age eight or nine. After earning his degree in medieval French and German at St. Andrews University, he worked for 20 years in economic development in London and Paris. But his passion for music eventually won out and he turned to criticism, writing for Fanfare, International Record Review, and other publications. He launched Toccata Press to publish books on music and, with a staff of three part-timers, he now runs the label from London.
"I won't repeat anything that is already adequately recorded, and every CD has something new," said Anderson, whose catalog ranges from Renaissance to contemporary work. The emphasis is on more or less obscure composers, such as Algernon Ashton, Benjamin Lees, David Matthews, Theodore Gouvy, Heinrich von Herzogenberg, Friedrich Gernsheim, and more. But the masters are also represented by works that have been lost or forgotten, such as Rameau's keyboard music and Martinu's early orchestral pieces.
Anderson, active with the International Centre for Suppressed Music, has a special interest in composers working under (or exiled from) totalitarian regimes, and his catalog reflects that with CDs of works by Julius Burger, Hans Gal, Ernst Krenek, Karel Reiner, Mieczyslaw Weinberg, and others who suffered from political tyranny.
Toccata Classics is a labor of love, with production costs running more than $5,000 per CD, and modest sales, but every once in a while a release finds a sizable audience. "The second-best seller is Dvorák song transcriptions (my idea!) with Josef Suk and Vladimir Ashkenazy," said Anderson. "But currently it is being well outsold by John Mauceri's CD of music for Hitchcock films."

WHO'S BLOGGING


RENT A PHOTO
Search Musical America's archive of photos from 1900-1992.