---
MA 30 Profiles in Courage: Peter Alward

Managing Director and Intendant
Salzburg Easter Festival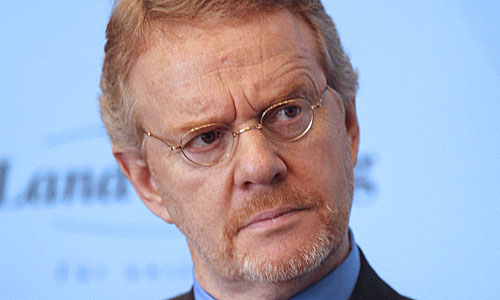 When Peter Alward took over as intendant in 2010, the Salzburg Easter Festival was embroiled in two of the biggest scandals in recent industry history. Following the dismissal of an executive director who had allegedly embezzled as much as $2.8 million from operations and the attempted suicide of its technical director, the springtime event was scrambling to regain its balance.
The former president of EMI's classical division, who oversaw recordings by the legendary Herbert von Karajan, among others, Alward had little reason to risk his reputation on an enterprise that seemed so close to a sinking ship. And yet, citing a sense of fidelity to the Berlin Philharmonic, Simon Rattle, and, of course Karajan, he took the job.
Shortly after Alward, 64, had balanced the books, the Philharmonic, resident orchestra since the festival's founding by Karajan in 1967, abruptly announced plans to withdraw and launch its own, more lavishly funded Easter Festival across the border in Baden-Baden, Germany. Only three months later, Alward had recruited the Staatskapelle Dresden to replace it.
The move not only allowed the festival to carry on according to plan but created a healthy dose of competition. The Staatskapelle brought both a long tradition of accompanying opera and Karajan protégé Christian Thielemann as its music director. Thielemann was in place for both the new production of Parsifal in 2013 (originally planned for the Berliners) and the 150th anniversary of Richard Strauss in 2014, which featured a new production of Arabella starring Renée Fleming and Thomas Hampson. The premiere was sold out, as was the new, child-friendly "Concert for Salzburg" featuring the actress Isabel von Karajan in Peter and the Wolf.
The festival, which draws over half its budget from ticket sales, reported an overall attendance rate of 88% for the 2014 season. Now that Alward's work is done, he will be passing on the reins, announcing earlier this year that he will not his renew his contract when it expires in June 2015.

WHO'S BLOGGING


RENT A PHOTO
Search Musical America's archive of photos from 1900-1992.