---
Events Plus Social Media = Social Ticketing

Or, why concert-going and social media were made for each other
If you bought a bus ticket to go visit your aunt in Trenton, chances are you wouldn't tweet about it, or post foodie pics on Instagram of the meat loaf she served for dinner. If, on the other hand, you bought a ticket for an event—an opera, a football game, a cooking class—you might tell your friends and followers about it; you might even invite them to join you or chat about it online during and after the fact. That's because attending an event is a communal activity. And what could be a more effective way to communicate about it than social media? Which is but one reason why social ticketing, as it has come to be called, has become such an effective sales tool.
Save me a seat!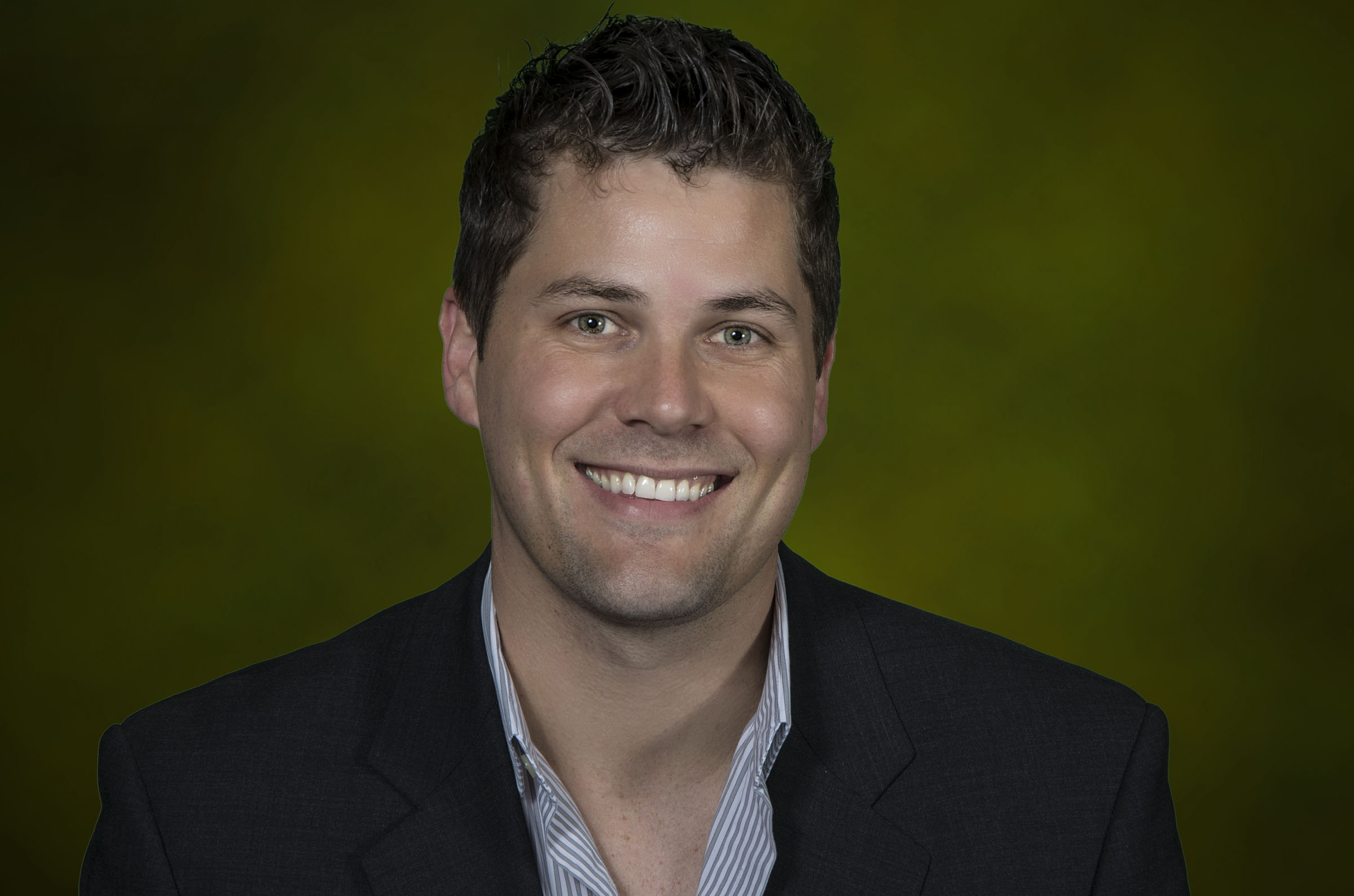 Mike Evenson, marketing and product management VP at Toronto-based AudienceView says the company wanted to bring back the potentially social experience of buying a ticket at the local arena or concert venue. "Previously people went with friends and waited in line to buy tickets." That changed with the Internet's arrival. "All of a sudden people were at home waiting to click as fast as they could, with one person ending up buying four tickets."
AudienceView's social ticketing program AVTiki enables consumers to purchase tickets on Facebook and reserve neighboring seats for friends. The friends are then informed via FB that seats are being held for them; this way, the original ticket purchaser doesn't have to risk buying more tickets than his friends may want. The amount of time tickets may be held is decided upon by the client, whether it is a presenter, an artist, or a venue.
There are several advantages to this chain of events. One, you sell more tickets. Two, you gather data from the ticket purchaser and his or her friends. "Instead of knowing one person per four seats at your venue, with AvTiki the event owner can potentially know who every single person in its venue is," says Evenson.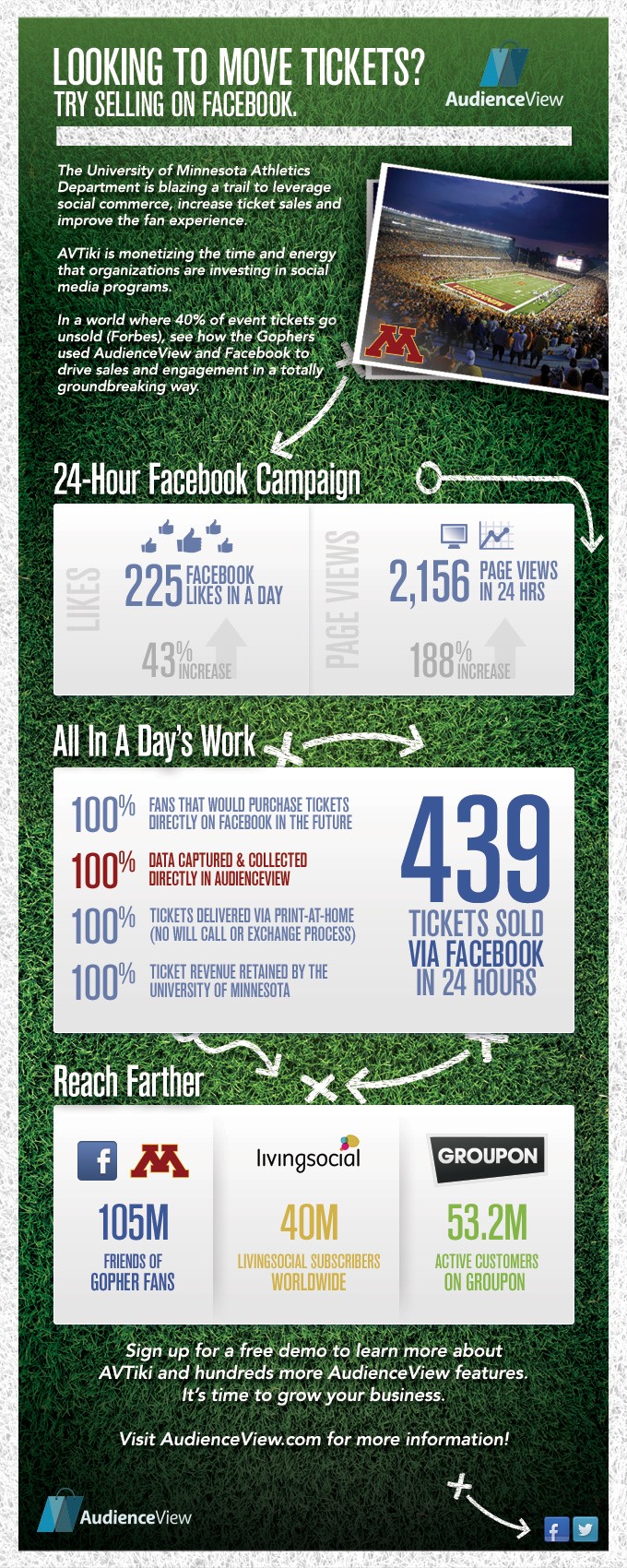 Some 27 organizations currently use AVTiki, from the Canadian Stage theater in Toronto to the University of Minnesota Athletics. AVTiki metrics reported by Minnesota Athletics:
439 tickets sold via Facebook in 24 hours.
225 new Facebook "likes" in one day—a 43% icrease over any single day in the past 3 months.
2,156 page views—a 188%&nsp;increase in page views over any single day in the past 3 months.
A survey of Minnesota Athletics customers who purchased their tickets through AV Tiki revealed:
100% o respondents said this was their first purchase on Facebook.
100% o respondents said the reservations feature was attractive to them.
100% o respondents said they would purchase tickets directly on Facebook in the future.
As the Minnesota Athletics statistics show, social media communities can build around each ticket purchase.
Facebook drives sales, Twitter drives visibility
Launched in 2006, white label ticketing technology provider Eventbrite boasts more than $1 billion in ticket sales for its client base. It offers social ticketing to event organizers of any kind, ranging from cookery classes to the 90,000-capacity Bonnaroo Music and Arts Festival in Tennessee.

In 2012 the company produced a report illustrating the impact of events being shared via social media platforms.
A Facebook share drives $4.15 in additional revenue back to the event organiser.
A Twitter share drives 33 visits to an event's ticketing site per share.
A Facebook share drives 14 visits to an event's ticketing site per share.
A LinkedIn share drives 10 visits to an event's ticketing site per share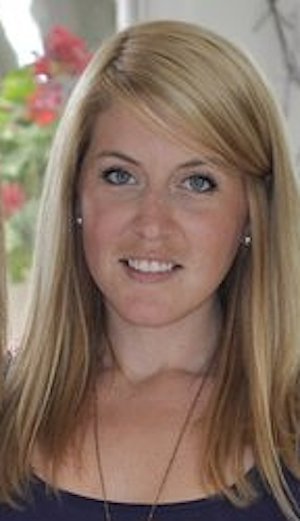 Eventbrite head of social media Sara Altier says Twitter drives more visits and Facebook more revenue because of the nature of the connections made on the platforms.
"Twitter is about following famous people, whereas in Facebook people are looking at people they know." If a friend is going to a show, that is more influential than a star simply sending a tweet about the show to fans.
The Eventbrite executive has seen up to 40 percent of tickets for an event being sold on social media platforms, but says it varies greatly depending on the nature of the event and how well the event owner has nurtured its social media community.
To maximize sales, says Altier, it's important to train potential customers to always check the Facebook page, since that's where announcements are first made and where the potential for conversation about the events can take place.
"You need to drive them there from all available online platforms; blogs, web site, and email." Make sure on all platforms to let people know that FB is the first port of call for new information about ticket sales.
Monitoring is key to social success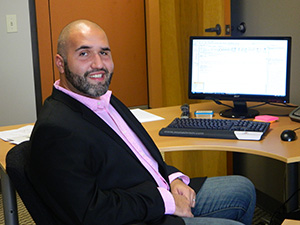 Steven Garcia, director of client services for SeatAdvisor, says the company's system enables ticket buyers to make a social media post at any point during the sales process. He believes positive and negative posts can both work to an event organizer's advantage.
"Social media requires regular and consistent monitoring. We don't encourage clients to delete or try to hide negative posts, but they require an immediate response. Organizations can use social media to demonstrate how great they are at rectifying a problem rather than hiding it. That allows people to feel free to express themselves and builds loyalty," says Garcia.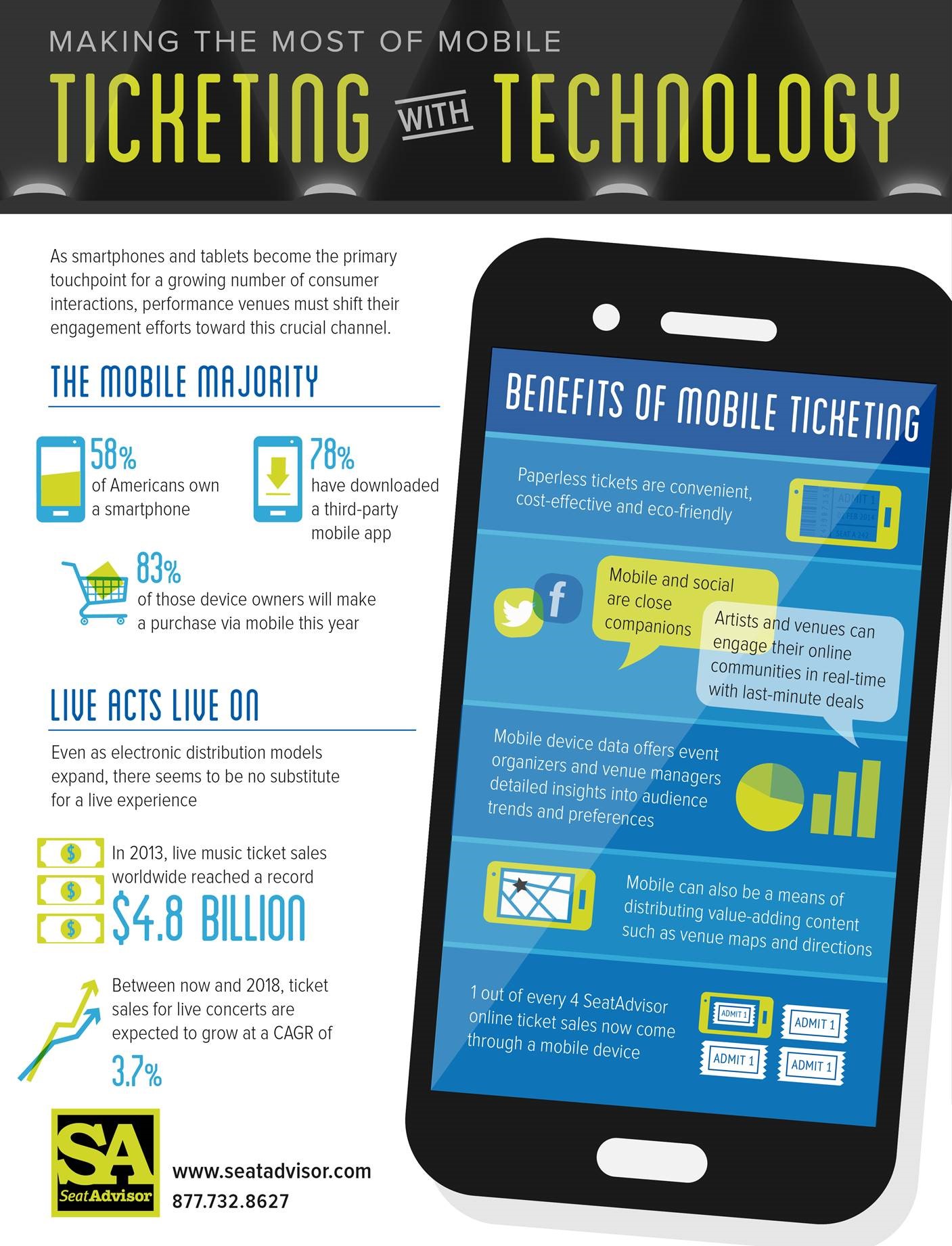 When it comes to encouraging consumers to actively raise the profile of an event via social media, Garcia insists organizers need to post questions rather than statements.
Don't Say: "This month our venue celebrates its 100th anniversary!"
Do Say: "It is our 100th Anniversary, what's your favourite memory at our venue?"
What those "likes" can tell you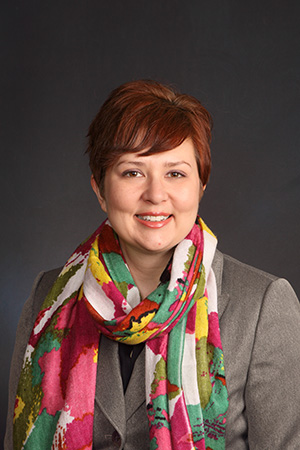 Amy Constantine Kline oversees the social media strategy at the International Ticketing Association (INTIX), the industry trade body whose an annual conference offers sessions on trends and innovations; it's also an opportunity for companies to exhibit their latest ticketing products and services. Social media has enabled the organization to gain a clearer picture of its international client base.
"Facebook ads can reveal a lot about the location of your customers. We were surprised to see the most 'likes' for one campaign coming from Central America, so we adapted our strategy," to focus specifically on that region, says Kline.
Get the artist in on the act


Launched in 2008 in London, white label e-commerce solutions provider CrowdSurge now boasts offices in New York, Nashville, and LA. It has worked with an array of artists including Paul McCartney and country singer Blake Shelton, also a judge on TV's The Voice, so they can market and sell tickets direct to fans from their personal online platforms.
"Shelton's social-media reach doesn't compete with the likes of Taylor Swift or Bruno Mars," says Director of Marketing and Client Services Nathan Lew, "but his savvy use of the medium, especially Twitter, separates him from his peers.
"Ticketmaster is the primary ticketing partner for Shelton's tour, but artists can carve out eight to 10 percent of the tickets to sell on their own, usually to their fan clubs." This is what Shelton did for his recently concluded Ten Times Crazier national tour, leveraging his loyal following on Twitter to drive sales directly from his own web site.
Email still rules
CrowdSurge, which also works with venues and promoters, uses Facebook to glean customer data for event its clients. However, says Lew, "when it comes to event marketing tools, email is still king."
"The challenge is that while artists have creatively grown their Facebook and Twitter followings they have not invested as much in growing email databases. We encourage clients to utilize Facebook, YouTube, and Twitter to drive fans to sign up with emails.
Email is still the most effective way to reach customers when tickets go on sale. When we run these data-capture campaigns, 32 percent of all ticket purchases come from the pool of email addresses we collect," says Lew.
Email blasts may sell the most tickets, but social media, properly maintained, can make those sales resonate into more sales. Which makes social media the primary secondary channel for selling tickets.
---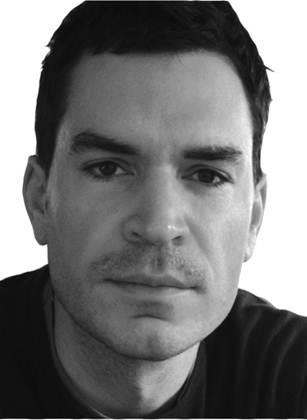 Christopher Barrett is a UK-based entertainment industry consultant and journalist specializing in digital and print content initiatives for clients including Abbey Road Studios and British record label trade body BPI. He has edited and/or contributed to trade titles including Billboard, Music Week, Music Ally, Audience, and Cue Entertainment.

WHO'S BLOGGING


RENT A PHOTO
Search Musical America's archive of photos from 1900-1992.