---
Baltimore Symphony Orchestra: OrchKids

Turning around schools in Baltimore's neediest communities
The Baltimore Symphony Orchestra's community and education programs are among the most forward-looking of U.S. orchestras. Arguably the most successful is OrchKids. Based on the now-legendary "El Sistema" program of Venezuela, which harnesses music education as a vehicle for social change, OrchKids, which just completed its sixth year, has begun turning around schools in some of the neediest communities in Baltimore. News of its success has reached the highest levels: in November 2013, OrchKids received a National Arts and Humanities Youth Program Award, presented at the White House by Michelle Obama.
In the beginning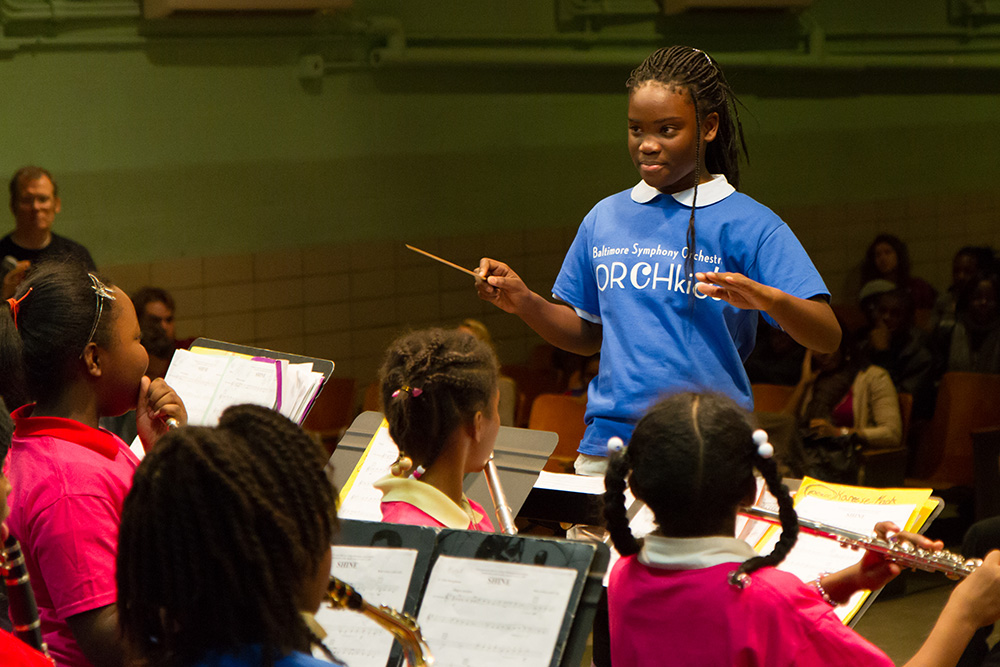 The brainchild of Music Director Marin Alsop (and launched with a significant chunk of her MacArthur "genius" grant monies), the BSO piloted OrchKids in 2008 with 30 children in one of the worst-performing schools in the city. When that one closed at the end of the school year, the operation (and the students) moved to another challenged elementary school, Lockerman-Bundy in West Baltimore, where it has thrived—75 percent of the children enrolled in the school now participate in the program. Schools and grades have been added each year. Today, OrchKids serves 730 students in five schools, grades K-8, with 600 hours of in-school and after-school instruction. A four-week summer program has also been added.
[Budding maestro Asia Palmer conducts her peers. PHOTO: Kenneth Adam]
How it works
Instruction begins in pre-kindergarten, where children learn the fundamentals of music and musicianship during the school day; these classes continue through second grade. The afterschool program starts in first grade, when students explore the different instrument families; in second grade, they choose an instrument, get group instruction, and begin to participate in ensembles. In third grade, older students begin to mentor younger ones. There are performances, ancillary activities with other community music groups, and field trips. As the children get older, their involvement in the afterschool program becomes more intensive, with classes Monday through Friday, and sometimes even on weekends.
The Bucket Band
OrchKids students participate in all kinds of music in all kinds of configurations: a jazz band, a choir, mixed ensembles, a large orchestra. And they compose. "Our kids do it all," says Nicholas Cohen, director of community engagement at the BSO. "They are not just one-track musicians."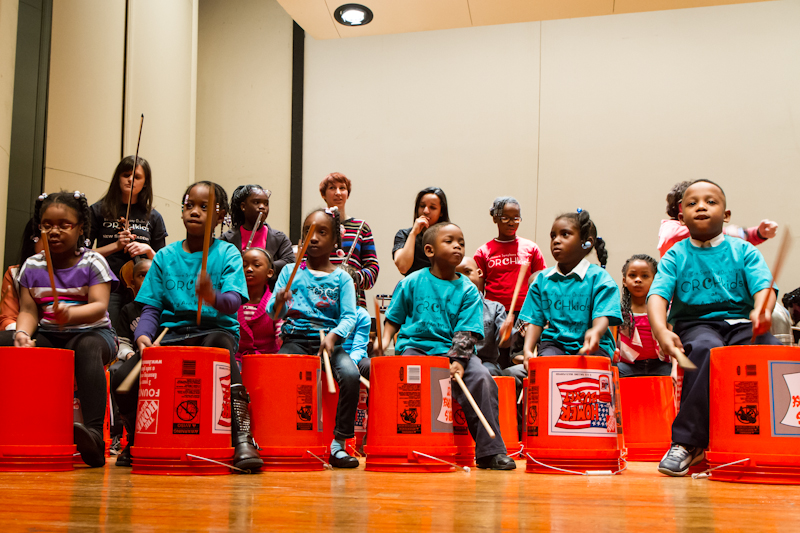 One Baltimore-specific program is the Bucket Band, taught by a BSO percussionist, in which very young children use Home Depot buckets and drumsticks to learn rhythm skills; by the time they get their own instruments, Cohen says, they are extremely proficient. The Bucket Band also introduces musical concepts using genres with which the children are already familiar. "Urban rhythms resonate with these kids more than maybe Bach or Beethoven," says Cohen. "We feed them what they are used to, and then we feed them a little Beethoven." OrchKids concerts draw big, enthusiastic crowds of families, friends, and community members who cheer both the Bucket Band and Beethoven.
[OrchKids's famous Bucket Band; PHOTO: Kenneth Adam]
What it costs
The OrchKids budget is just over $1.1 million, funded largely through private donations, including two $1 million grants. The students get group lessons, instruments, food, and field trips, all at no charge. The budget also supports the program's staff, which includes an artistic director, an operations director, nearly 40 instructors (several in the orchestra), and support staff. Then there are the site coordinators who are stationed permanently in each of the five schools. This is a critical element, Cohen says, not only to handle logistics, but because their presence demonstrates to the teachers and staff that OrchKids is serious about being a key part of their community.
The results
Like El Sistema, OrchKids aims for results beyond music education and performance. Music is the vehicle that helps develop skills like teamwork and communication, fosters creativity, encourages academic success, and builds parental involvement. The BSO conducted an assessment in partnership with Baltimore City Schools and University of Maryland Baltimore City (UMBC), looking at the academic, social, and musical progress of the kids in the program during the 2012-13 school year. Several results leapt out:
Children who had been in OrchKids for three years or more had higher math scores on the state tests and lower absenteeism than the Baltimore city average.
There were no chronic absentees. "It's an honor to be in OrchKids, and if you don't come to school, you're not participating in it," Cohen says. "The parents get that."
School attendance in general improved, in one case (Lockerman-Bundy School) by 52 percent from the time that the program was introduced, in 2009-10.
OrchKids participants are less likely to change schools mid-year—a practice that hinders learning.
Behavior improved. "Through the assessment, and the feedback we get from the teachers, we are seeing that the kids' social and classroom skills are improving," says Cohen.
When the assessment showed reading test scores to be slightly behind the city average, OrchKids enlisted Experience Corps, a group of retired Baltimore school teachers, to provide after-school homework help and tutoring.
The future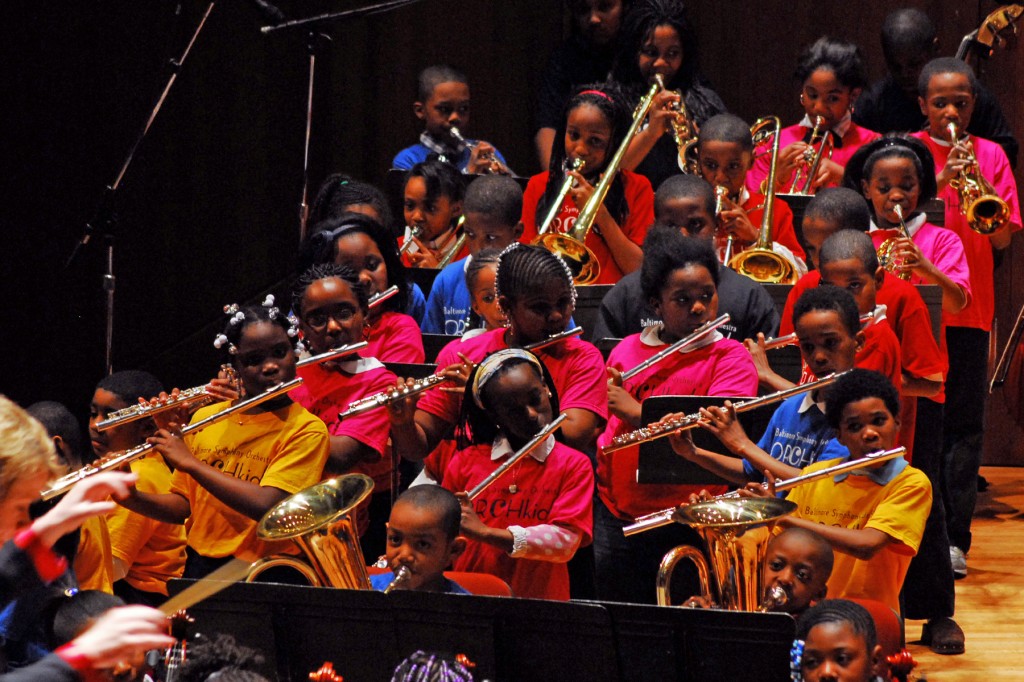 OrchKids is now ensconced in West Baltimore, with Lockerman-Bundy as the hub school that hosts most of the afterschool programs (children from the other, satellite elementary schools are bussed there), along with Highlandtown Elementary/Middle School, in East Baltimore. The plan is to have a hub school with an afterschool program and satellite schools in each quadrant of the city, reaching 1,600 children, within six years.
For the Baltimore Symphony, OrchKids is a powerful example of how a community institution can reach past its traditional borders and have an important impact. "Most people look at West Baltimore and see it as a hopeless place, but with OrchKids, we are showing the community that change can happen through music," Cohen says. "We want to galvanize others, and hope that other like-minded institutions will step in. It just takes a couple of trail-blazers."
---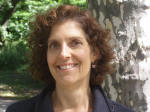 Heidi Waleson is the opera critic for The Wall Street Journal and writes about the performing arts for a variety of national and international publications.

WHO'S BLOGGING


RENT A PHOTO
Search Musical America's archive of photos from 1900-1992.