---
Movers & Shakers: Roland Geyer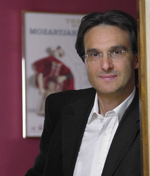 Roland Geyer
Intendant
Theater an der Wien
When Roland Geyer arrived at the Theater an der Wien in 2004, opera audiences in Vienna mostly shuffled between two institutions: the Staatsoper and the Volksoper. The small house along the Naschmarkt was chiefly used for musicals, save for the occasional operatic fare. Now, only two years later, under the direction of the Vienna native, the theater has been transformed into a full-fledged, stagione opera company boasting some of the finest productions in town.
Geyer has filled a musical gap in one of the world's leading cultural capitals by mounting baroque and modern works with cutting-edge stage directors, performers, and composers. The programs have ranged from the world premiere of Lera Auerbach's Gogol to a Claus Guth staging of Handel's Messiah. The current season, despite slight cutbacks in public funding, is as diverse as most intendants today could hope for, including the recent world premiere of Iain Bell's A Harlot's Progress, starring Diana Damrau; the ballet Die Kameliendame, by choreographer John Neumeier; as well as a Robert Carsen production of Rameau's Platée, to be conducted by William Christie.
Geyer added another dimension last year by reviving the Kammeroper Wien under the theater's auspices, selecting an ensemble of seven young singers for world premieres, new productions, and portrait concerts. The intendant draws upon his experience as director of the Jeunesse Musicale Austria from 1987 to 1996, which came to international attention for its creation of seven 20th-century music festivals and, together with Manfred Honeck, the Wiener Jeunesse Orchestra.
In his subsequent position as music intendant to the city of Vienna, Geyer founded the OsterKlang-Festival, which became one of city's most important attractions, and revived the summer festival KlangBogen, which has been integrated into the Theater an der Wien's season since 2007.
Theater an der Wien recently reported an attendance rate of 94% i the main house, 84% a the Kammeroper, and a rise in subscriptions. The 2014-15 season looks forward to the Austrian premiere of Olga Neuwirth's Lulu and HK Grubers's Geschichten aus dem Wiener Wald in a co-production with the Bregenzer Festspiele. Despite rumors last year that Geyer would leave Vienna for Bregenz—as well as unsupported claims that he was applying to lead the Salzburg Festival—his contract runs through 2018. "I am proud of our artistic family," he recently told the Kurier. As well he should be.

WHO'S BLOGGING


RENT A PHOTO
Search Musical America's archive of photos from 1900-1992.