---
Movers & Shakers: Darren Henley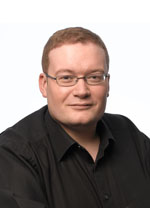 Darren Henley
Managing Director
Classic FM
Darren Henley first joined Classic FM, the U.K.'s only national commercial classical music radio station, in 1994. He had previously freelanced for the station as an overnight newsreader, famously crashing on the chief executive's sofa on Sunday nights, then taking the morning train to [the University of] Hull, where he was studying politics. Over time, Henley intensified his work at the station, becoming a program editor, news manager, program manager, managing editor, station manager, and finally managing director in 2006.
When Classic FM first started broadcasting in 1992, it rejected what was then seen as the rather stuffy tone of the BBC's classical network, Radio 3, opting for the more populist style of stations like New York's WNYC and WGMS in Washington, DC. Though purists railed against the tendency to play "bleeding chunks" rather than full works, the approach swiftly won audiences. It was Henley who solidly established the station's profile among serious music circles, forging links with orchestras, broadcasting more live music, and publishing the dedicated (now defunct) monthly magazine, Classic FM. He has authored or co-authored more than 20 books about classical music, including the Sunday Times bestselling Everything You Ever Wanted To Know About Classical Music...But Were Too Afraid To Ask and an official history of the Royal Liverpool Philharmonic Orchestra.
Henley's audio book for children, The Story of Classical Music, was nominated for a Grammy Award in 2005 and he was named Commercial Radio Programmer of the Year at the Arqiva Commercial Radio Awards in 2009. In 2013 he won the Sir Charles Groves Prize for "his outstanding contribution to British music." He is an active participant in industry conferences, where he campaigns for music with a puppy-like zeal tempered by a winning sense of humor.
Mover & Shaker Kristin Lancino

WHO'S BLOGGING


RENT A PHOTO
Search Musical America's archive of photos from 1900-1992.