---
Movers & Shakers: Timothy O'Leary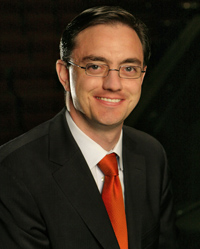 Timothy O'Leary
General Director
Opera Theater of Saint Louis
The start of Timothy O'Leary's tenure as general director of Opera Theater of Saint Louis in the fall of 2008 coincided with the arrival of James Robinson as artistic director. Working with the company's longtime Music Director Stephen Lord, they've "focused not on revolution but evolution and building on the strong traditions of OT," as O'Leary puts it with almost giddy understatement. Since assuming his post, he has helped widen the field's repertoire with projects such as the New Works, Bold Voices series, which comprises the world premieres of three operas, and he's overseen an endowment that has grown from $16.5 million to more than $25 million.
O'Leary, 38, is quick to credit others, including predecessors Charles MacKay and Richard Gaddes, as he discusses the company's new initiatives. They include the Engagement and Inclusion Task Force, which builds partnerships in the community tied to the aforementioned new works.
Task Force activities that surrounded last summer's premiere of Champion, for example, not only helped familiarize potential audiences with the inaugural entry in the New Works, Bold Voices series, they also provoked discussion and exchange across demographic lines. The first opera by jazz composer Terence Blanchard and Pulitzer Prize-winning playwright Michael Christofer, the piece focused on the life of African-American boxer Emile Griffith, whose homosexuality was, at the height of his career in the 1960s, a source of great consternation, both to him and the public.
Sensitive to the subject matter, the company held meetings among its board members, African-American leaders, the head of the city's Diversity Awareness Partnership, and representatives from local universities and the gay and Hispanic communities. "You've got everyone together discussing a work of art and its world premiere that deals with touchy issues in our culture," says O'Leary. "The discussion about artistic work inspires a kind of honest conversation that's sometimes impossible to have in many other settings."
The task force is also part of O'Leary's effort to cultivate a more diverse and younger audience, such as the one that sold out the non-subscription performance of Champion. Completing the New Works series are Ricky Ian Gordon and Royce Vavrek's Twenty-Seven (a reference to 27 Rue de Fleurus, the Parisian address of the opera's protagonist, Gertrude Stein) and Jack Perla and Rajiv Joseph's Shalimar the Clown (based on the book by Salmon Rushdie). Along with the company's impressive record for new works, O'Leary is staying the course on another of its traditions—teaching young artists. The Gerdine Young Artists Program (named for OSL's founder) trains emerging singers and puts them in supporting and cover roles for mainstage productions. "That tradition," says O'Leary, "will remain strong. It has always been the thing that most energizes our board and audience."
Mover & Shaker Joseph W. Polisi

WHO'S BLOGGING


RENT A PHOTO
Search Musical America's archive of photos from 1900-1992.