---
Movers & Shakers: Deborah F. Rutter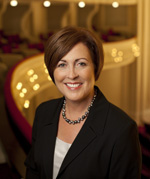 Deborah F. Rutter
President
Chicago Symphony Orchestra Association
While many American cities are struggling to keep their orchestras afloat, Chicago is enjoying a Renaissance. And it wouldn't be an exaggeration to credit the actions of a single woman: Deborah Rutter. When she became president in 2003, the symphony was contending with debt, declining audience numbers, and reported tension with Music Director Daniel Barenboim. Although his abrupt departure that year left the orchestra in limbo, it wasn't long before Rutter was successfully courting Riccardo Muti—whom no one expected to return to American soil after his rejection of the New York Philharmonic music directorship.
Despite the odds, she succeeded and, since the maestro officially took over in 2010, the Chicago Symphony Orchestra is enjoying a glowing profile both internationally—most recently streaming a performance of Verdi's Requiem—and locally. Fundraising and ticket sales were at a record high for the third consecutive year last season.
Under the guidance of Yo-Yo Ma, whom Rutter installed in the newly created position of creative consultant in 2009, the CSO offers concerts to children five years old and under; in-school workshops; and programming at juvenile detention centers. Muti, who has personally made visits to youth-at-risk, is now such a prominent figure that a young priest reportedly tried to kiss his hand.
Rutter has guided the scope of the orchestra's programming to include series such as Beyond the Score, a media-enhanced, educational format that has been used by orchestras across the country; the successful contemporary series MusicNOW; and the accompanied screenings CSO at the Movies. She has initiated free events such as Silk Road Chicago and Keys to the City Piano Festival, featuring youth showcases, screenings, lectures, and performances by luminaries such as Emmanuel Ax. Under Rutter, the orchestra has both resumed weekly radio broadcasts and founded its own label, CSO Resound.
The California native was named one of 100 Most Powerful Chicagoans last year. Prior to arriving in Chicago, Rutter tripled the annual budget as executive director of the Seattle Symphony and presided over the construction of Benaroya Hall. She also has held executive positions with the Los Angeles Chamber Orchestra and the Los Angeles Philharmonic.
"The first important thing about Deborah is that she loves music," Muti told The Chicago Tribune. "To really love music is something very special, especially for a person who has to solve the problems of a big musical institution."
CSO Director of Orchestra and Operations Vanessa Moss calls Rutter "a life-long learner" who also knows how to engage the different constituencies in the orchestra to realize her vision. "Her presentations to the public, to the Board and to donors inspire confidence that the institution is in good hands." Moss also credits an unusual combination of persistence and charm. "These are wonderful attributes when convincing artists to develop long-term associations! Finally, she doesn't rest on her laurels, and doesn't allow others to either."

WHO'S BLOGGING


RENT A PHOTO
Search Musical America's archive of photos from 1900-1992.