---
Movers & Shakers: Marc A. Scorca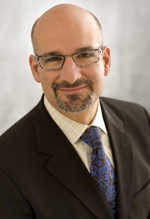 Marc A. Scorca
President and CEO
OPERA America
It's been little more than a year since Opera America opened the National Opera Center at Seventh Avenue and West 29th Street in Manhattan, but the state-of-the-art facility—carved out of two floors of a building that used to be a fur factory—already is having a decisive impact. "The opera center has transformed our existence and our work rhythm," says Marc A. Scorca, president and CEO of OPERA America since 1990. "It's all hugely exciting, and we're still adjusting to the change." Creating the Center—replete with state-of-the-art rehearsal and audition spaces, studios, and a recital hall, all for rent—was the principal motivation for the national service organization to move from Washington, DC, where it was founded in 1970, to New York in December 2005. Scorca, 56, oversaw that move and the building of the opera center, whose total cost of $14.5 million includes a $6 million operating endowment.
Since Scorca arrived, OPERA America's membership has risen from 120 companies to 2,500 organizations and individuals. He's been at the forefront of a field that has seen the demise of several mid-sized and large companies, including New York City Opera, but also the flowering of smaller ones, many of them performing new works, for which the organization provides seed money. A new program will offer grants of $10,000 each for workshops and recordings of ten women composers' new operas. That's the first year; in the second year, two companies will receive $50,000 each to produce two of those works.
Scorca helms an organization with an annual budget of nearly $5 million, to which $1.5 million was added to operate the Center. The investment is paying off: in the first year, more than 30,000 people used it; Scorca estimates that number will top 50,000 by early 2014. On a recent Sunday, the Center hosted separate events by Washington National Opera, Los Angeles Opera, and Carnegie Hall. "It's not just that it's sound-proofed and the pianos are tuned and the acoustics are good," says Scorca of the Center. "It's also a meeting place, where you don't know who you're going to run into. It's given a central home to the opera community."

WHO'S BLOGGING


RENT A PHOTO
Search Musical America's archive of photos from 1900-1992.